Is it possible to remove Divi shortcodes easily if you change your WordPress theme? This is a question that's been floating around on social networks. I often see these topics of conversation where some people say that it's impossible to change your theme after using Divi... Or that you can't go back once you've used Divi!
Really? Since when is your WordPress site married to your Divi theme? Just know that you can remove Divi easily and without pulling your hair out 😉

In this article, I present to you a plugin that will be very useful if you decide to switch from Divi to another WordPress theme. You'll see that it will only take you 10 seconds to clean up the mess Divi left behind.
Announcement: this article contains affiliate links that you will easily recognize. The classic links are in purple and the sponsored links are in pink.
What happens if I disable the Divi theme and enable another theme?
WordPress is great for this: you can change your theme in one click. Just go to the Appearance > Theme and activate the theme of your choice.
However, there is a "BUT"... When you change your theme, the old one may leave traces. This is particularly true of themes that use page builders such as Visual Composer, to name but one.
So you know that if you activate a new theme that doesn't use the same page builder as the old one, you can get surprises. This is the case with Divi, which uses the Divi Builder (the Divi page builder) natively.
If you need to understand the differences between Divi and the Divi Builder, I invite you to read this article.
In concrete terms, here is a picture of what will happen if you activate another theme after using Divi :
Version of a page built with the Divi Builder :
Version of a page built with the Divi Builder, after activation of another theme:
Okay, that's not reassuring and it may worry you...
However, you should know that I have never had to redesign a Divi theme to switch to another theme. Most of my clients ask me to do the opposite, i.e. to from their current theme to Divi.
And most (if not all) Divi users don't consider changing themes after using Divi...
So you don't have to worry about it. But if one day you decide to change your theme, or if one of your customers asks you to, you can easily get rid of Divi!
Version of my page cleaned of Divi shortcodes:
Does this reassure you?
It only took a few seconds to go from a page displaying all the Divi shortcodes to a clean page . I should mention that my content was not lost in the process.

I'll tell you how...
How do I clean my site and remove Divi shortcodes?
The Divi Builder builds your pages using shortcodes. These are invisible when the Divi theme is active but become visible when you activate another theme.
Want to see it in action? Find out how the Divi Builder works
If your site consists of several dozen pages built with the Divi BuilderIt would be counterproductive to delete Divi shortcodes by hand. It would be tedious and it could drive you totally crazy!
Good news, there is a freemium plugin that will remove shortcodes from Divi . Moreover, you won't have to set anything: it's Shortcode Cleaner Lite.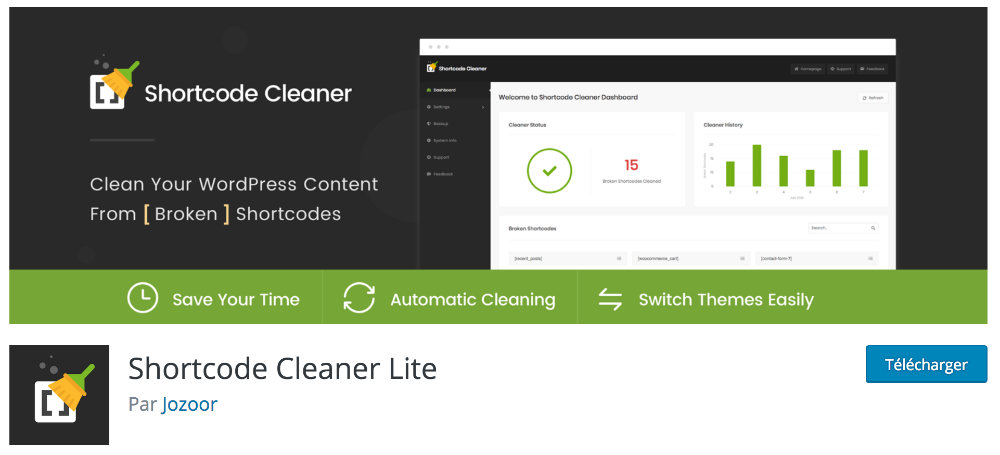 Simply go to the Extensions > Add tab and type its name in the search bar to find and install it.
Once activated, this plugin will detect all "broken" shortcodes, i.e. all unused shortcodes.
So this plugin is miraculous if you want to remove the Divi theme. But it will also clean up any unused shortcodes generated by other plugins.
I'm thinking in particular of the time when I had added a "click to tweet" shortcode to each post on one of my blogs. The day I decided to delete this plugin, I had a lot of fun cleaning up all my articles... Shortcode Cleaner Lite would have saved me a lot of time!
Furthermore, once the plugin has cleaned up your pages, you can go to its dashboard and check the work it has done:
in the dashbord you will find most of the essential information such as :
the number of "broken" shortcodes
cleaning dates
deleted shortcode types
I suggest you see Shortcode Cleaner in action in the following video:
Can we go back and reactivate the Divi theme?
It is likely that after activating another theme, you will miss your good old Divi theme 😂😂😂
In this case, it is possible to reverse the process. Shortcode Cleaner removes broken shortcodes. This means that if you reactivate Divi, the shortcodes will no longer be "unused" and your layout will return to its original construction (if you have not made any changes to your content in the meantime).
Not even afraid to switch to the Divi theme! Find out what you can do with it...
In conclusion...
I really wanted to write this article for several reasons:
because Shortcode Cleaner can be very useful for removing all types of shortcodes that are no longer in use, not just those in the Divi Builder,
because I wanted to answer the people who say that Divi is "dirty" and that it leaves traces...
because I wanted to prove that it is possible to switch from Divi to another theme without getting tired.

Feel free to leave a comment if you've ever had to clean up lots of shortcodes, maybe you have other solutions?