Welcome to Divi Tips
A blog entirely and exclusively dedicated to the Divi theme: tips, tutorials, resources, child themes and more!
Discover my new Divi training!

We will learn everything together!
Say goodbye to hair pulling and impending migraines... Divi Tips will help you!
Tips
Great tips and discoveries for your Divi Theme website.
Tips
Tips are small details that will make a difference... for sure!
Exchanges
That's what the comments are for! Let's discuss with passion...
Tutorials
You'll excel with the step-by-step tutorials in Divi Tips.
Resources
Layouts and child themes for your Divi theme.
Design
Designs that will inspire you for your future projects...
In this blog, we will only talk about DIVI!
In the smallest details... Here are the latest articles: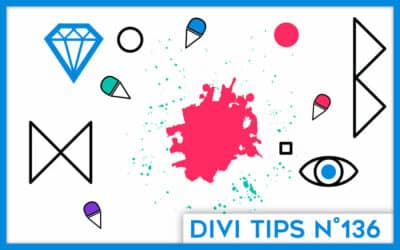 J'ai testé DiviGrid et ses 27 modules. Découvrez avec moi ce que nous offre ce plugin premium pour Divi, comment l'utiliser et comment importer les démos. Vous allez certainement adorer le module « Justified Gallery » !
Book your Divi video training

Do you need help?
Book your troubleshooting or coaching session by video!
Are you stuck? You've looked at all the topics on the web, on YouTube and on the forums, but something "escapes you"?
Don't panic, I can help you and save you several days of work!
Book now your videoconference session with screen sharing to present your problem(s)! Together we can go so much faster and further!
Frequently asked questions
Is Divi easy to use?
Having tested just about every page builder on the market and many WordPress themes, everything changed when I discovered Divi!
The Divi theme and its page builder are very intuitive.
The theme is really simple, without many complex options. The Divi Builder, on the other hand, is more than intuitive!
Everything can be built from the page itself in WYSIWYG (What You See Is What You Get). Find out how Divi and its Divi Builder work.
How much does the Divi theme cost?
The Divi theme is included in a license that offers other products.
By subscribing to this license, you will benefit from all Elegantthemes products: the Divi theme, the Extra theme, the plugin Bloomand the Monarch plugin as well as the official support and regular updates.
The price only varies according to the duration of your licence: between $89 and $249 but this can vary. Read this article to find out exactly how much Divi costs.
Is Divi really worth it?
Divi is one of the most widely used themes in the world, both by agencies and freelancers.
The reputation of this WordPress theme has spread far and wide across the Atlantic.
This is certainly due to its multiple possibilities and all the features included in the theme license.
Divi is worth it, especially if you want to invest in a single theme and increase your webmaster skills without having to change themes for each new site.
Is Divi the ideal theme to create 1 site?
The Divi theme license is particularly suitable for increasing the profitability of web designers.
Buying a single license and being able to create an unlimited number of sites is a rare opportunity in the WordPress theme market.
This does not prevent you from choosing Divi to create your own website.
There will still be benefits:
If you need help, you can easily find competent service providers in this field,
you will benefit from all the advantages offered by the licence
you will be using an evolving theme (many features are implemented every month, during updates).
Is Divi professional enough for my webmaster business?
Of course!
Many web agencies sell websites created with WordPress and Divi.
Just because this theme is widely used doesn't mean you can't customise it to make your site look like no other!
Visit the Customize Divi section.
Can you make pretty websites with Divi?
You can't just snap your fingers and become a Web Designer...
But the more you master the Divi theme, the better your sites will look and feel.
In the meantime, you can consult the inspirations section, where you will find lots of sites made with Divi.
You can also use the range of layouts to download in 1 click They have been made by designers and will save you a lot of time when creating your site.
Is Divi compatible with WooCommerce?
Yes, no problem!
Divi is fully compatible with the WooCommerce plugin.
This way, you can easily create your online shop with your favourite theme.
Why choose Divi over other themes?
There are many reasons for this but I think the number one reason is that Divi is very intuitive.
When you deliver the site to your client, they will quickly figure out how to modify the content of the site.
You will save time during the creation and also after delivery.
Is Divi a theme or a page builder?
In fact Divi is a theme and the Divi Builder is a page builder.
The first is used to create the site and the second is used to create the content of the pages on your site.
To better understand, read this detailed article which explains the differences between Divi and Divi Builder.
Where can I find discounts for Divi?
The Elegantthemes license regularly offers discounts, whether it be BlackFriday or one-off discounts throughout the year.
Divi Tips allows you to benefit from a 20% discount on the ANNUAL license or on the LIFETIME license.
Go to the Bons Plans Divi - WordPress to get this discount and discover other good deals.
How do I contact Divi support?
If you're already using Divi and you run into a problem, the first thing you should do is check that all your themes, plugins and WordPress versions are up to date.
If this is the case, you can disable each extension - one by one - to see if any of them would create a conflict.
If you still have problems with this, you can contact support via :
Is the Divi support serious?
I've used the chat to ask for help before, I had a fairly basic question and they answered me very quickly.
Apparently, many users are very satisfied with the after-sales service according to verified reviews on TrustPilot.
I am a complete beginner: is Divi for me?
Divi is not more complex than a free theme or any other theme, quite the contrary! Everything is designed to make it easy to use, especially for beginners.
But when you're really starting out, it can be a bit tricky to get to grips with all the features of WordPress + those of a theme and page builder!
If you don't really know where to start, I recommend that you follow this WordPress + Divi guide.
Is Divi Tips sponsored by ElegantThemes?
No, I am not paid to promote products offered by Elegantthemes or even WordPress.
I am a freelance web designer, trainer and passionate about WordPress.
I decided to offer my knowledge and skills online, on this blog, to help others - like my students for example - to get started and master Divi.
However, some of the links on this site are affiliate links.
This means that I am likely to earn commission if you buy any of the products I recommend via my partner links.
You will easily recognise them because they are not the same colour as the others.
Please note that I do not link to products that I have not personally tested or do not believe in.
The income from the affiliation allows me :
to continue to write and publish articles that help many beginners,
to buy new products and test them and then write about them,
to cover the costs of this blog and various licences.
Newsletter
Get the best tips for WordPress, Divi and to develop your visibility on the Web