Many Divi users are already wondering about this "Will Divi and Gutenberg be compatible? ». The most curious of them have already installed the test version of Gutenberg on a website using Divi and have already noticed that there were no conflicts. However, the cohabitation of the two page builders was not a model of perfect integration....
December 6, 2018 edition: this article was written this summer, when Gutenberg was just a plugin. Since the release of version 5 of WordPress today, a lot has changed! We are currently at version 3.18 of Divi that I have tested for you. I invite you to read this article.
The developers of ElegantThemes have been working on the issue since the Gutengerg editor was officially announced as part of the upcoming major update of WordPress.
It's official since yesterday, with the release of version 2.11 of the Divi Builder and version 3.11 of Divi => Divi and Gutenberg are now "compatible".
Also read this article to understand the difference between Divi Builder and Divi
What is Gutenberg?
In the WordPress community, everyone has been talking about it for quite some time now!!!!
Gutenberg is the future editor of WordPress publication that will be integrated with the release of WordPress version 5.0.
This new version of WordPress will integrate Gutenberg by default, instead of the classic editor that we all know, TinyMCE. Gutenberg proposes a new presentation of the editing page, whether in an article or a page. This interface uses Javascript and the placement of "blocks" to build its layout.
If you use Divi, the aspects of the new editor will seem familiar to you: Gutenberg offers "blocks" while Divi offers "modules", but the system remains the same...
And if you use Divi, chances are you won't find Gutengerg very User Friendly, to say the least!
If you haven't tried it yet, you can already install Gutenberg which is available as a pluginfor the time being. Then, in the next version of WordPress, Gutenberg will be integrated into its Core. The idea is to start getting familiar with this new interface, but above all to give developers time to create addons and lots of new types of blocks.
When will WordPress 5.0 be released?
Don't worry, WordPress 5.0 & Gutenberg are not coming out tomorrow, but the deadline is coming up!!!
The team of contributors and developers of the WordPress project has been working hard for months to bring out a little onion grind! But you think that this new version will include a new feature and that it can be very risky!
In short, you still have a few more months ahead of you: WordPress 5.0 should be released at the end of 2018 but nothing is yet officially announced.
Divi and Gutenberg: the before and after
This update of the Divi Builder doesn't seem to have changed much and yet, if you have Gutenberg installed in parallel, you can enjoy these changes:
1 - Switch from editing a post
The new version of Divi (and Divi Builder) now allows you to easily switch between Gutenberg and Divi Builder. This option, which seems trivial to you, was not available before Divi's support of Gutenberg.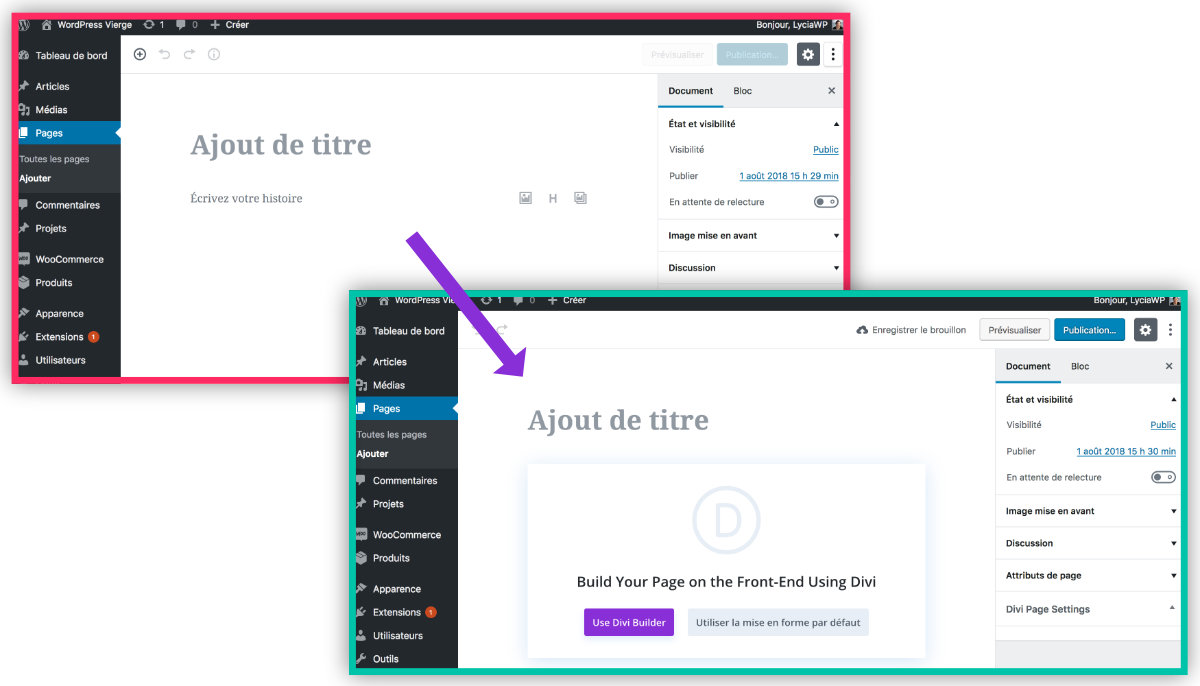 So, as you can switch between the classic WordPress editor and the Divi Builder, you can do the same between Divi and Gutenberg.
2 - Choose your editor when creating posts
Again, this option was not available. Now, by clicking on the drop-down menu, the "Divi" option has been added.
3 - Choose your editor from the list of posts
When you want to edit an existing post from the list of your pages or articles, you can also choose to edit it with Divi.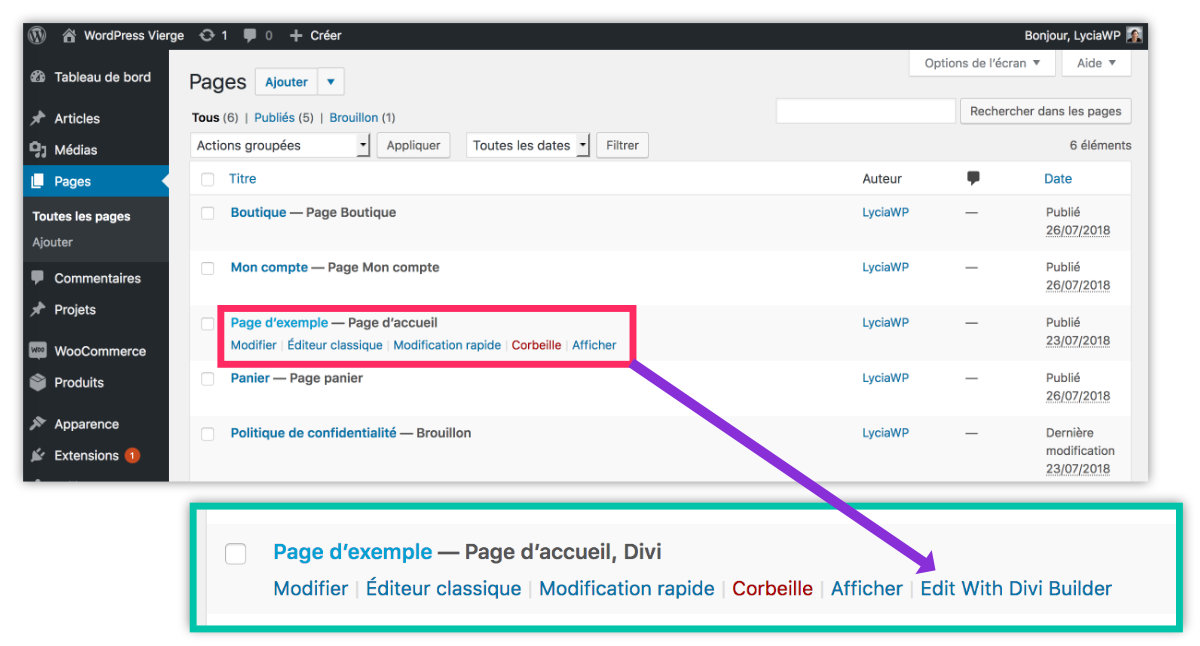 When hovering the mouse over the post to edit, the option "Edit with Divi Builder" has just appeared.
4 - Will the cohabitation between Divi and Gutenberg remain like that?
Apparently NO. This is only the first important step implemented by ElegantThemes to prepare the new version of WordPress. Moreover, Nick Roach - the company's manager - announced it himself:
We want you to know that this is only the first step, and we have many excellent ideas on how we can better integrate the next publisher. As the new editor continues to evolve and we move closer to the release of WordPress 5.0, we hope to release additional updates that will further improve your page creation experience.
What if you don't want to use Gutenberg?
As you can see, Gutenberg is currently in beta version and is not yet part of WordPress. It is only available as a standalone plugin. If you don't want to use it now, you don't have to do anything, but know that when WordPress 5.0 is released, Gutenberg will become the default editor.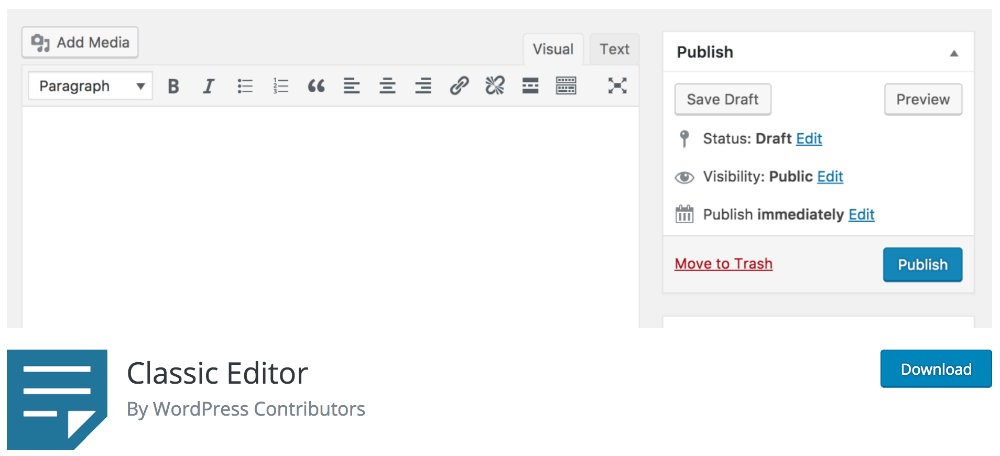 If you are concerned about the changes that the new version of WordPress will bring and you are not ready to use this new interface, you can install the Classic Editor plugin. This will allow you to keep the old WordPress publication editor.
In Conclusion
Gutenberg has already caused a lot (too much) ink to flow! I have never written an article on this subject because I don't like predictions and until something is done, I wait to see....
I have tested Gutenberg several times and I have even integrated it into my training program when I train my students in WordPress.
For almost a year, I have been proposing to my students to discover Gutenberg so that they don't get lost when WordPress 5.0 is released... And the opinions are without appeal, Gutenberg is unanimous but in the wrong direction: no one has opted and will not opt for this page builder... for now at least !
I understand that everyone needs to modernize and that WordPress must offer an embedded solution to create layouts that are a little more complex than those made with the traditional editor. I also understand that WordPress could not leave this crucial part to third party developers, while Wix and company are already embedding drag and drop solutions. This evolution is normal and should be beneficial in the more or less near future.
Learn more about the theme Divi
Anyway, with the best developers in the world that Automattic has, I was expecting a much more UX tool, in drag and drop and even in front. I suppose these developments will come...
Some people are worried and even wonder about the future of societies that create themes and builders pages....
But honestly, I'm sure that the WordPress thinkers have taken into account not only users but also plugin and theme developers whose economy is based on publishing within the CMS (I'm talking about Divi, Elementor, Visual Composer and company!). Not to mention all the websites created by freelancers or web agencies that are not going to "explode" overnight...
There is a whole ecosystem that revolves around WordPress and it would be crazy to hide it....