With the arrival of WordPress 6.1 and the growing number of "next generation" FSE-compatible themes, some freelancers who use Divi on a daily basis to build their clients' sites have asked themselves this question "should we ditch Divi for a block-based theme?". Some even contacted me about it. Let's talk about it in this article...
Announcement: this article contains affiliate links that you will easily recognise. The classic links are in purple and sponsored links are in pink.
1 - What is a "block-based theme"?
Before we go any further, it would be nice to talk a bit about these "new generation" themes that have been introduced since version 5.9 of WordPress.
Indeed, since January 2022, when you install a new WordPress site, a " Block Theme " is activated by default (Twenty Twenty Two, Twenty Twenty Three...), it is a theme that allows you to create the whole site with Gutenberg blocks (the native editor of WordPress).
I won't explain everything in detail, but if you want to go further, I invite you to read the article I published when WordPress 5.9.
So, if we schematize, block-based themes allow you to place Gutenberg blocks everywhere on the site: main content, header, footer, etc. But they also allow you to create any template of the site directly from the Site Editor (page template, article template, 404 page template, etc.). But they also allow you to create any template of the site directly from the Site Editor (page template, article template, 404 page template, etc.). Hence the term FSE, for Full Site Editing.
2 - What is the difference between the ESF and Divi's Theme Builder?
None.
Well, none on paper, but a lot in the UX (user experience). Because since the release of the Divi Theme Builder In 2019, this tool has grown, users have had time to make it their own. And then, let's face it: Divi is very intuitive, and so is its Theme Builder!
So to summarize: you can finally edit a WordPress site entirely (without having to use a tool like Divi or Elementor) since January 2022, provided you use a block-based theme that supports the ESF functionality. To discover the list of compatible themes, go here.
3 - What happens to Divi?
The question is: what happens to the 10,000+ themes that were built before the arrival of WordPress 5.9 - such as Divi?
Don't panic! They continue to work and as long as they are maintained by their developers, there is no need to worry.
Since the arrival of Block Themes, we can consider the "old ones" as classic themes. Divi is therefore a classic theme.
And what you have to understand is that a classic theme can't evolve into a block-based theme, because they don't really use the same file architecture, nor the same language within some files (PHP vs HTML)...
So, what will become of Divi?
4 - A Divi 5.0 that is not yet available...
To be honest with you, I was hopeful that Divi 5.0 would be released in the summer of 2021. I was so sure of it, that I had already prepared a draft article on Divi Tips, ready to complete and draw it when the time came 🤣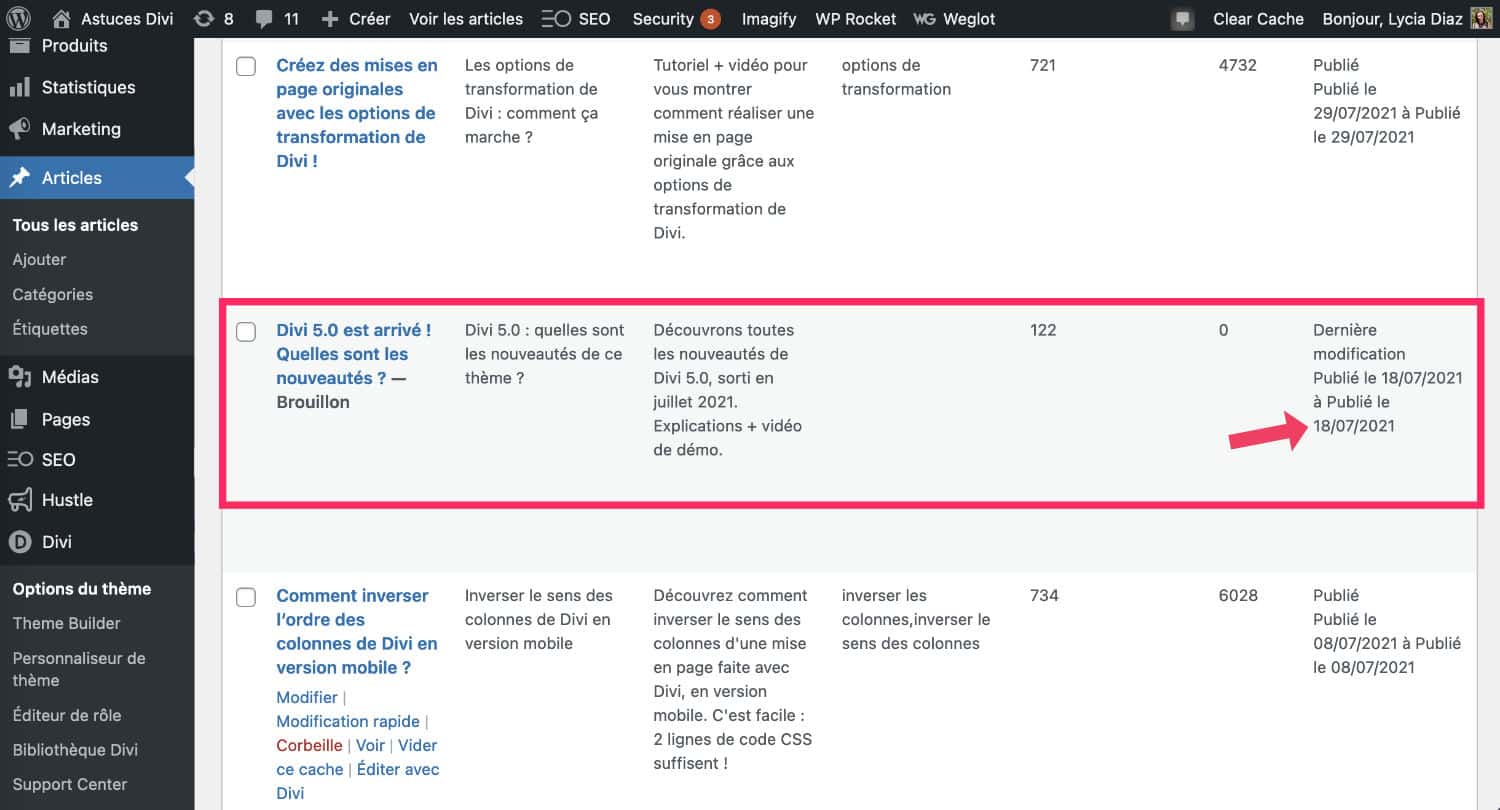 And then I realized that Divi 5.0 was going to be very complicated for the developers of ElegantThemes to understand:
1️⃣ Should they develop a brand new "next generation" Divi theme that incorporates a Divi style ESF - and if so, what to do with the old Divi and the millions of sites that rely on that tool?
2️⃣ Or, continue to develop "tranquillou bilou" the Divi Theme and its builders, which we know and master.
Big dilemma...
But what I do understand is that WordPress has been evolving at breakneck speed since 2018 and third-party tool companies have certainly been slaving to reinvent themselves and keep up. And some are still struggling...
Did you know? You can test Divi for free by visiting on this page and clicking on "TRY IT FOR FREE
5 - A brand new Divi 5.0 for 2023
This is what Nick Roach promised us in his latest publication entitled " Let's talk about Divi 5.0 and its future" .
In summary, here is what we can learn from it...
A redesign from scratch
This is the choice ElegantThemes made: rebuild the Divi theme from scratch. A daring choice, because it's full of pitfalls and very long. The main objectives:
eliminate technical debt
use current new technologies
significantly improve performance
move in the same direction as WordPress
The development of a real API
A few companies have managed to create add-ons for Divi but the current API is not very permissive. As a result, developers of third-party plugins for Divi run into complications, it's quite difficult.
With Divi 5.0, a new API will be released, a real API. This will allow developers to easily create whatever they want. I'm so excited to see this new wave of dedicated Divi extensions coming 🤩
Divi 5.0: a "hybrid" theme?
From Nick Roach's explanation, you would think that Divi 5.0 will be halfway between a classic theme and a block-based theme.
This would then explain the difficulty of this new development so that sites using Divi 4.x.x can move smoothly to Divi 5.0. A smooth and transparent transition.
No new features
Divi 5.0 will indeed be a major update, but for once, there will be no new features. " A few surprises here and there" promises Nick Roach. But nothing fundamentally new!
The real novelty, you will have understood, is a compatibility (or pseudo-compatibility) with the FSE of WordPress while ensuring a retro-compatibility with the old sites.
And that's great news!
Yes, if ElegantThemes had decided to create a brand new Divi that would not be compatible with the old versions, the transition (migration) of the old sites to this new theme would have been at the expense of the users... of us, that is! It would have been easier for them, but they would have lost the trust of the users.
Adios the shortcodes!
You may never have noticed, but if you turn off Divi to use another theme or builder, you'll see a bunch of shortcodes left over from the Divi Builder.
Let's not forget, Divi is 10 years old, and at the time, it was probably a correct way to design this type of tool. Since then, Divi has continued to grow with that, which has contributed to this technical debt.
Finish ! It is assured, the new Divi 5.0 will be built with today's technologies: React and company, those used by Gutenberg... It is rather promising and reassuring.
Identical user interface
Divi 5.0 will come with the same user interface. You'll be back to the way you were before! That's good news because you won't have to retrain or relearn how to use a new tool.
Obviously, everything has been thought to avoid most of the frictions and frustrations on the user side. It's very clever.
A little more patience
I was expecting Divi 5 in 2021. And then in 2022 too. I contacted ElegantThemes to find out what was going on... Here is an excerpt from my email sent on November 1, 2022:
Basically, I was asking them where it was at and if we could get some info to sink our teeth into 🦷.
On November 11, 2022, I received a reply email informing me of the publication of a full article on the ElegantThemes blogcontaining a video of Nick Roach explaining to the community the backstage of this big project...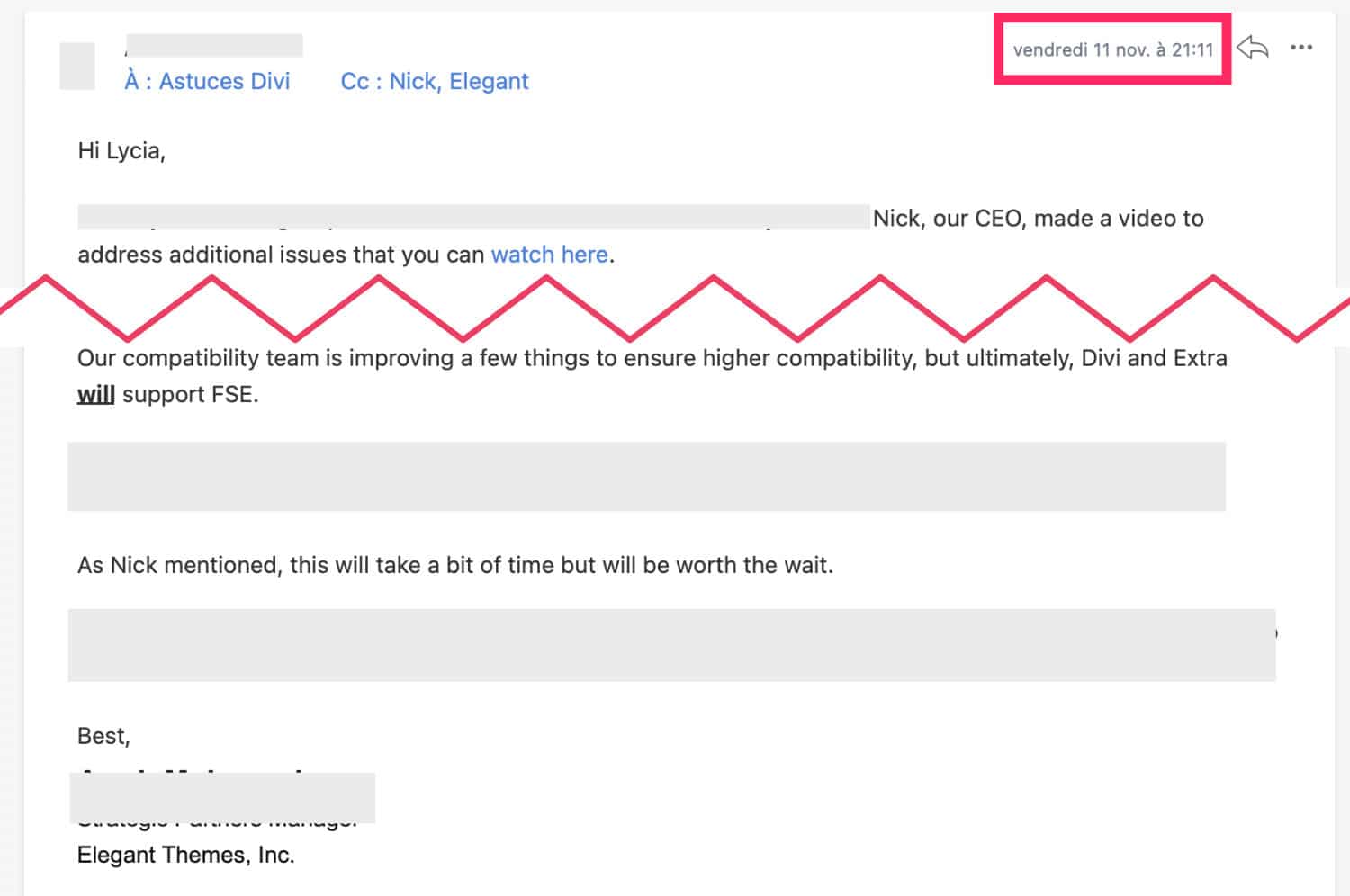 For confidentiality reasons, I have hidden some passages and the name of the person with whom I exchanged.
To summarize, it was written pretty much the same as in the official article, but more importantly, I noticed two very important sentences:
"Our team is improving some things to ensure better compatibility, but ultimately, Divi and Extra will take over FSE."
"As Nick mentioned, it will take a little time, but it will be worth it."
I think this is the good news we've been waiting for...
6 - In conclusion: should we wait for Divi 5.0?
I reassure you, I will not migrate to another theme.
Not only am I a Divi fan, as you might expect. But also because I'm lazy and I don't want to spend hours migrating Divi sites to new themes - INUTILELY - when the work will be done for us when the new version comes out.
So just wait and be patient.
However, Nick mentioned "2023"... And a year is composed of 12 months! So will we wait a few weeks, or several months? The future will tell us.