Here is the ultimate list of free plugins for Divi...
Because yes, the web is full of resources for Divi but they're often a paying resource...
So I've been browsing the internet to find some free Divi plugins that are really useful.
This way, you can test them freely and see if they can be useful for your projects.
Little advice: it's always better to test extensions on sites under development (test sites).
Here is the program:
Advertisement: This article contains affiliate links that you will easily recognize. The classic links are in purple and sponsored links are in pink.
1 - Hamburger Style Menu
What is a "hamburger" in the world of web design?
This is the menu icon, often visible in a mobile version: these 3 small horizontal lines that extend the main menu of a site.
If you are already using Divi, you must have realized that there is no choice in the design of the hamburger. The Divi theme options only allow you to set its color.
With this free plugin for Divi - "Hamburger Menu Style" - you can choose from 20 different styles! It is very easy to use.
2 - WP and Divi Icons
In a previous article, we had already spoken manually to add icons in the footer of Divi.
Formerly known as the Divi Expansion PackThe WP and Divi Icons plugin will allow you to add many icons to your Divi theme.
These icons will be directly available from the various modules of the Visual Builder. You will only have to choose among hundreds of elements.
This plugin offers a limited but already well "provided" free version as well as a more complete premium version.
Discover the plugin | See the tutorial
3 - Divi Icons Pro
This free plugin for Divi looks very much like the previous one I just mentioned... Like its "cousin" the free version of Divi Icons will allow you to have a complete choice of icons directly from the modules of your Visual Builder.
4 - Divi Supreme Modules
This free plugin for Divi is really interesting because it adds about ten modules to the 46 modules already proposed by the Divi Builder. Among its various modules, you will find:
Supreme Divi Typing: a typed and animated text effect... I love it!
Supreme Divi Gradient: your title or paragraph will have a gradient color that you can customize. That's not bad.
Supreme Divi Flipbox: you can animate some elements of your page when the mouse moves.
and many others.
Note: during my tests some modules were not working (this is certainly due to the multiple updates of Divi recently).
5 - Simple Divi Shortcode
This free plugin allows you to easily insert a Divi module into another module. For example, you can add a tariff module within a text module.
This extension generates shortcodes based on the identifier of a module previously created and registered in your library.
6 - Divi Enhancer
Divi Enhancer adds additional modules that will be available directly from the Divi Builder. On the program:
FlipBox
Timeline
iHover
Team Member
Image comparison
Sticky module (sticky module)
Carousel
and many more!
7 - Divi Mega Menu
Divi Mega Menu turns your navigation (main menu) into a mega menu. This is done in the Appearance > Menu tab.
A drag-and-drop builder will allow you to easily place items within your mega menu. Watch this video:
If you simply want to add images to the Divi main menu, you can also follow this tutorial.
8 - Divi Lightbox for Image
The Divi theme uses a lightbox effect only for its galleries.
If you want to apply this kind of effect on your independent images, you can use this free plugin which will save you from adding an independent plugin.
This extension already uses Divi's code and does not add additional code as a third party extension would.
9 - Before + After Images for Divi
The "before and after" images allow the user to really see a difference between two photos.
This free plugin for Divi offers this feature: you add two images, they overlap and the user just has to drag the slider from left to right or vice versa.
This feature is also found in the Divi Enhancer plugin.
10 - Image Size Selection for Divi
The image sizes for Divi are sometimes difficult to master...
This plugin allows you to easily define the size of the image to be displayed. This can be interesting to lighten the weight of the page.
11 - Divi Accessibility
Few WordPress themes take into account the accessibility of a site. However, it is essential for users who have sight or hearing problems...
Divi Accessibility allows you to correct some known errors within the Divi theme. Once installed, you will just have to check the suggested fixes.
12 - Layzy Load Divi Section Backgrounds
I haven't tested this extension but it offers an interesting feature: lazy-load background images.
If you use a cache extension like WP Rocket for example, Lazy Load Divi Section should not be useful. To find out how to boost the performance of your Divi site, read this article.
13 - Monarch
Is Monarch really a free extension? Yes and no! Let's say it is included when you buy a Divi license.
It is also one of the many advantages of this license. Monarch allows you to add share buttons on your pages and articles. The design and integration of this plugin are very appreciated.
In addition, you will be able to use this plugin on any WordPress site, even if you don't use the Divi theme.
14 - Bloom
Same with Bloom. It is a opt-in plugin which allows you to retrieve your newsletter subscriptions and store their email with your provider such as MailChimp, Aweber, Sendinblue and many others.
Bloom is also included in your Divi license.
15 - Divi Title Module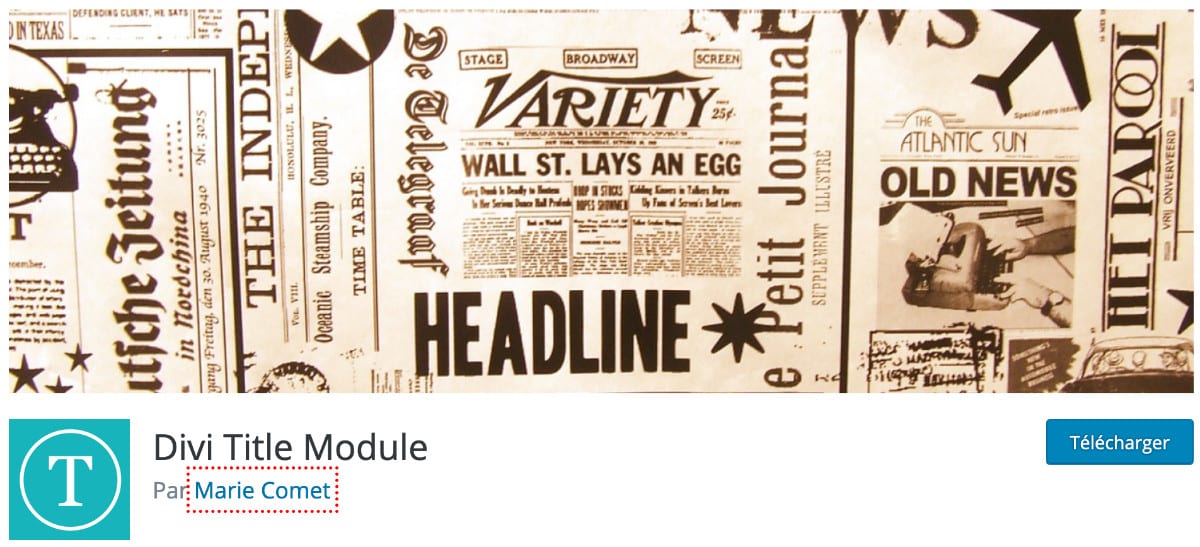 If you don't like inserting a text module to simply enter a title, Divi Title Module is the extension for you!
Thanks to it, a new module will appear in the Visual Builder, it is the Title module. This one does not exist natively. You can then insert this module and directly select the Hn level (H1,H2, H3, etc.). Concerning the other options of settings, they are all there: font, size, fat, etc..
This extension is very simple to use and was created by a French woman : Marie Comet !
16 - Author Box for Divi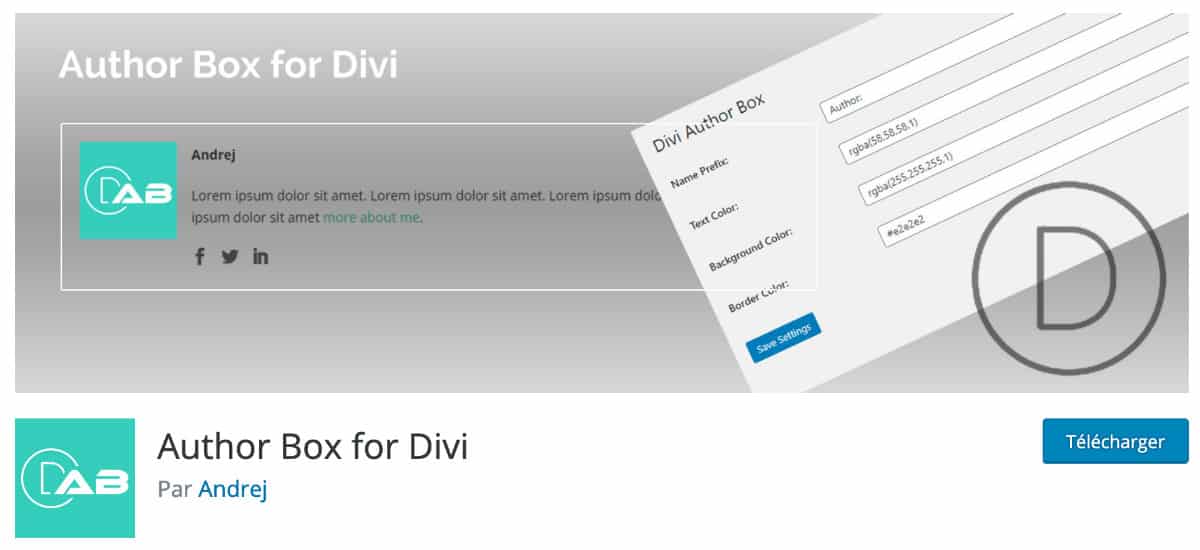 Thanks to this extension, you will be able to simply display an author box that will show his biography at the end of each article, whether it is built with the Divi Builder or with the classic editor (not with Gutenberg).
Simply enter the author's bio, social network URLs and image in the Users > Your Profile tab.
Other features include adding a name prefix (e.g. "written by"), setting text color, background color, and border color.
It's an alternative to the Simple Author Bio plugin presented in the article "The Simple Author Bio Plugin". how to add a bio at the end of articles"« .
17 - Switcher Divi logo
Logo Switcher Divi adds a new option to the Appearance > Customize > Header and Navigation > Top Bar Settings tab that will allow you to upload your alternative logo.
Thus, when the user is at the top of the page, he will see the classic logo and then when he scrolls down the page, the alternative logo will be displayed.
Note that this extension does not work if you are using the Theme Builder to create your Divi header.
18 - Extra Icons for Divi Builder
Extra Icons Plugin for Divi allows you to display more social network icons in the Divi header and footer.
This is a very simple alternative to this tutorial which explains how to add social network icons in Divi's footer using a Child Theme.
Learn more about the extension.
19 - Battle Suit for Divi
Battle Suit for Divi is a collection of modules for Divi. For example, you will be able to :
get a Masonry-style image gallery,
act on the appearance of the highlight image,
add 3D effects to images,
modify the metadata of your publications,
ect.
20 - Popups for Divi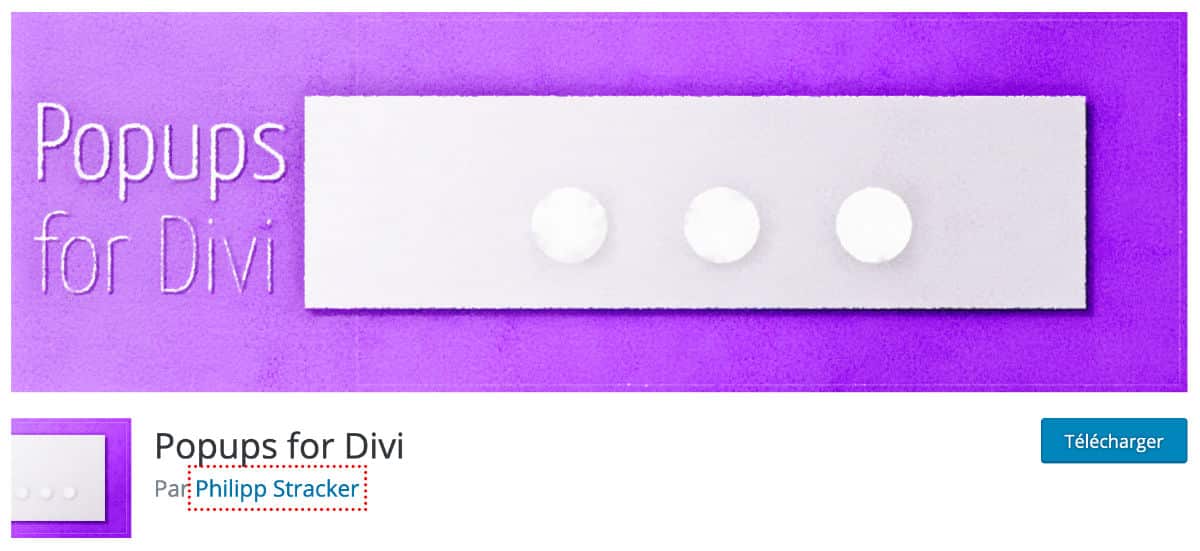 This extension saves lives!
It's great because it allows you to turn any section of your layout into an interactive popup!
Read this tutorial for find out how to create popups for Divi.
Did you find THE free plugin(s) for Divi you were missing?
This list may not describe all possible side effects.
There are quite a few free plugins for Divi on the official WordPress directory. However, some of them don't seem to be compatible with the latest version of WordPress or Divi. Nothing prevents you from browse the proposed results and test them.
Note: it's always better to do your tests on a local site, you never know!
And you, which extension do you prefer?