Black Friday and Cyber Monday: if you work on the web, you must already know these terms! Even though they have been well known by the general public for a few years now.
Here's what's in store for Black Friday Divi 2022:
"Buy any Divi product during Black Friday and get the biggest discount ever, a free bonus, a site template pack (Theme Builder) and exclusive access to dozens of additional product offers. Plus, you can win a free iMac while you wait!"

Source: official website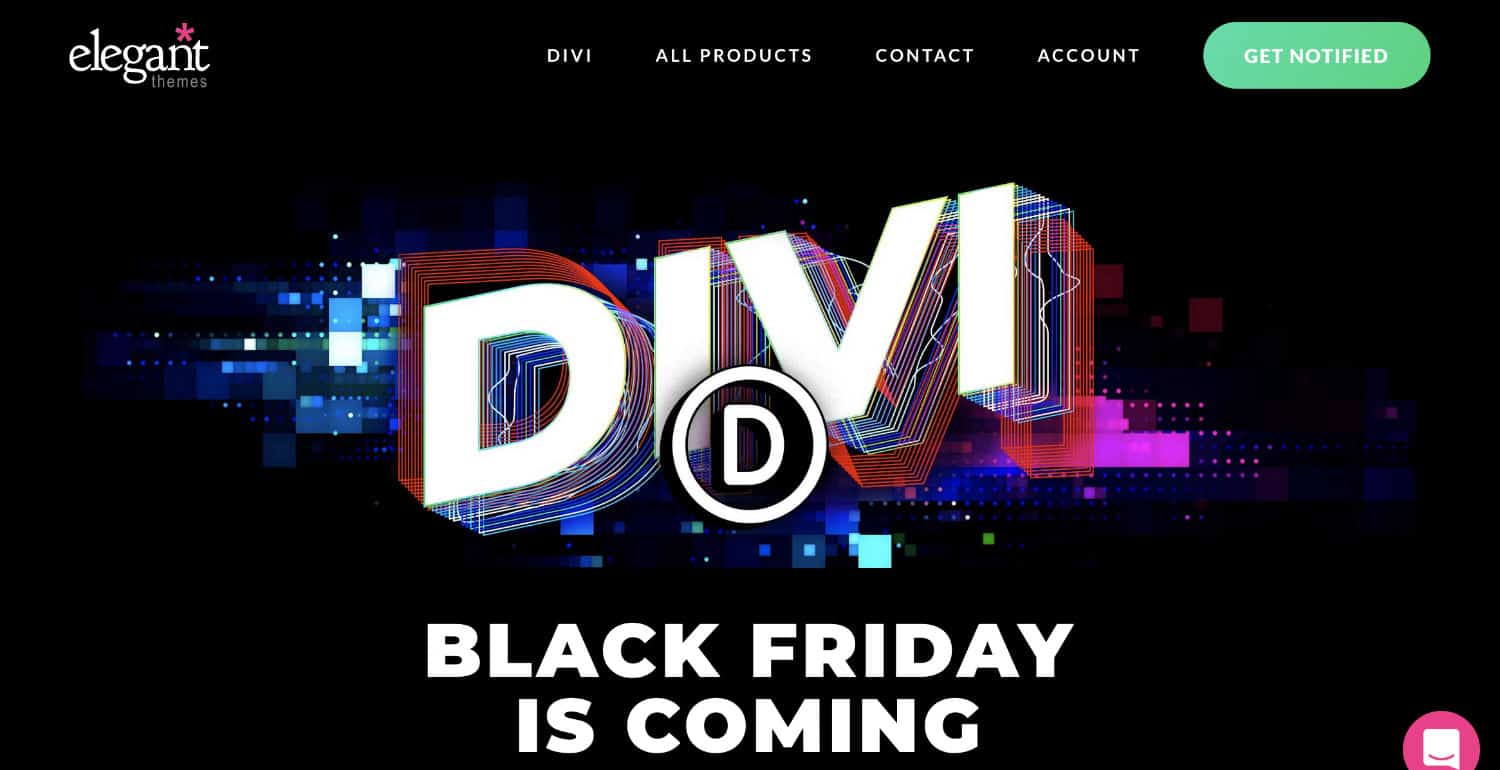 Announcement: this article contains affiliate links that you will easily recognise. The classic links are in purple and sponsored links are in pink.
1 - How does Black Friday Divi work?
I still remember my early days as a freelancer: I did not have much cash flow and I had waited for Black Friday to buy my Divi license. The prizes were going fast. I had received a lot including the Divi license at 20% off packaged with the free Caldera Form Pro license. That was already good!
But there were plenty of other lots.
Each bundle consists of the Divi license + the license of another product sold on the MarketPlace. For example: Divi Plus, Divi Overlays, Divi Den Pro, Divi Supreme, etc.
You can already locate all the lots on this page.
How does it work?
You can already visit the official Black Friday page to click on the Save the Date button. This will add a reminder to your electronic calendar. That way, you'll be in the start-in-blocks on D-Day. Also, on this same page, you can register to participate in the draw to win a Mac.
Be ready on November 22, 2022 at 4:00 pm to visit the official website (7AM PT).
See which lot is active. As soon as you get to the lot you like best, place your order then. Be quick, because the lots are going like hotcakes.
So, in 2022, it looks like EleganttThemes is really going all out!
Add a reminder so you don't miss Divi's Black Friday 2022!
2 - Discounted Divi: the biggest discount of the year (and the only one)
There was a time when ElegeantThemes was generous with promotions to get Divi. It was not uncommon to get Divi with -10% or -20%... But it's the criiiise, as you may have noticed, and this year there were not many discounts on the license.
Divi Black Friday 2022 offers the biggest discount of the year:
-25% off any license (Lifetime or Annual)
Up to 44% off Divi Cloud and Divi Teams
Up to 50% off on the Divi Marketplace
Elegantthemes says now is the best time ever to take action: more discounts until next Black Friday 😱
3 - Black Friday Divi 2022 👉 $1.1M giveaway!
Like every year, ElegantThemes manages to make Black Friday a "highly anticipated" event.
It's official! Almost $1,100,000 in gifts will be distributed with each order. And this year, it seems that the novelty is that it will be possible to accumulate up to 5 bonuses, never seen before!
Among the bonuses: 18,000 extensions, new Children's Themes for Divi and Layout Packs.
4 - Exclusive layout packs
Every year, ElegantThemes' WebDesigners create Layout Packs (pre-built layouts) that you won't find anywhere else.
They are offered to all new customers as well as Lifetime customers. You can find them for download directly in your ElegantThemes account.
Note: if you upgrade your annual license to lifetime, these packs will also be offered to you.
Please note that these packs are only available during Black Friday and Cyber Monday, after that they disappear. So don't forget to download them and keep them on your computer or in your account Divi Cloud.
5 - What happens if I am already a Divi customer?
Already purchased your Divi license? Don't be disappointed!
As explained earlier in the article, if you have an annual license, the gifts also work for license upgrades. So don't worry, you can still take advantage of Black Friday.
🤩 And if, like me, you are already a lifetime customer, we also have access to exclusive layout packs and we also get exclusive discounts on products sold in the Divi Marketplace !!!
In addition to all this, you can also enter the draw for a chance to win the Apple iMac.
Well, you'll have to be very lucky to get it, but every year, one lucky Internet user gets it, so why not you?
Divi Black Friday will begin on Tuesday, November 22, 2022 at 4:00 pm (French time)... And the promotions will last until Cyber Monday !
6 - Now is the time to stock up on licenses!
If you're planning to buy digital products, Black Friday and Cyber Monday are the perfect time not to miss!
Whether you want to purchase the Divi license or other licenses or products...
If you were still hesitating, now is the time to renew or upgrade your licence!
But above all, if you are thinking of buying anything, wait a few more days, it is really worth it!
Don't miss the Divi's Black Friday ! For the latecomers, you will still have the opportunity of Cyber Monday...
7 - Finally, a little history...
If you don't know the origin of this celebration from the United States, here is some history...
👉 What is Black Friday?
In French, Black Friday is translated as "Vendredi Noir". This celebration comes straight from across the Atlantic: from the USA and Canada. This "celebration" always falls on the same day: a Friday. This means that its date changes every year. Black Friday takes place the day after Thanksgiving, this holiday is celebrated every 4th Thursday of November...
A bit like our "Beaujolais Nouveau" which is released on the 3rd Thursday of November 🍷.
This year, Black Friday falls on Friday, November 25, 2022 (the 4th Friday in November). In 2023, for example, Black Friday will fall on Friday, November 24.
Black Friday is the kick-off to the year-end shopping season. It is the perfect time to start your Christmas shopping. Retailers have understood this since the 70's by offering exceptional sales.
Why "black"? Because at the time, the traders' accounts were kept by hand. When the lines were written in red ink, the accounts were negative. When the lines were written in black ink, the accounts were positive. Black Friday was the time when traders started to earn money again.
👉 What is Cyber Monday?
Cyber Monday is the Monday following Black Friday. Originally, the sales were only in physical stores and only for 24 hours. Then, Cyber Monday was planned to continue the sales in online stores.
But it must be said that "all means are good for selling"... Little by little, the Black Friday and the Cyber Monday have grown to become the "Cyber Weekend and even the "Cyber Week. In short, we don't know what else to invent!