Divi layouts are available directly from the Visual Builder, since Divi version 3.0.99. These layouts - also known as "lay outs" - have been created by experienced graphic/web designers working in the ElegantThemes team.
In this article, I propose you to discover the Divi layouts which are available in 1 click from the Visual Builder and which will save you a lot of time when you create your websites with Divi.
Here is the programme:
Announcement: this article contains affiliate links that you will easily recognise. The classic links are in purple and sponsored links are in pink.
1 - How did we do it before Divi layouts?
Before the Divi Builder came with pre-designed layouts, ElegantThemes distributed pre-made layout packs that could be downloaded from the official website.
A series of tutorials followed to learn how to use and customise them. It was already quite nice!
However, some novices could be confused about how to install these famous packs: they had to download the .zip folder, extract the .json files and then import them from the Divi library.
Not complicated but much more time consuming than the Divi Builder...
For further explanation, see : how to import or export a Divi layout.
2 - How do I insert a Divi layout now?
The handling is now simpler and more intuitive.
Indeed, two clicks are enough to install a new Divi layout pack!
Here's how to do it:
Go to your administration and add a new page (for example)
Add a title, as usual, and then activate the Divi Builder
Just click on "Load from library".
As if by magic, a list of layout packs appears!
Click on your favourite to see its content...
For more detailed explanations, see how to import a layout from the visual builder.
3 - Over 1500 Divi layouts available!
The Divi Builder currently offers +200 Divi Layout Packs, which is a total of +1500 pre-made layouts.
These packs are classified by theme:
The Art & Design category
36 packs are available in the Art & Design category, making 277 layouts in total.

You will certainly find inspiration if you need to create a site on the theme of fashion, interior design, graphic design, make-up etc.
Discover all the layouts of the Art & Design category
The Business category
This is the richest category with 80 packs containing 589 lay outs in total.
If you need to create a corporate website, this is where you can browse the catalogue to find the most suitable design for your project.

All trades are represented: from the florist to the restaurant owner, the web hosting provider, the wedding planner and the painter!
Discover all the layouts of the Business category
The Community & Non-Profit category
8 packs fall into this category with a total of 59 pre-designed layouts.

You will find layouts for your MeetUp, donation, pet collection or political candidate sites.
Discover all the layouts of the Community & Non-Profit category
The Education category
9 packs containing 67 individual layouts to create websites for schools, dance or yoga schools, e-learning websites, etc.

Discover all the layouts of the Education category
The Events category
Ideal if you need to create a site for a special event like a wedding, a web conference or even a marathon. You will find 74 layouts divided into 10 packs.

Discover all the layouts of the Events category
The Fashion & Beauty category
Everything related to jewellery, make-up, spa etc. If you need to create a blog on these themes, you can choose from 79 lay outs spread over 11 packs.

Discover all the layouts of the category Fashion & Beauty
The Food & Drink category
If you want to find inspiration to create a Restaurant websiteThe Food & Drink category offers 145 layouts divided into 20 packs! There is plenty to do...
Discover all the layouts of the category Food & Drinks
The Health & Fitness category
Coaching sitesYoga, therapy, dentist, nutritionist, etc. These layouts are ideal if you need to create a site for a health practitioner. In total, 164 layouts divided into 23 packs.

Discover all the layouts of the category Health & Fitness
The Lifestyle category
As the name suggests, here you will find layouts for your lifestyle websites and blogs: travel, garden, golf, etc. In total 107 layouts divided into 15 packs.

Discover all the layouts of the Lifestyle category
The Online Store category
121 layouts divided into 17 packs to create your e-commerce sites. Most shops are represented, such as fruit juice, jewellery, tea, etc.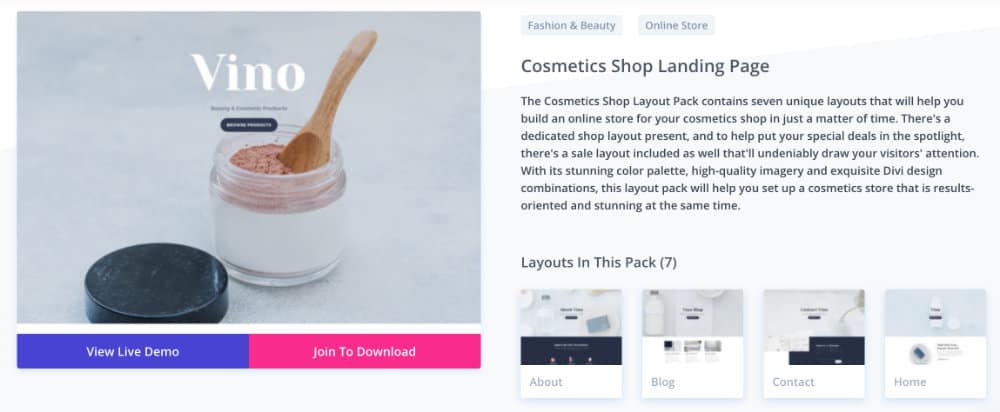 Discover all the layouts of the Online Store category
The Services category
623 layouts available in 85 packs. There are many layouts here that are classified in other categories.

Discover all the layouts of the category Services
The Single category
Only one pack is available here with 15 layouts.

Discover all the layouts of the Single category
The Technology category
In this category you will find inspiring layouts for your game, digital product, podcast or web developer websites. In total, 19 packs and 144 layouts.

Discover all the layouts of the Technology category
4 - Individual use of each Divi layout
The layouts are independent of each other. When one of these layouts catches your eye, you can select it and see in more detail what it is made of.
On average, each pack contains 8 lay outs and consists of a Home page, an About page, a Contact page, a Blog page, a Landing page, a page for Portfolios or for Services etc.
Each pack offers harmonised layouts, but you are free to pick and choose layouts independently of the packs. You'll just have to do a little more work to harmonise it all afterwards.
For each layout, if you click on it, you will be given the choice between 'view live demo ' or 'use this layout', which means you don't have to import the whole pack.
I find this very interesting, unlike some premium themes that offer "1-click demo" installations and import a whole bunch of useless pages and images.
If you click on "Use", the layout will be installed and you just have to open each module to modify it. It's so easy!
Learn more about Divi Builder modules
5 - Divi's layouts, in conclusion...
The Divi Builder is certainly the page builder that offers so many ready-made layouts. No other builder has such a rich library of choices.
Even though I'm not a big fan of pre-made layouts, I really think it can help a lot of people. Especially if you're not into web design.
And even if you don't use them all, you can always install a few to give yourself a sense of purpose. a little inspiration and to give you a head start in learning about the page design with the Divi Builder.
Finally, don't hesitate to appropriate these layouts and modify them so that they correspond to your expectations and your projects...
This is another good reason to choose the Divi theme !
Need more resources on Divi? Visit the ElegantThemes blog which is full of ideas and tutorials! Or learn how to use this theme effectively with my Divi training !