The Divi Cloud feature has been available for some time now, but I haven't mentioned it here yet... So here's an opportunity to introduce you to a new feature of our favorite tool, if you haven't tried it yet...
Announcement: this article contains affiliate links that you will easily recognise. The classic links are in purple and sponsored links are in pink.
1 - What is Divi Cloud?
Divi Cloud is a kind of Dropbox, but for your websites created with Divi. In other words, you can store, organize and upload Divi Builder items from any location/website:
from your home computer,
at the office
or directly from your customer. 
With Divi Cloud, instead of having to manually export and import items saved in your Divi library, you can upload them from the cloud with a few clicks!
Divi Cloud is a service linked to your Elegant Themes account. You must login to access it. Read more here.
But the good news is that all Divi users can store up to 50 items for free on their Divi Cloud! That's plenty for personal use.

If you use Divi professionally, and create all your clients' sites with it, then you can unlock this limit by purchasing an additional Divi Cloud subscription. The payment can be monthly or yearly (see the rates here).
2 - What are the advantages of this service?
Divi Cloud offers many benefits and can help you optimize your productivity when designing your websites:
Import and load your pre-saved layouts on any site. 
Same for your modules / lines / sections
Undeniable time saving
Avoid redundant handling - no more manually importing and exporting Divi layouts from one website to another. 
Add your favorite Divi layout packs to your Divi Cloud (makes it easier to find them).
3 - Divi Library vs Divi Cloud
Indeed, you have to understand that Divi Cloud works like when you save an item in your Divi library, but you have to imagine that this library is in the cloud:
Saving to the Divi librarymeans that you are saving this item to the website you are working on, only! If you need to use it elsewhere, you will need to export it manually and re-import it to the other site.
Saving in Divi Cloud means you can access all your templates from any site connected to your license Elegant Themes and authenticated with your API key. In a way, you get a "giant Divi library" that you share between all your sites.
Did you know? You can test Divi for free by visiting on this page and clicking on "TRY IT FOR FREE
4 - How to use it on your sites?
To use the Divi Cloud service, make sure your theme is up to date, then it's pretty simple: just a few clicks!
Save a layout to Divi Cloud

Go to any page that uses the Visual Builder and activate it, then :
Click on the purple plus "+" icon at the bottom of the screen and click on the icon to save to the library (the circle with the arrow).
Name your layout, for my example it will be "Hummingbird Home".
Opt for "Save to Divi Cloud".
Divi will ask you to log in to your Elegant Themes account. You must use the same credentials as your Elegant Themes account (where you purchased your Divi license).
A popup appears... Be careful: your browser can block the appearance of this popup, do not forget to give it the necessary authorizations.
Confirm the connection by clicking on "Log In with this account".
Note that you can do the same thing with a module, a line, a section, etc.
Import a layout from the cloud

Then, it's the same logic:
Go to another site (a different site from the previous one), add a page and activate the Visual Builder.
Choose the "Choose Layout" option. If you do not have these options available to you, simply click on the purple "+" icon at the bottom of the screen and click on the first "+" icon again.
Then click on "Download template".
Click on the blue "Sign in to Divi Cloud" button
Again, a popup will open and offer you to log in.

To make your search easier, you can use the filters in the left sidebar. For example, you can enter the name of the record or filter by favorites.
Then select the layout (or any other record) you want to import. The little blue cloud means that it is an item that is stored in the cloud, and the little heart appears when you bookmark an item.
Confirm the import by clicking on "Choose layout".
And that's how easy it is! You've transferred a layout from one site to another without having to export and re-import it. If that's not a time saver!
Save a theme template pack to Divi Cloud
I told you earlier that you can "save everything in the cloud". By that, I meant "everything that is exportable". And the theme template packs are! Did you know that?
What is a "theme template set"? In Divi, they call it a "Theme Builder Set". A sort of set of templates that are matched... A pack, that is!
In other words, it is all the templates you have created from the Theme Builder. This can be :
Well, you can export them in one click!
Go to the tab Divi > Theme Builder. Click on the save icon in the library (the arrow in a circle)
A window opens: name your template pack. For my example, it is "Theme Builder WorkBook".
Enable the "Save to Divi Cloud" option.
Choose what you want to save: all the theme templates of this site, or just a few templates of your choice.
In the second case, you can check or uncheck each model.
Finish with "Save to Divi Cloud".
Import a theme template pack from the Cloud
To re-import this Theme Builder Set to another site, I'm sure you've figured out how to do it before you see the rest...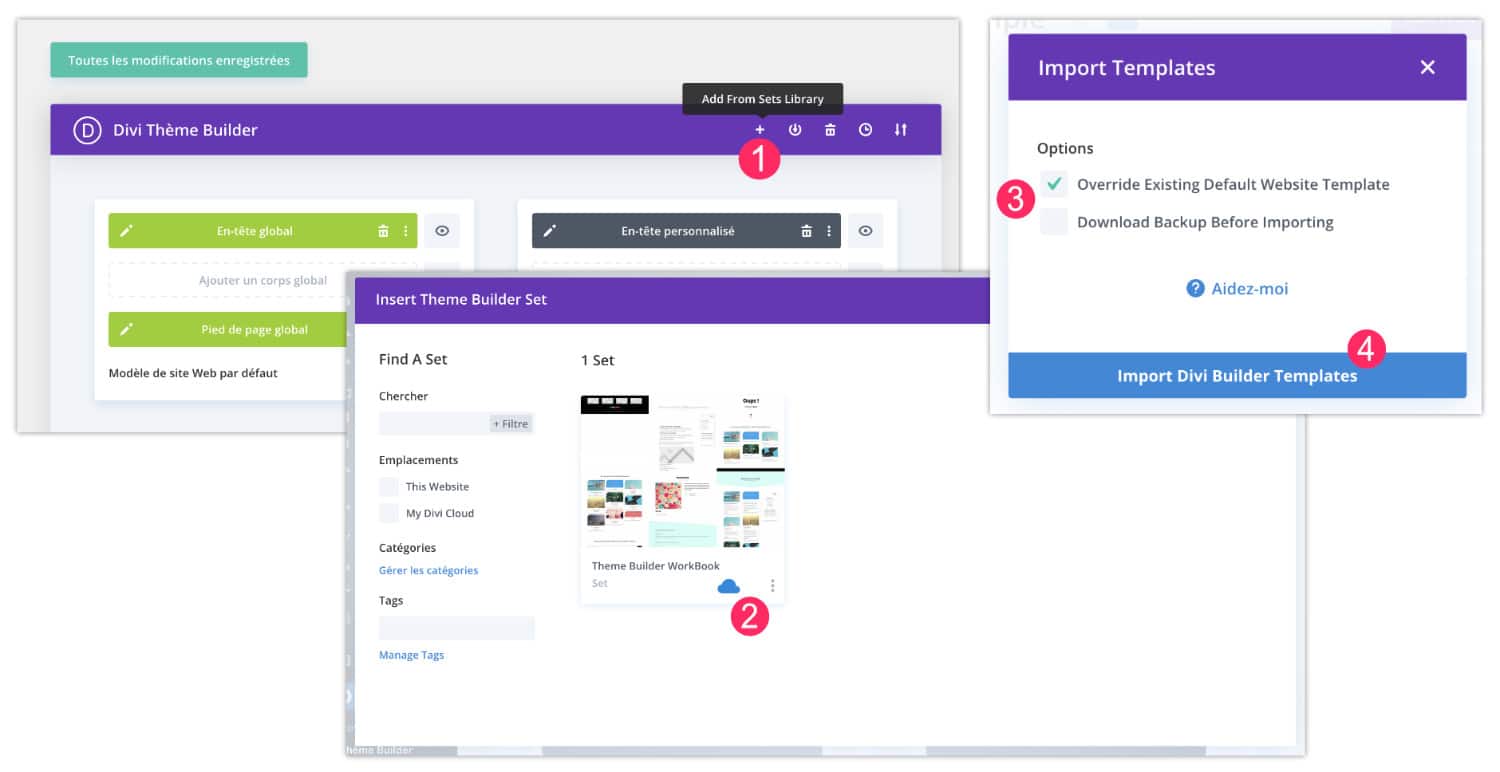 Go to the Divi > Theme Builder tab of your new site. Click on the "+" icon at the top right.
Select your previously saved set or choose from all your sets (for my example, I only have one).
Before importing, Divi gives you some options. Be aware that the "Override..." option means that your import will overwrite the theme templates already in your Theme Builder. If you uncheck this option, you'll import your new templates and keep your old ones - except that you'll have to reassign each template manually.
Confirm the import.
And that's it, it's super simple and efficient! If for each new site you create, you start with a set of preconfigured theme templates, you will save a lot of time: better productivity = better performance!
Manage items stored in Divi Cloud
Finally, you know that you can back out at any time, nothing is set in stone!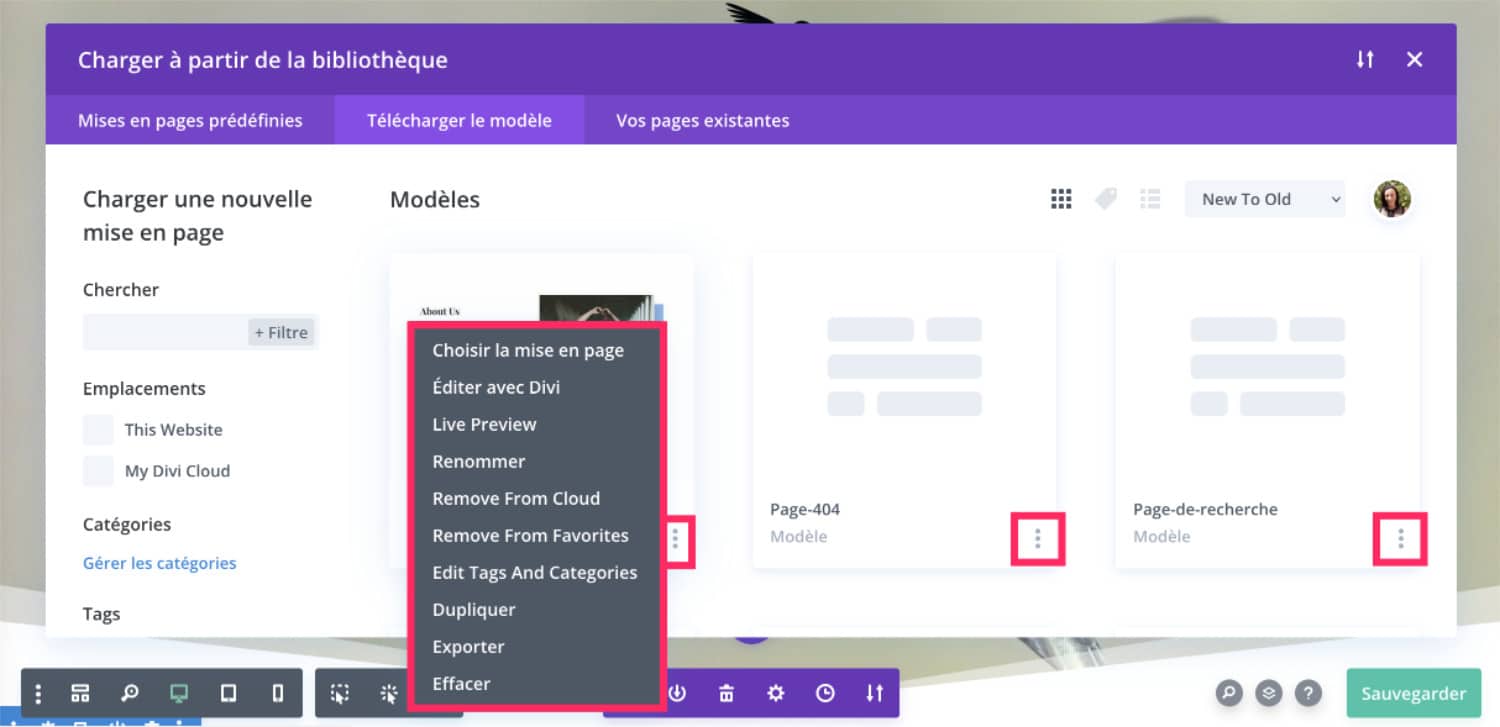 Indeed, it is easy to manage the items we have saved in the cloud. You can edit, delete, rename, bookmark, preview, duplicate, and restore from the recycle garbage can items in the Divi library both locally and in the cloud. Just click the 3 little dots on an item that displays the cloud icon to choose the right option!
Don't delay! Discover the Divi theme here !
5 - Divi Cloud: for or against?
I sometimes have clients or students who don't like storing things remotely. At every training session, for example, I always get "I don't like saving my passwords in the browser" or "I don't use Dropbox / Drive because I'm afraid of getting hacked" or "I don't buy anything online"... I'm OK with that... but trust me Divi Cloud is changing our lives!
😤 Before this service: I was exporting hundreds of modules / lines / layouts every month and I never really knew where to find them weeks later, when I needed them...
🥳 Now: it's cool, it's rolling! Divi Cloud centralizes all my work 😉
What about you? Do you use it? Do you think it is a great help? Or do you prefer to store it warm on your hard drive?