Many people wonder how much the Divi theme costs. It is true that this is not clear to everyone because the Divi theme has the particularity of being sold under various licenses.
This article will enlighten you on this subject. You will also find a price comparison with other WordPress themes such as Ocean WP, Astra or even Avada. Here is the program: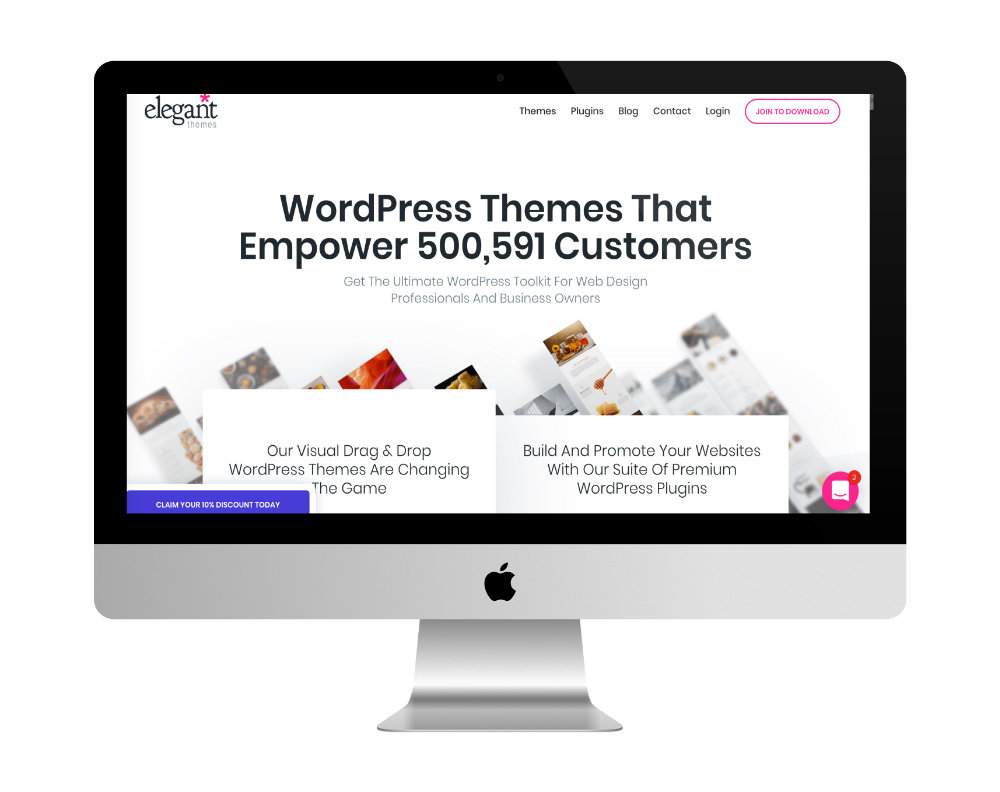 Advertisement: This article contains affiliate links that you will easily recognize. Classic links are in purple and sponsored links are in pink.
What does the Divi license of ElegantThemes include?
If you want to acquire the Divi theme, you will benefit from all the themes and plugins developed by ElegantThemes.
This means that by choosing the Divi theme, you can use:
the Divi theme: the main theme of ElegantThemes, the one most frequently used by freelancers or web agencies.
the Extra theme: a "magazine" theme that is a close cousin of Divi. This theme can be interesting if you want to create a lifestyle blog, an information blog etc. with different categories. The design is very nice and Extra is compatible with the Divi Builder (the page builder already embedded in Divi). To discover here.
the 86 other WordPress themes of ElegantThemes: i.e. you can use any other theme on this platform. Be careful, these 86 other themes have taken some wrinkles after the release of the Divi theme, don't expect incredible themes. But you can still test them and use them if you want.
the Bloom plugin: a great optin plugin to collect the email addresses of Internet users. It connects to your favorite email sending solution. I've already talked to you about by Bloom in this article.
the Monarch plugin: an ultra simple to configure plugin that allows the user to share your content on the social platform of his choice. The design of the buttons and their location are easy to customize.
the Divi Builder plugin: you say to yourself "but the Divi Builder is not Divi? ». No, that's what I explained in the article that gave you a good understanding the differences between Divi and Divi Builder. ElegantTheme's license then allows you to use the Divi Builder as a simple page builder as you would on a "lambda" theme. It would then take the place of Visual Composer or Elementor for example. The Divi Builder is therefore compatible with all WordPress themes. I had also done a test of the Divi Builder on the theme Tweety Seventeen (see the video).
72 layouts packs: the Divi Builder offers ready-made layouts that you can install in 1 click! In total, it's 549 layouts divided into 72 packs! It's just huge! I told you about this. layouts in a previous article.
You will have understood it, with all these tools in your hands, you will be able to accomplish web projects very easily.
Obtain the Divi theme now!
This is my case, since I have Divi, I use it on all my customer projects and I also make redesigns on my old sites by switching them to Divi. I explained to you how I realized a redesign of BeTheme to Divi for one of my clients.
Why did I end up migrating (almost) all my sites to Divi? Because I can't stand being dependent on the good will of Themeforest's theme developers, who update their theme only when they fall out of their sight! Often, these themes embed Visual Composer which is updated more often than the themes. If you use themes from Themeforest, you may have noticed that to get updates from Visual Composer, you must buy a separate license or wait until the theme offers (finally) the update. Weeks or even months can go by with all the security risks that this entails! RAS LE BOL! With Divi, it's clean, I've rarely (if ever) had conflicts with plugins and most importantly, updates are regular and easy to do.
Also to be read: 10 good reasons to choose Divi!
How much does the Divi theme cost?
Let's talk money now! What is the price of Divi really? So if we summarize, by opting for a Divi license, you will not only have the Divi theme but all that goes with it and you will be free to use them... or not.
However, all these tools will be usable on an unlimited number of websites, regardless of the license you choose! Yes, yes, an unlimited number of web projects!
What differentiates the price is the duration of your license:
The YEARLY license at $89
ElegantThemes' annual license gives you access to 88 WordPress themes, 3 plugins and 549 layouts to download in 1 click... for $89 per year. On an unlimited number of installations.
Namely: if you do not renew your license after one year, your sites will work but the theme and plugins will no longer be updated. You will not benefit from the new features and you will no longer be allowed to download new layouts.
Currently, $89 is equivalent to €76. To this, you will have to add the 20% VAT.
Divi's annual license will cost you about €92 per year (this may fluctuate depending on the exchange rate).
The LIFETIME license at $249
Everything included in the annual license is also included in the lifetime license, except that you will only pay once for your license. You will not have to renew it.
It will therefore cost you more at the beginning ($249) but less in the long term.
Currently, $249 is equivalent to $212. To this end, you will not be charged 20% VAT either
Divi's Lifetime license will cost you about 255€ once and for all (this may fluctuate depending on the exchange rate).
If you look at it from an accounting point of view, 3 years of annual licensing costs more than the Lifetime license. For my part, it's been a long time since I amortized it 🙂
Can I get Divi for free?
In my Google Analytics statistics as well as in my Google Search Console, I regularly see that Internet users visit Tips Divi after entering the query "get the Divi theme for free" in the browser.
First of all, Google crashes by offering my blog to Internet users who are looking for Divi for free! It's clear... I only have Divi's child theme to offer you. You will be able to download it for free here for no consideration.
Then, we must stop wanting everything for free and dishonestly. This theme was designed by developers who spent years there to make it a flagship product used worldwide. A product that will save you money and time... so you understand me...
Finally, malicious people or dishonest websites that offer you Divi for free may be exasperated to see this kind of "contraband" and take the opportunity to inject malware into the plugin or theme code. These malware can infiltrate your files, your database or even worse, your computer. So you will have been warned!!!!!
Comparison with the prices of other WordPress themes
I often hear people say "Divi is expensive". Oh, yeah? Let's compare then... with what is comparable of course!
Divi VS Ocean WP
Even if Ocean WP is a free and very popular theme, if you want to use all its features (the BUNDLE EXTENSION CORE), you will have to pay :
39$/year for 1 site only or 40€ TTC per year // or 159$ lifetime still for 1 site only or 163€ TTC payable in one time
79$/year for 3 sites or 81€ TTC per year // or 319$ lifetime still for 3 sites or 328€ TTC payable in one time
129$/year for an unlimited number of sites or 132€ VAT included per year // or 519$ lifetime still for an unlimited number of sites or 533€ VAT included payable at once.
The license fee for the Ocean WP Core Bundle is based on the number of installations possible and the duration of the license. To know more about it here.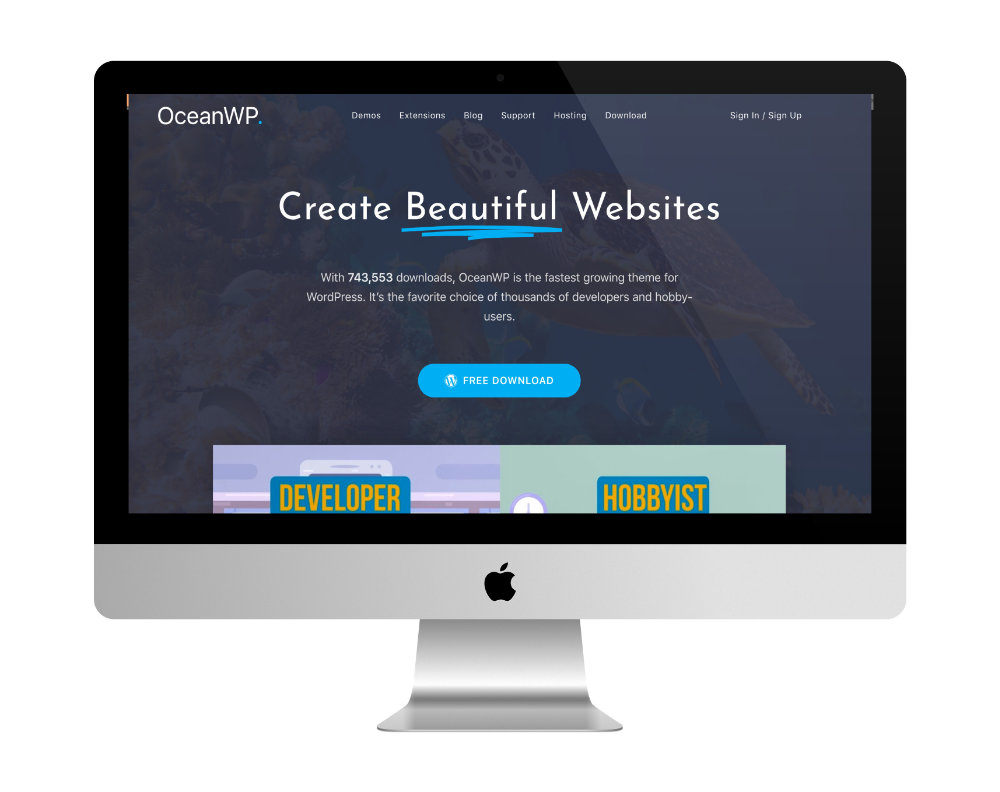 So to compare what is comparable: the Divi license costs 92€ per year or 255€ at one time while the features of the Ocean WP Core Bundle costs 132€ per year or 533€ at one time for an unlimited number of sites.
Divi vs Astra Theme
The Astra theme is a very effective theme. It is of the same quality as Ocean WP but a little easier to configure. It is available in a free version but if you want to use the pro version, you will have to pay:
59$/year for an unlimited number of sites either 60€ per year or 249$ in lifetime version or 255€ TTC payable in one time
169$/year for an unlimited number of sites either 173€ TTC per year or 499$ in lifetime version or 512€ TTC payable in one time
249$/year for an unlimited number of sites or 255€ TTC per year or 699$ lifetime or 718€ TTC payable in one time.
What differentiates licenses is not the number of possible installations but rather a question of functionality. Learn more about Astra here.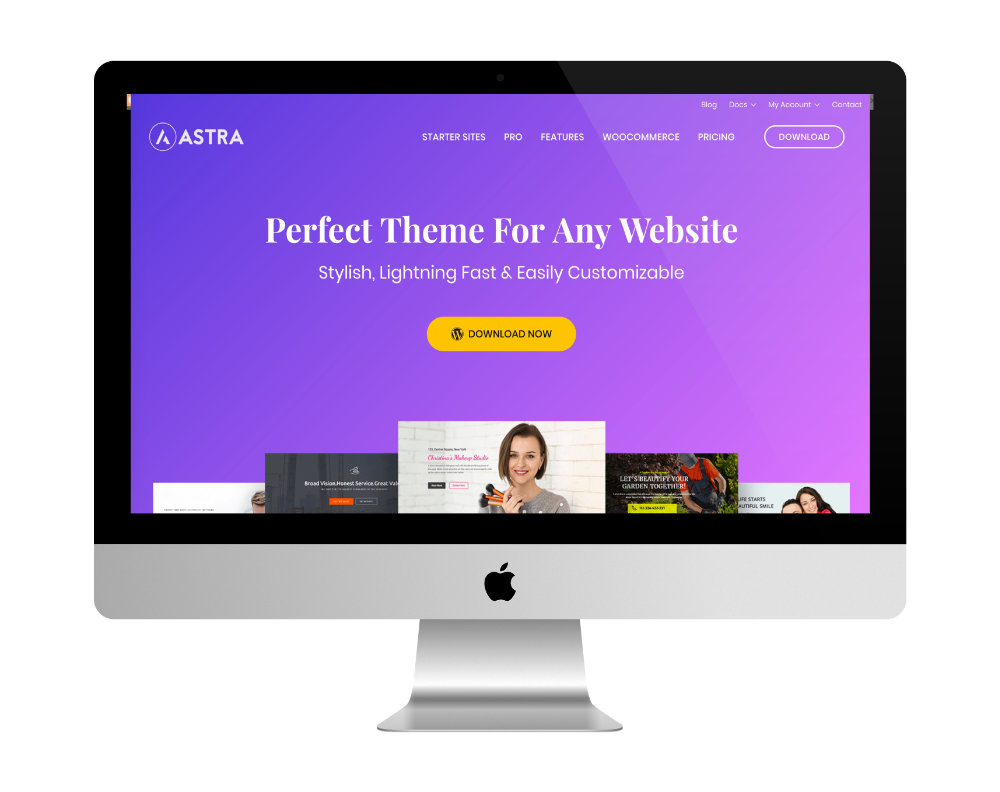 So for this comparison: the Divi license costs 92€ per year or 255€ at one time while Astra Pro costs between 60€ and 255€ per year or between 255€ and 718€ at one time for an unlimited number of sites.
Divi VS Avada.
Avada is a theme sold on ThemeForest. This is the best-selling theme of the platform! Thousands of sites use it... How much will it cost you?
The Avada theme will cost you the modest sum of 60$ or 62€ TTC. In view of the exorbitant prices of the other licenses mentioned above, this price remains reasonable... Yes but...
the Avada license will be usable only on 1 site
you will be entitled to support for only 6 months
if you want to access support for 12 months instead of 6, you will have to pay an additional $18
if after this time you have a question, you will need to renew your support license for $40
if you want to use Avada on another site, you will have to buy it again
an "Extended License" exists: it is the equivalent of lifetime, say for use on an unlimited number of sites. Without support... It costs 2950$ or 3030€ TTC!!!!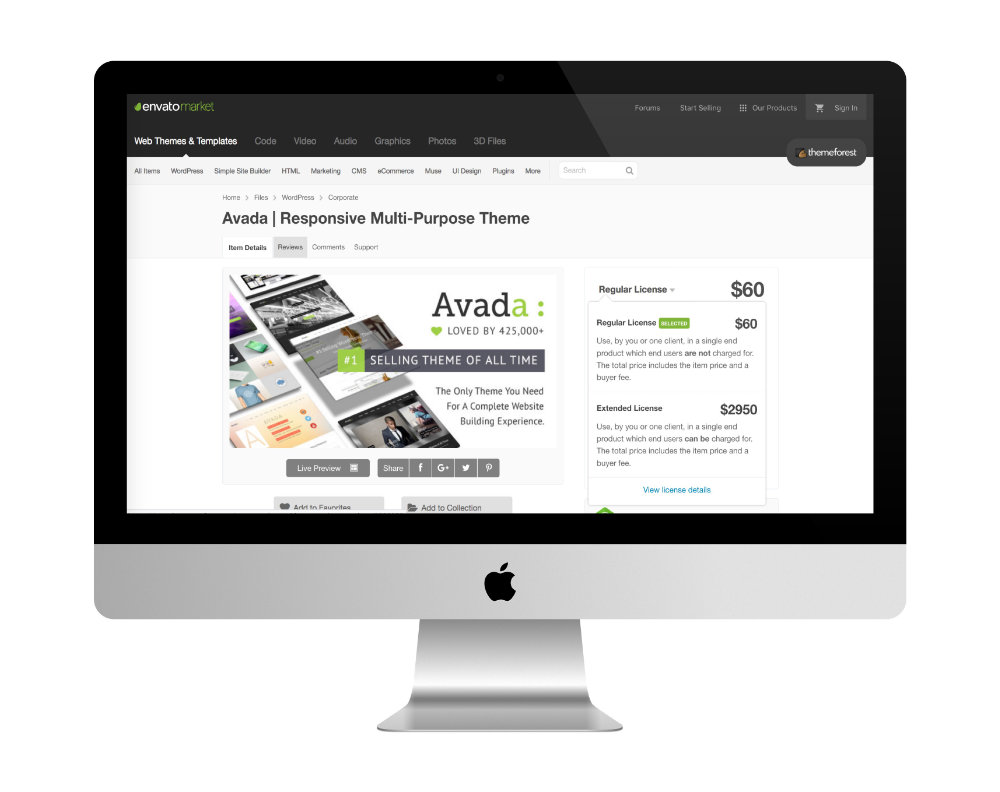 Can we really compare Avada's extended license with Divi's Lifetime license? I'll say yes... The only difference is that Divi takes the Divi Builder on board while Avada takes on its own page builder - the Fuison Builder - which is a real dinosaur. More about Avada.
Divi Builder VS Elementor
As the Divi Builder is part of the ElegantTheme license, its price is the same as for the Divi theme. But if you want to compare the Divi Builder's rates with those of Elementor, here's what you need to know:
49$/year for 1 site only or 50€ TTC per year
99$/year for 3 sites or 102€ TTC per year
199$/year for an unlimited number of sites or 204€ TTC per year
To these prices, you will have to add the purchase of a premium theme (or the use of a free theme). And above all, you will notice that Elementor does not offer a LIFETIME solution. This means that you will have to renew your license every year, so after 10 years, you will have paid $99, just that! To know more about it here.
So if we had to compare the two manufacturers: using the Divi Builder will cost you 92€ per year while Elementor will cost you 204€ per year for the same unlimited number of sites.
In conclusion: which Divi license to choose?
Do you still think the Divi theme is expensive?
To conclude, here is what I say to my students, those I train in companies, institutes or universities:
If you are planning to create a simple blog, just for fun = use a free theme such as Astra, Ocean WP or Hestia (read my Hestia's review on WP Training).
If you still want to use Divi when you plan to create a single site/blog = Divi will cost you more than the other alternatives. But you will save an incredible amount of time on the creation of your site and less worries afterwards because there are many tutorials on the web about Divi that can help you, especially on the blog of Tips Divi and on the ElegantTheme's blogbut not only that...
If you plan to create several sites or blogs (even if only 2 or 3) in the near or distant future = choose a solution that will cost you less in the long term. Whether in money or time, because training for a new theme with each new WordPress site takes time, believe me!
Finally, I would like to say that Divi is certainly the best value for money on the market for WordPress themes today. But this point of view only concerns me (and perhaps the other 500591 purchasers of the Divi license)...