How to update the Divi theme? It's simple, but if you start with DiviIn this article, I explain how to enable automatic updates of the theme.
Here is the program of this article:
Advertisement: This article contains affiliate links that you will easily recognize. The classic links are in purple and sponsored links are in pink.
1 - How do I know if an update of the theme is available?
When you go to the Appearance > Administration Themes tab of your site, you will see the covers of the WordPress themes installed there.
When an update is available, a notification banner is affixed to the image: "New version available"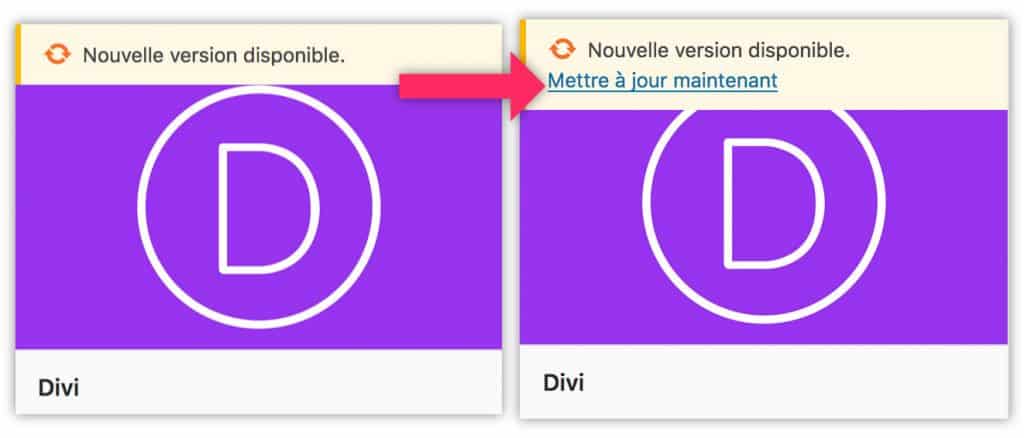 If the mention "Update now" is registered (as in the image on the right), then simply click on this blue link and your theme will be updated automatically.
However, if this mention does not appear (as in the image on the left), you will have to activate the updates using your Divi API key.
Did you know that you can test Divi for free? Go to this page and click on "TRY IT FOR FREE"
2 - Where to get an API Key Divi (API key)?
When you have bought your Divi licenseWhether annual or lifetime, you have created an account on the Elegantthemes website. It is on this site that you have access to your Divi API keys (API Keys).
Appointment on your Member Area and enter your login details to connect to your ElegantThemes account.
Select the Account tab.
Select the Your API Key tab.
Generate a new key by clicking on Add New API Key.
Copy the generated key.
Note: it is rather a good practice to generate a new key for each new site. This way, your license will be independent of each site and you will be able to disable certain keys when necessary. However, the ElegantThemes interface does not allow you to assign a name or title for each generated key. It is then advisable to enter them in a third-party document that you will keep on your computer.
3 - Enable automatic updates of the Divi theme
Now that you have your API key, you will connect it to your site to enable automatic updates.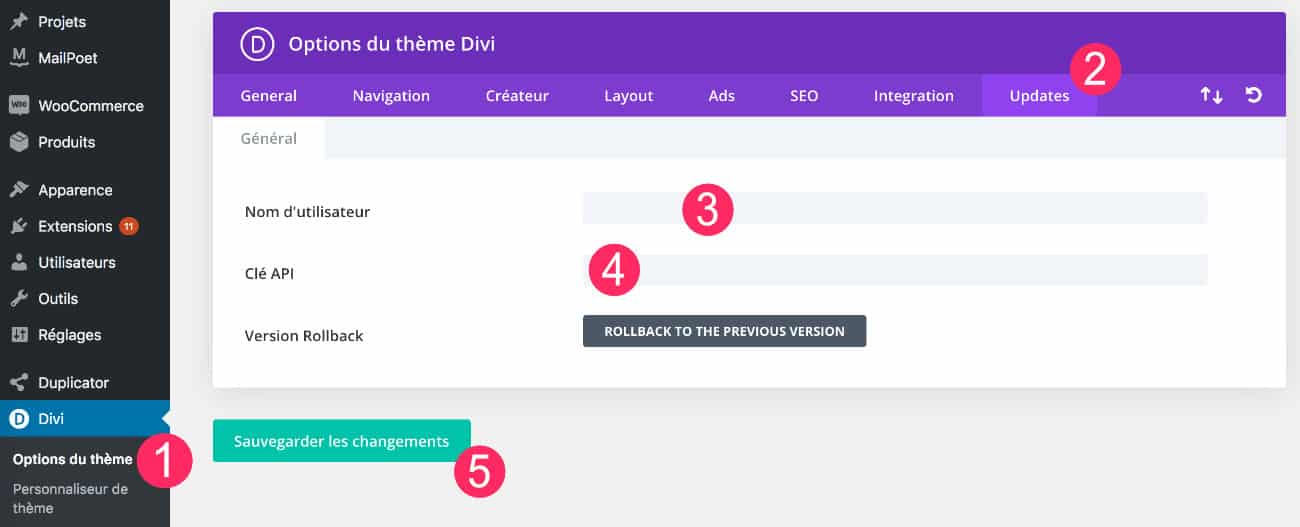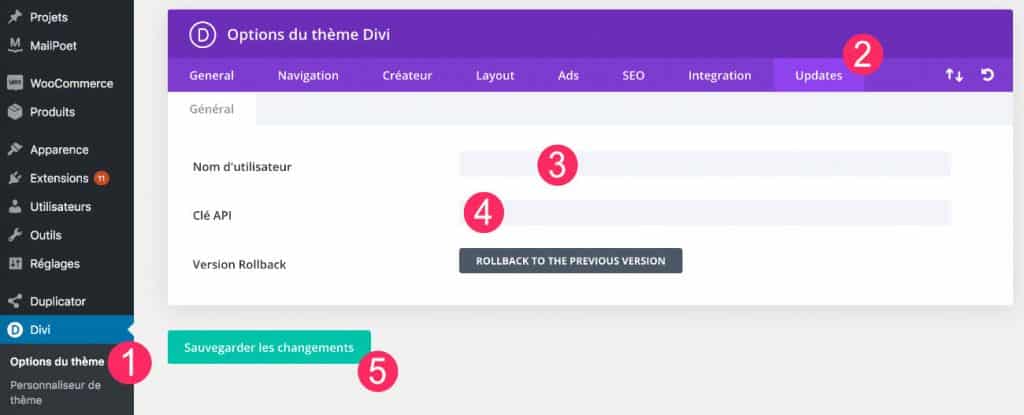 Go to the Divi tab > Theme Options
Go to the Updates tab
Enter your username: the one you use to login to your ElegantThemes account
Paste the previously generated API key
Save your data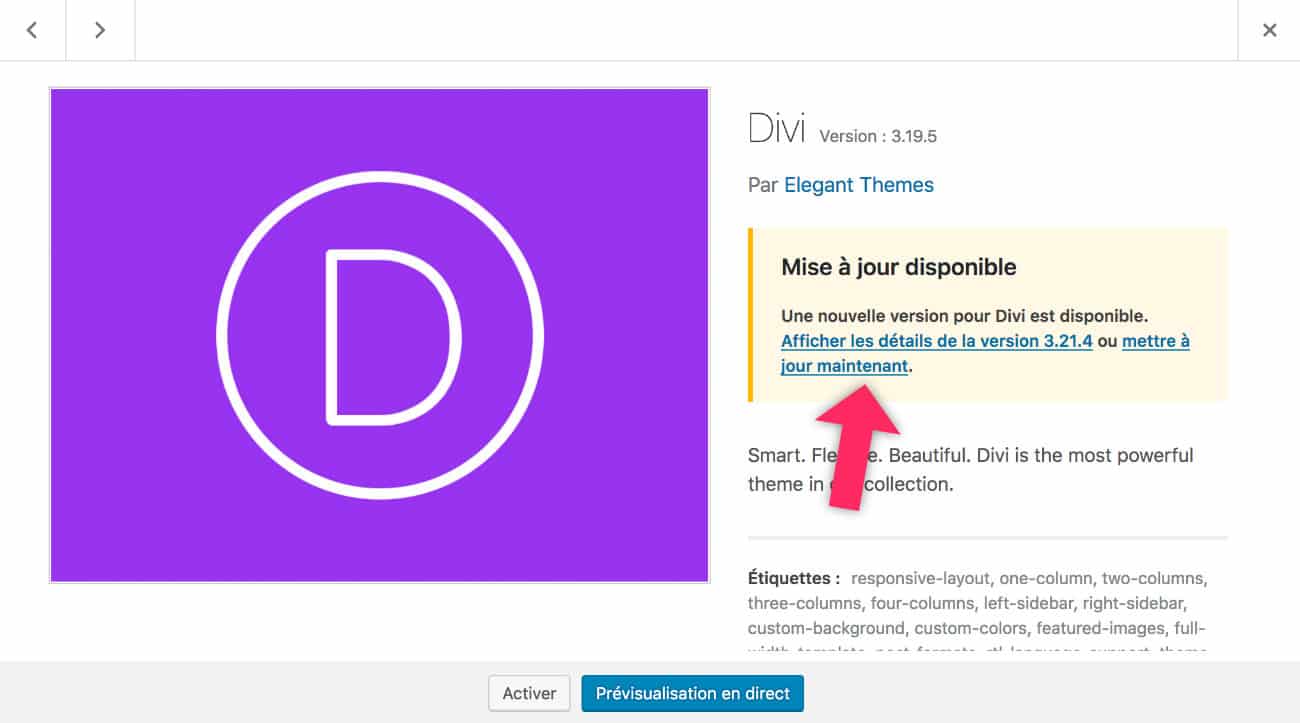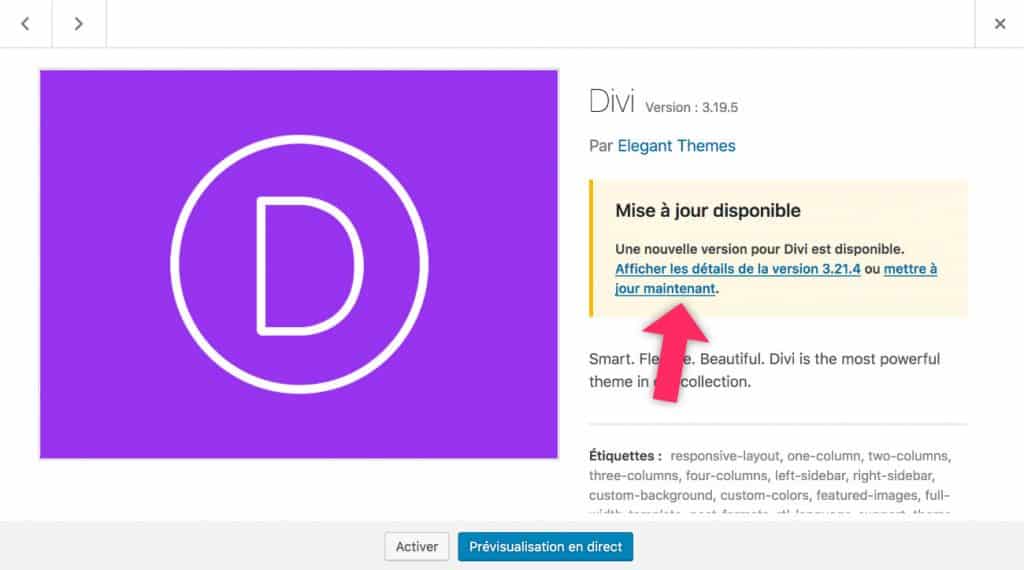 Now, when you go to the Appearance > Themes tab, the link to update Divi should appear. All you have to do is click on it to start the update.

4 - How to update Divi via FTP?
For some reason X or Y, you may encounter problems such as not receiving update notifications when you have an old version of Divi, or you don't have a valid Key API etc.
In these cases, you can opt for a manual update of Divi via FTP.
To update a WordPress theme manually, you must be able to access the files on your site. These files are stored on your host, remotely. You will then need to use FTP software (such as FileZilla for example) that will allow you to build a gateway between your computer and your server (host).
The idea is to retrieve, locally (=on your computer), a new version of the Divi theme from your ElegantThemes account and send it to the files of your site (at the host), thanks to Filezilla.
Once the FileZilla application is installed on your computer, you will be able to open it and connect to your server using the FTP IDENTIFICATORS that it provided you when you subscribed to your hosting.
If you do not find them, contact your host who will give them to you again.
These IDs are to be entered in the Host, Login and Password fields at the top of the FileZilla screen.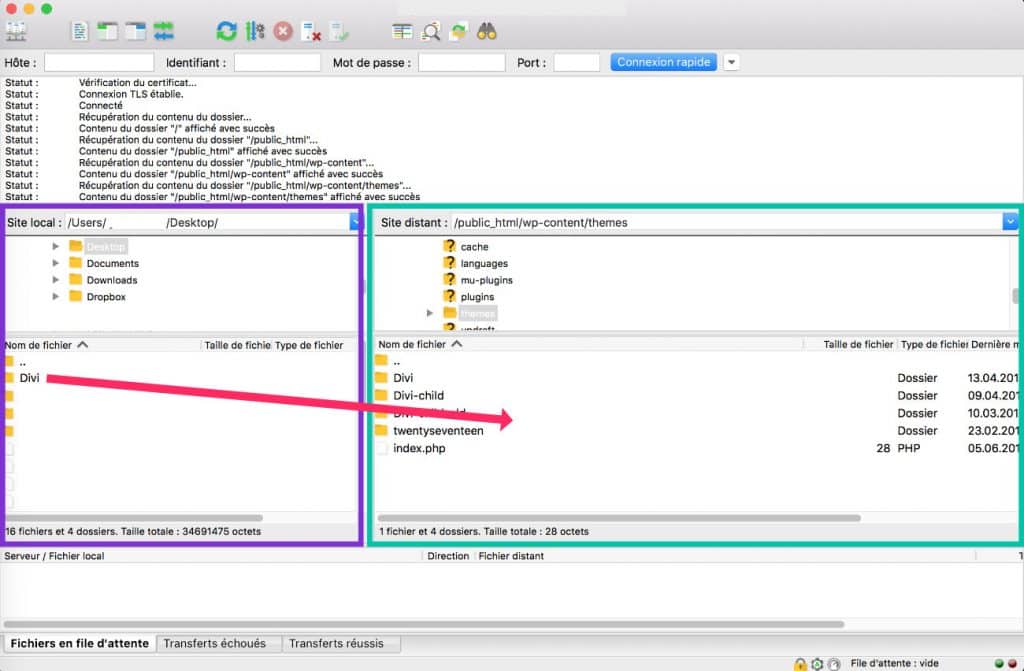 Once connected to your server, you only need to browse through the files on your site to reach the folder containing the WordPress themes.
Use the window on the right named Remote Site (green box on the screenshot) and double-click on WWW then on WP CONTENT and finally on THEMES. Double-clicks allow you to open folders.
Depending on your host, it is possible that the WWW folder may be named differently (such as PUBLIC_HTML for o2Switch for example).
Once the themes folder is opened on the Remote Site side, you just have to drag and drop the new Divi theme on your computer.
Note: this procedure is the same as for install the Divi theme manually.
This will be in the left window named Local Site (purple box on the capture). You can also drag and drop directly from your desktop to the Remote Site.
At that time, FileZilla will send you a message telling you that a folder with the same name already exists and suggesting that you replace it.
Warning: the Divi theme folder you send must be decompressed!
5 - The importance of updates
Updating your WordPress themes and plugins is essential for the security of your site.
Not only must you update WordPress as soon as a new version is available, but you must keep your entire environment up to date: even plugins and themes that are not enabled!!!!
It is even advisable to delete plugins and themes that are not active and that you no longer intend to activate. A security breach can affect a site even if the plugin is not enabled.
If you find it too constraining to connect to the backoffice on a daily basis, it would be a good idea to install a plugin that automatically updates your environment as Easy Update Manager.
Need more resources on Divi? Visit ElegantThemes' blog full of ideas and tutorials!