Wondering if Divi is in French? Yes, he is! But it is quite possible that you may be disappointed with the translation.
Indeed, the theme is translated into many languages - including French - but the quality of the translation leaves something to be desired... It is the least we can say!
This translation can sometimes be confusing. The English terms would be almost more intuitive!
If you too find that the French terms are sometimes incomprehensible and that it annoys you, there is a solution to that: Divi French.
Funny name for a plugin that allows you to translate the Divi theme and its Divi Builder into French!
I met the creator of Divi French (hi FX!) at the last WordCamp Paris! We chatted and he convinced me to test his extension 😉
When I came back, I didn't waste any time! I bought and tested the plugin. I suggest you then a little review!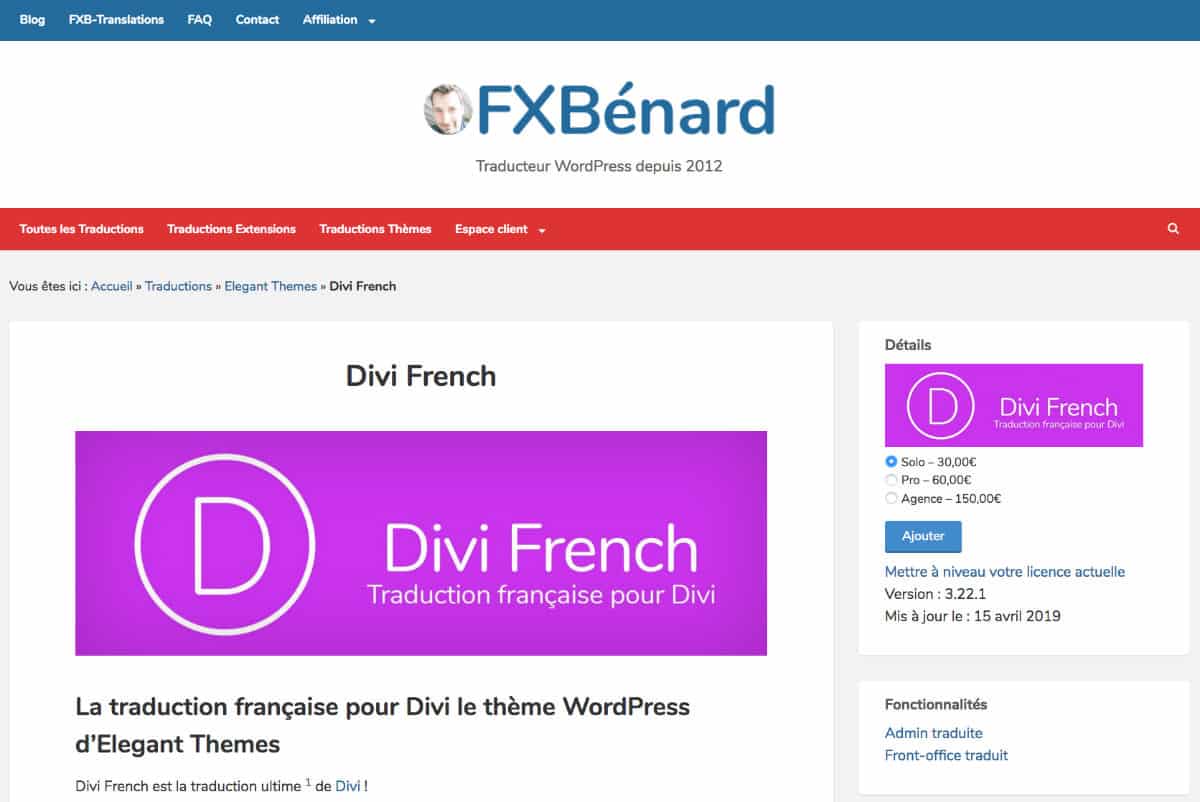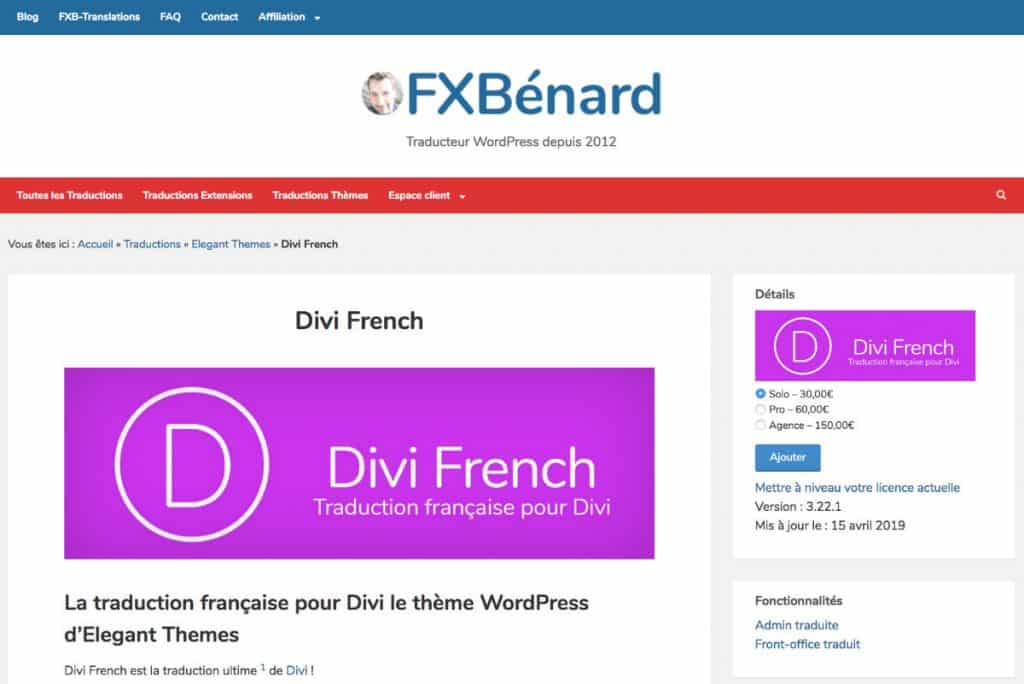 Advertisement: This article contains affiliate links that you will easily recognize. The classic links are in purple and sponsored links are in pink.
On the agenda of this article:
1 - Why translate a theme already translated?
That's a very good question... The one you must be asking yourself: why should we pay to translate a theme that is already available in French?
In my opinion, there are many valid arguments, but here are the main ones:
You are a beginner on WordPress: when you start on this CMS, you don't understand all the ins and outs. As a result, it is easy to understand some options of a theme or a page builder for example. If, when making configuration decisions, the options are poorly translated, we will certainly make some mistakes. It will be difficult to understand what the theme proposes to us. Divi French should therefore help you in the construction of your site, since everything is translated into "good French", even the tooltips (these are the explanations of some options that are hidden under the "question mark icons").
You are a web agency or a freelancer: you create websites for your customers and it is very important for you to deliver a good quality website, whether at the front end or back end level. Divi French will then be a "plus" in the marketing of your service. A great argument for customers who don't understand a word of English (and I know a lot of it!).
You are picky when it comes to the French language: it irritates you when certain words or terms take the place of another. You're always wondering what the "post scroll cursor" module means, for example, and you're wasting time when you create your layouts with the Divi Builder... In this case, Divi French will contribute to improving your use of Divi.
Are you considering buying Divi? Get -20% off the ANNUAL license or -10% off on the LIFETIME license
2 - Divi French: how does it work?
I love it when it's simple! And for the moment, it couldn't be easier with a plugin!
You install Divi French on your WordPress site using Diviyou enter your API key and it works!
There is no need to make any settings. Divi and its Divi Builder are automatically translated. It's very appreciated 😉
Here is the process in detail:
2.1 - Getting Divi French
All you have to do is go to the official page of Divi French and choose the type of license that suits you best. Then finalize your order.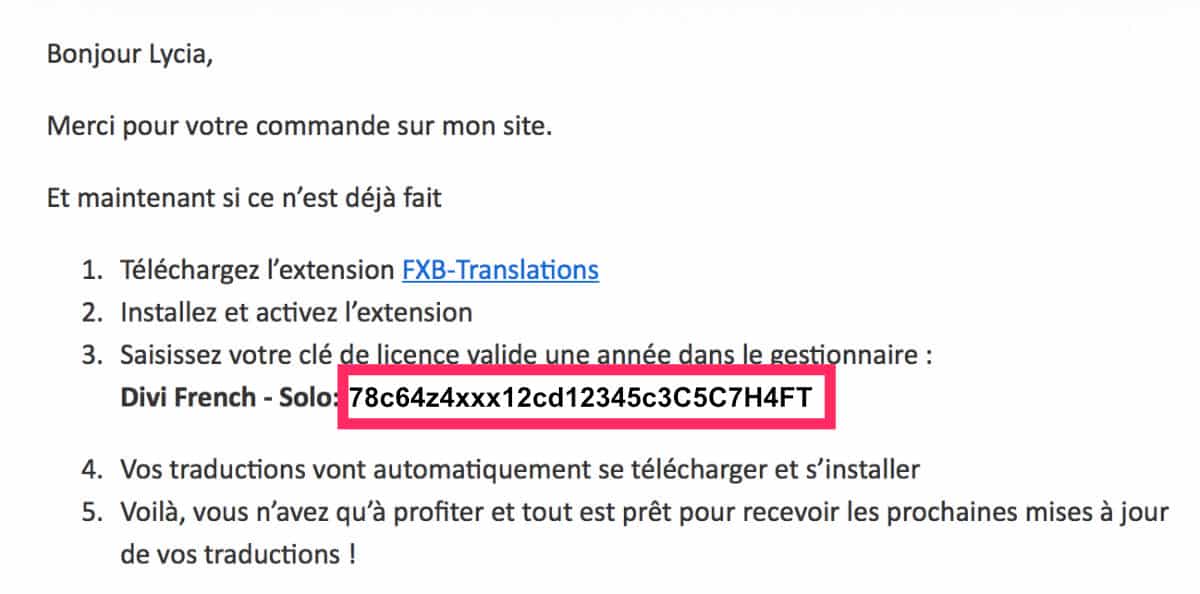 You will receive an email that will allow you to retrieve the extension and your license key.
2.2 - Installing the plugin
Since Divi French is a premium plugin, its installation differs from the free plugins found in the official WordPress directory.

Go to the Extension tab > Add and click on the "Upload an extension" button (at the top of the screen).
You will be able to browse the files on your computer and select the folder named "wp-translations-pro.zip" - which you recovered thanks to the download link received by email after your purchase. Warning: you must upload the compressed folder (.zip).
2.3 - Activate the license key to get Divi in French (in good French)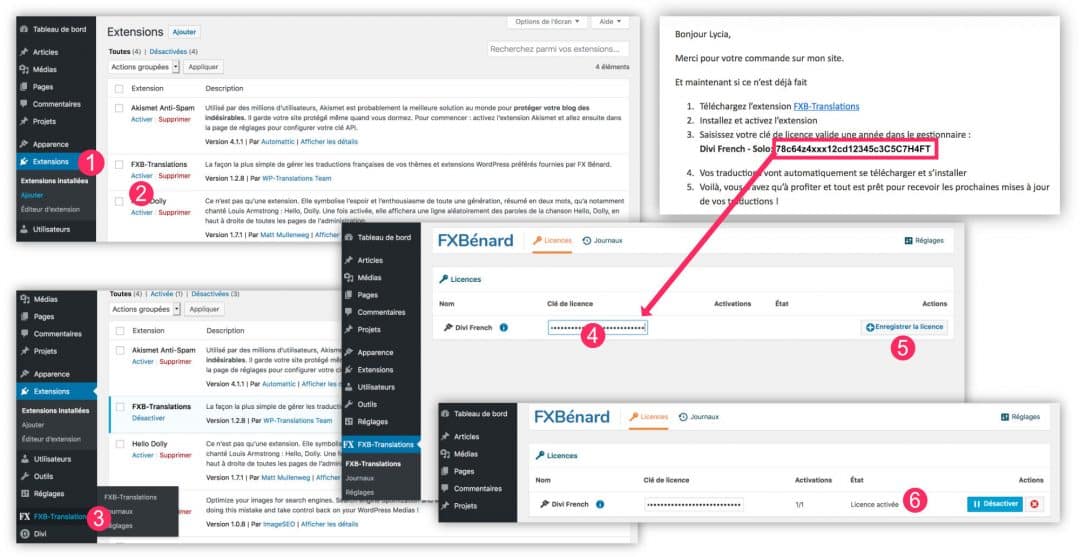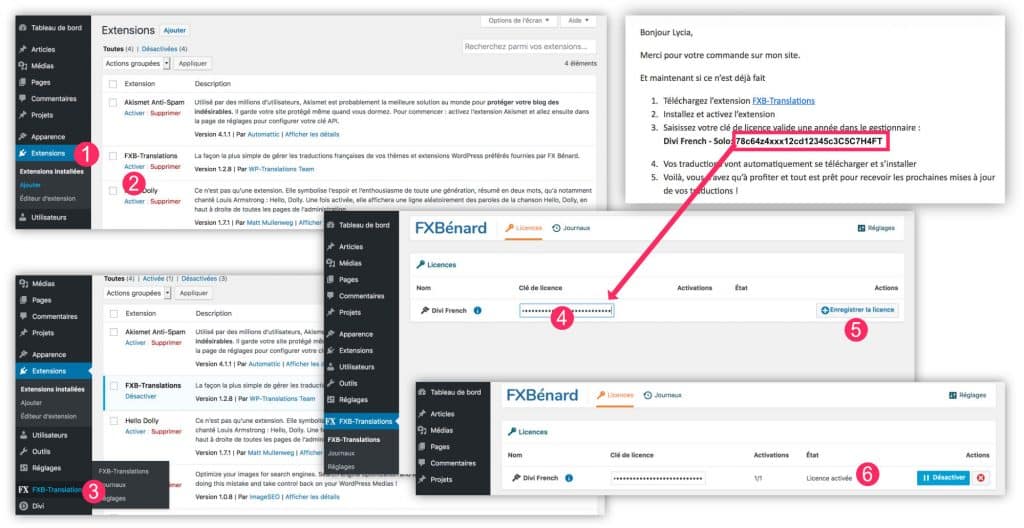 Go to the Installed Extensions tab
Enable the FXB-Translations plugin
Go to the FXB-Translations tab
Enter your API key previously received by email in the field provided. Note: copy only the key composed of numbers and letters. Do not copy the entire line in bold.
Click on Register License
A message appears: license activated
3 - Divi French: how much does it cost?
As you can see, Divi French is not free. I can't even imagine the number of hours of work that an extension like this one required!
Especially considering the number of monthly updates issued by ElegantThemes that require a regular update of the plugin...
Divi French is available under 3 licenses: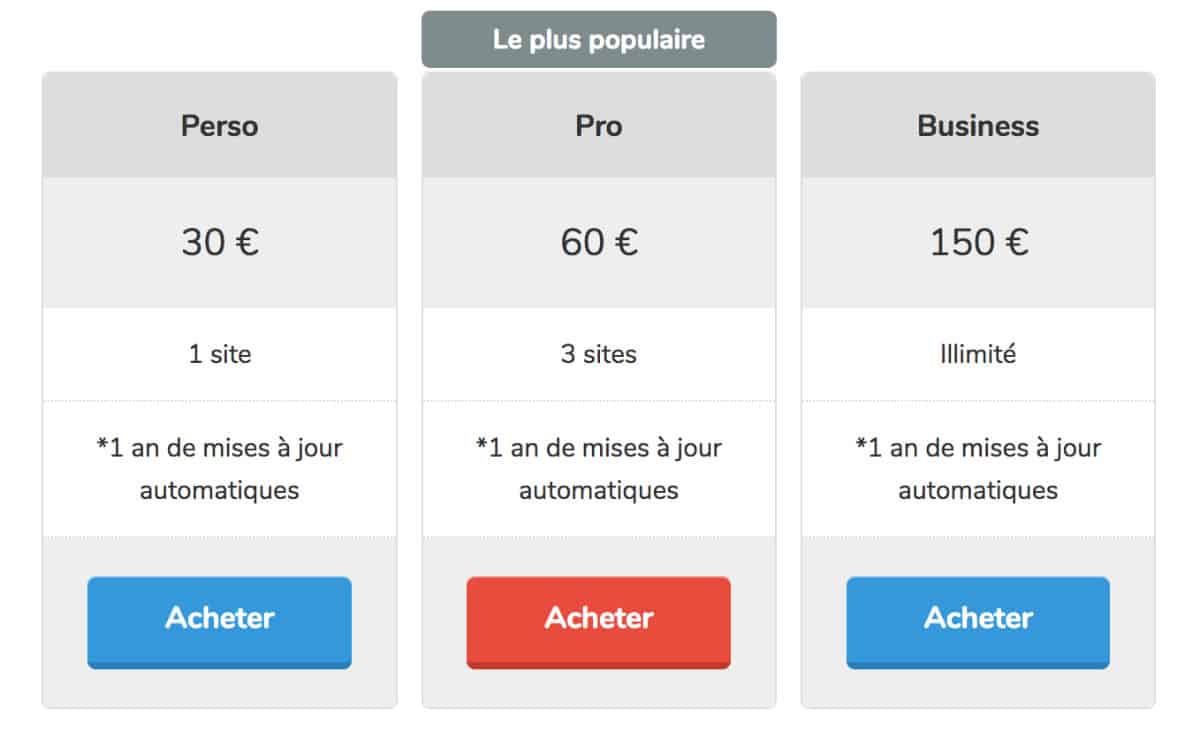 If you are looking for free plugins for Divi, it's here !
4 - Some examples of image translation
During my test, I took the opportunity to make some comparative screenshots.
On each image in the gallery below, you will find the original version of Divi on the left (pink box) and the Divi French version on the right (green box).

5 - In conclusion....

Although I am aware of this, each WordCamp reminds me how active the French-speaking WordPress community is!
Another one more plugin for Divi tested and approved ! The ease of use of Divi French and the quality of its translation are a real comfort on a daily basis...
On the other hand, do not make any confusion: Divi French provides quality translation for your site's back office - if you are looking for a multilingual site, you will need to use an extension such as Weglot.