I have tested DiviFlash, a premium extension for adding new modules to the Divi Visual Builder. In this article, I present you its features. Don't miss the demo video!
Announcement: this article contains affiliate links that you will easily recognise. The classic links are in purple and sponsored links are in pink.
1 - What is DiviFlash?
As you can see, DiviFlash is a premium extension that you add to your Divi site to get new modules.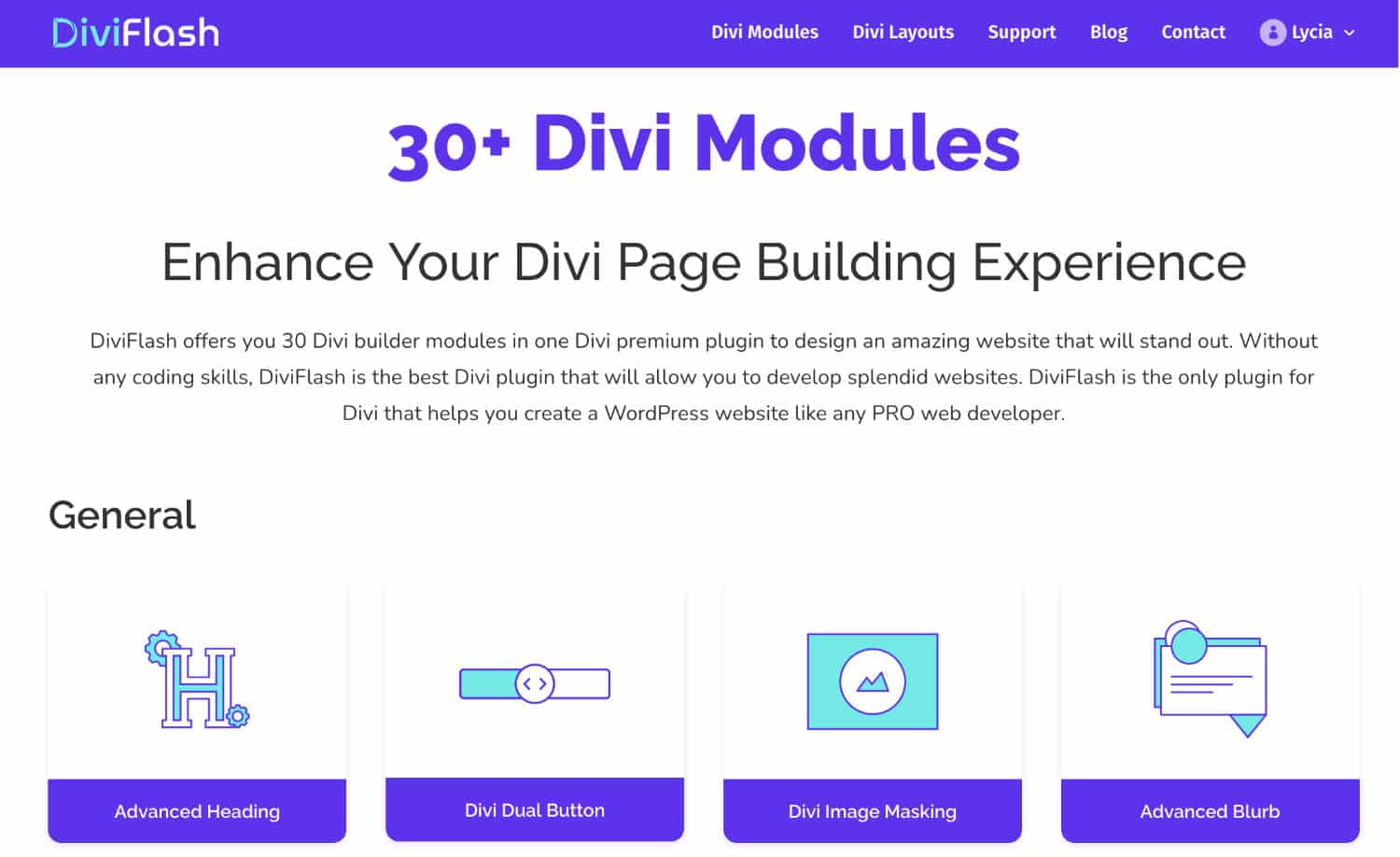 It is true that 46 native Divi modules offer many options, but some are still missing, which does not allow us to create layouts as we would like...
Did you know? You can test Divi for free by visiting on this page and clicking on "TRY IT FOR FREE
2 - The 31 modules of DiviFlash
DiviFlash adds 31 modules to your Divi Builder.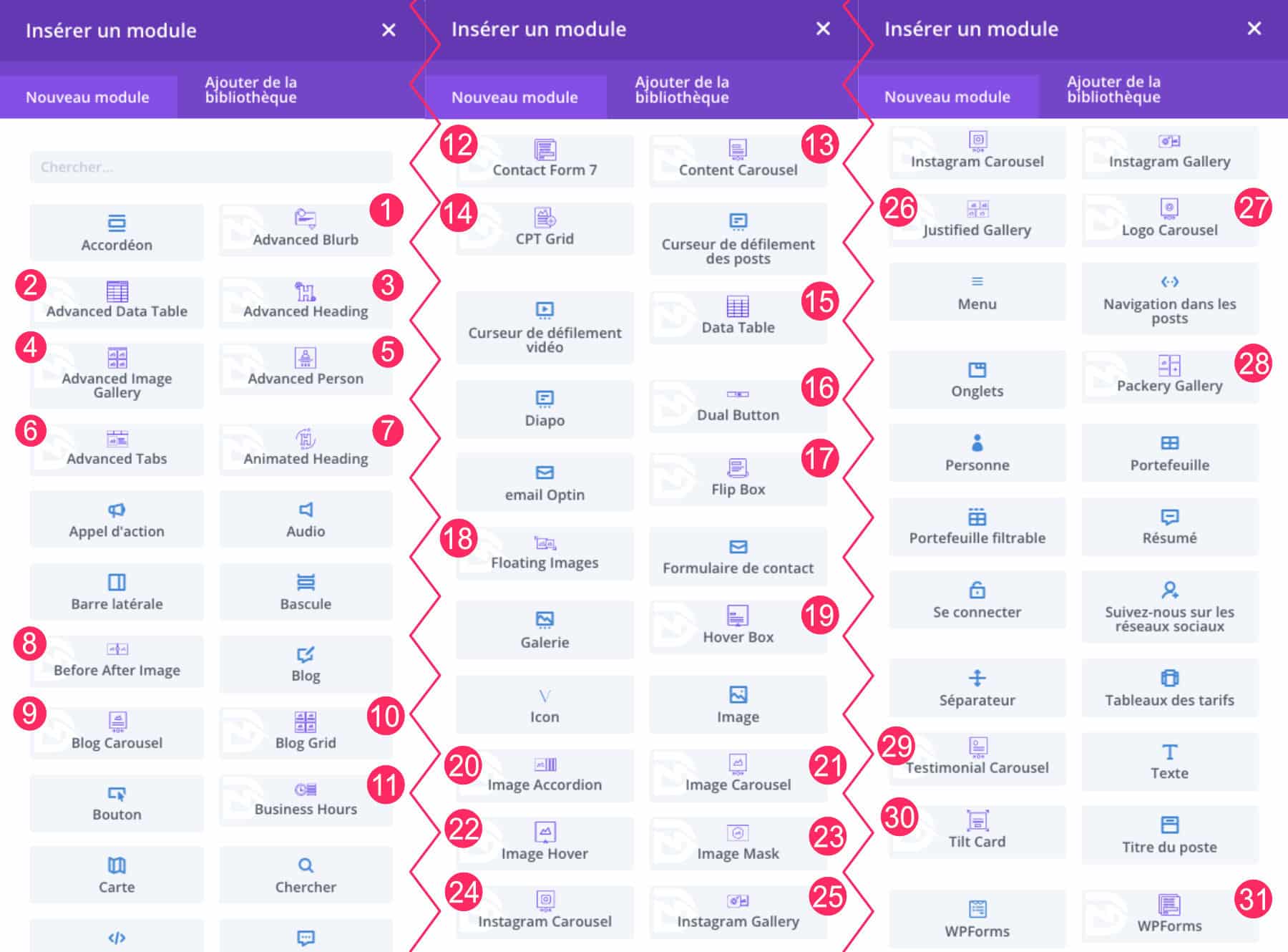 Here is the complete list:
Advanced Blurb: summary module with advanced options
Advanced Data Table: to create custom tables
Advanced Heading: title module with advanced options
Advanced Image Gallery: image gallery module
Advanced person: module to present your team for example
Advanced Tab: workbook with tabs
Animated Heading: allows you to animate your titles
Before After Image: ideal for displaying 2 images (before and after)
Blog carousel : to display your blog posts as a carousel (👉 read also this tutorial on product sheet carousels with Divi)
Blog Grid: blog posts displayed in grid view
Business Hours: to display your company's hours
Contact Form 7: integration with options for forms created with Contact Form 7
Content Carousel: carousel of various contents
CPT Grid: to display your Custom Post Type entries as a grid
Data Table: table module
Dual Button: to create a double button (with 2 links)
Flip Box: display content that "flips" on mouse-over
Floating Image: effect of images that float vertically or horizontally
Hover Box: define mouse hovering over various elements
Image Accordion : accordion of images
Image Carousel: to create a carousel of images
Image Hover : define the appearance of an image on hover (👉 read also this tutorial on how to add a zoom effect when hovering over an image with Divi)
Image Mask : apply a mask on an image - 30 masks available (👉 read also this tutorial on Divi's image masks).
Instagram Carousel: create a carousel of images from your Instagram account.
Instagram Gallery: your Instagram images as a gallery in your Divi site (👉 read also how create an Instagram link page with Divi).
Justified Gallery: display a justified (aligned) image gallery
Logo Carousel: create a carousel of logos
Packery Gallery: gallery with several types of displays
Testimonial Carousel: customer testimonial carousel
Tilt Card: card animation with various contents
WP Forms : integration with options for forms created with WP Forms
With all these modules, you will no longer lack resources to create original layouts !
Don't delay! Discover the Divi theme here !
3 - How much does this plugin cost for Divi?
Yes, DiviFlash is not free! But the good news is that a Lifetime version is available, which allows you to buy a multi-site license at once, without having to pay every year.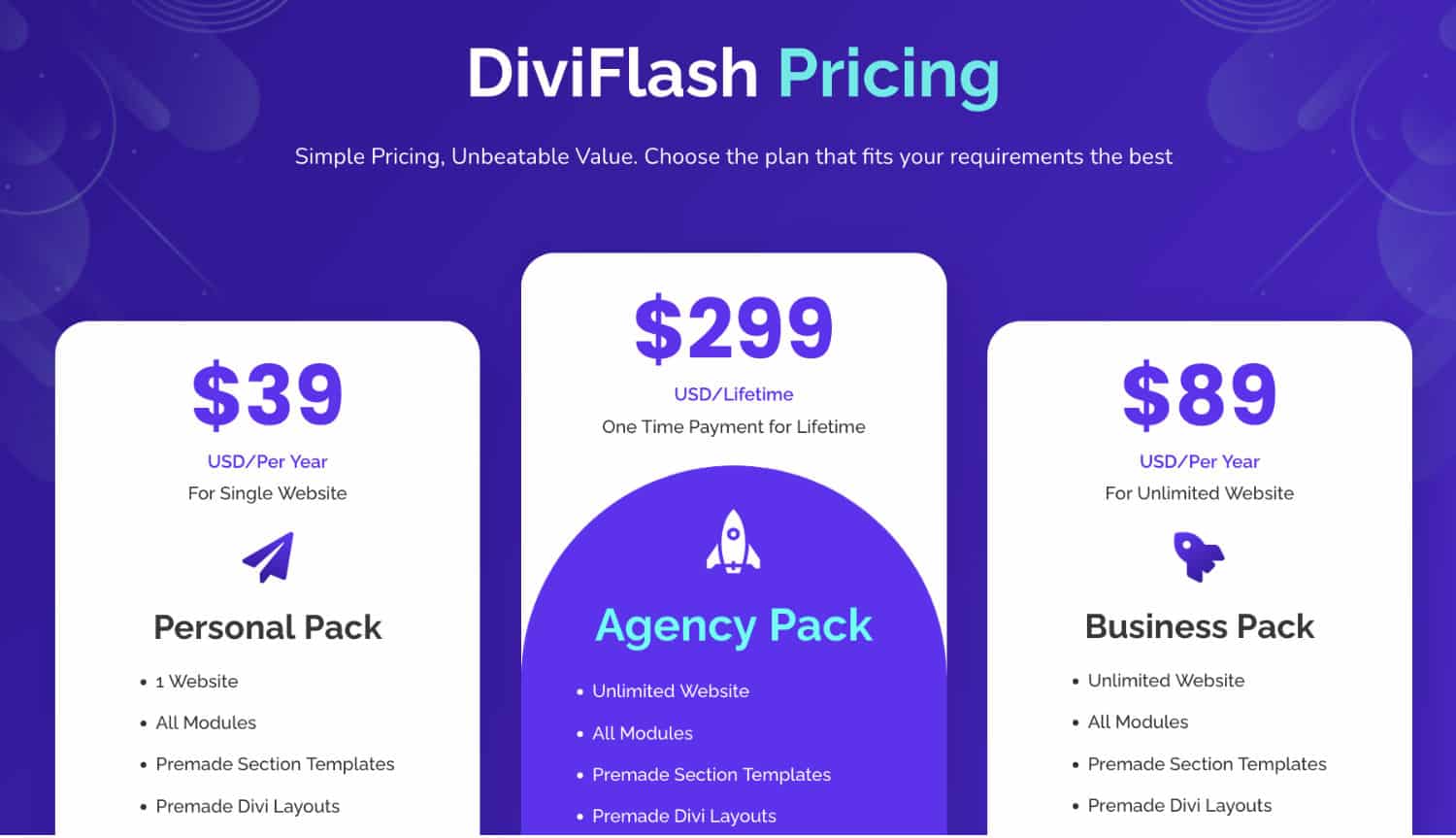 DiviFlash is available under 3 licenses:
1 site license for 1 year: 39$.
Multi-site license for 1 year: $89
Lifetime multi-site license: $299
The same pattern as for the Divi's licences.
4 - How to install Divi Flash on your site?
It's very simple, to install DiviFlash you will need to :
Buy a license on the official website
Download the plugin from your DiviFlashaccount
Install the plugin as usual, from the Extensions > Addtab
Activate the plugin and enter the API key delivered with the purchase of DiviFlash

5 - DiviFlash video demo
6 - Other resources...
DiviFlash is not the only extension that offers these types of additional modules. Remember, I also introduced you to Divi Supreme Prowhich offers 49 modules! Not to mention the other free plugins for Divi which allow you to get a lot of other features... If you create sites for your clients, this kind of extensions can really help you to build more beautiful sites... more professional!
Find out more about Divi compatible plugins... and who really want to do you good 😉