In web design, anything that can save us time is welcome. Not to mention it's annoying to do the same things over and over again, isn't it? The Divi feature "save as a global element" is precisely useful to improve our productivity.
The overall elements are incredible and can save you a lot of time! Do you know how to use them? What exactly is the purpose of this? Let's take a closer look at this....
Advertisement: This article contains affiliate links that you will easily recognize. The classic links are in purple and sponsored links are in pink.
1 - Automate your web designs
When you are in the business of website design, you need to be efficient and productive, otherwise your company's profitability can be compromised.
Same if you maintain your own website or blog, you don't like to waste time with trivia... And you prefer to use it for more profitable tasks like writing articles or newsletters for example.
Automation is therefore the best way to use your time wisely.
Good news! Divi and the Divi Builder are tools that make it possible to be highly productive if you know how to use them well...
The Divi library is partly the masterpiece of this productivity....
To get started with Divi, discover all the articles to start serenely!
2 - Save to Divi library
To be more productive in the future, simply save your creations in the Divi library.
This feature is available for:
Layouts (layouts)
The Divi sections
Rows (lines) Divi
The Divi modules
Once you have saved an item in your library, you can insert it later when creating a new layout.
You create once and then use it over and over again. Nothing better to save time!
This feature is also very useful for import and export Divi layouts.
Did you know that you can test Divi for free? Go to this page and click on "TRY IT FOR FREE"
3 - Save as a global element
It's great this feature! Except, there is a little variant even nicer: the global element.
When you save an item in your library, you can decide to save it as a global item.
Note: global elements are only available on sections, lines and modules. An entire layout (layout) cannot be saved as a global element.
This little option will make all the difference:
If you use a global element on a page A, B and C and modify it on page A, then the pages B and C that embed this element will also be modified.
This behavior is not valid for classic elements, only global elements are synchronized.
This means that if you create a global section that you use as a footer on all your pages, you can change its appearance with a single click.
This can be useful for changing a phone number that is visible at the bottom of the page, for example, or any other important element without having to perform the manipulation on each page.
To go further, discover the official documentation dedicated to global elements.
4 - Insert a global element in a layout
To insert a global element into a layout, simply click on the "+" icon at the desired location.
Choose "Add from library" and select the previously saved global element.
The overall elements are easy to recognize: they are green in color.
5 - Desynchronize some options
This global element feature is really interesting, except that in some cases, you may need to use a global element while changing its appearance on only one page.
I'm telling you this because I've already fallen into the trap of 😉
My advice is simple: first save your element as a classic element before saving it as a global element. It can be useful!
But if it's too late, if you think you never need this or that global element in another context, you can still desynchronize some options.
Then, you can use a global element without impacting your other pages that use it.
For example, you can use a header hero section registered as a global element and then change its background color on some pages only.
To make this change on a single item, remember to click on the arrow icon to make it red.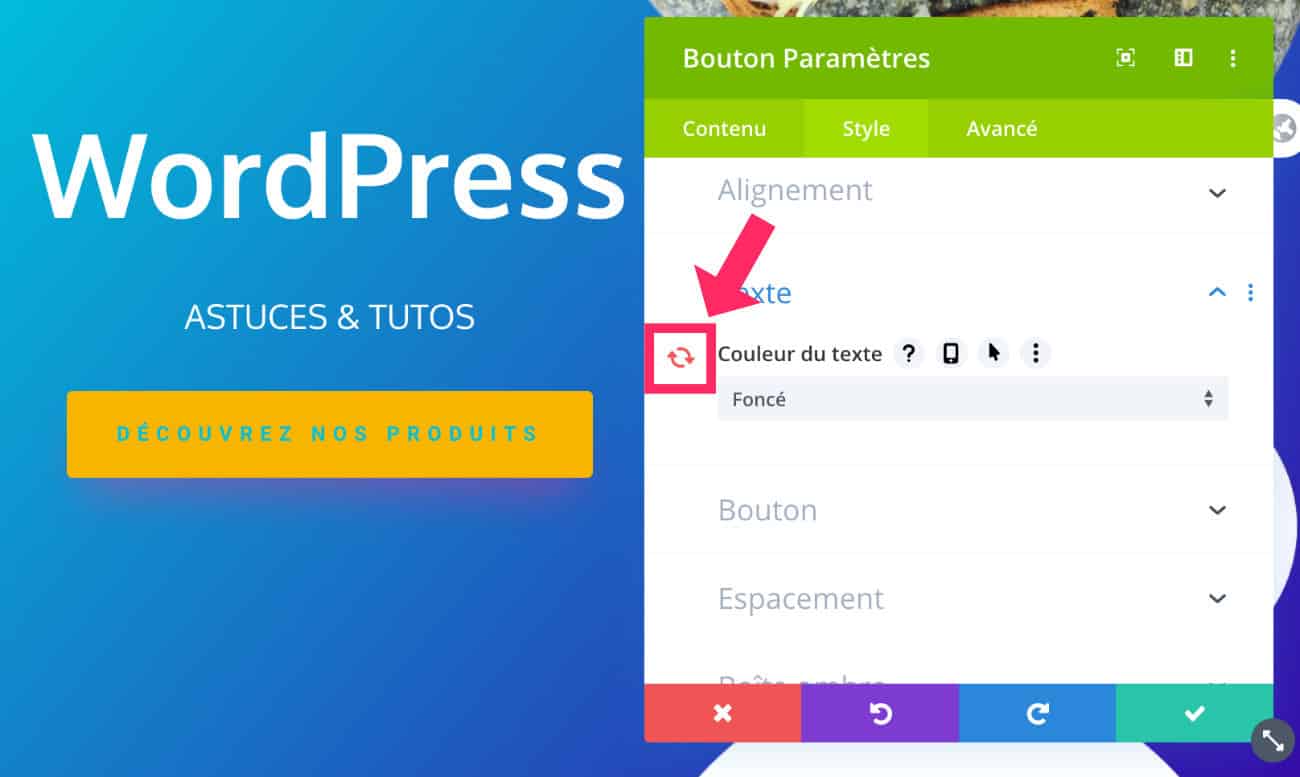 This way, you can act on the element without impacting the rest of the site.
6 - Where are the global elements stored?
Global elements are stored in the Divi library on the Divi tab > Divi Library > Divi Library
From the Divi library, you can:
Differentiate between global and classic elements with the green "earth" icon.
Check the type of element: a section, a row, a module...
Modify an element from the back office without having to do so within a layout.
Export some elements to use on another WordPress site using Divi.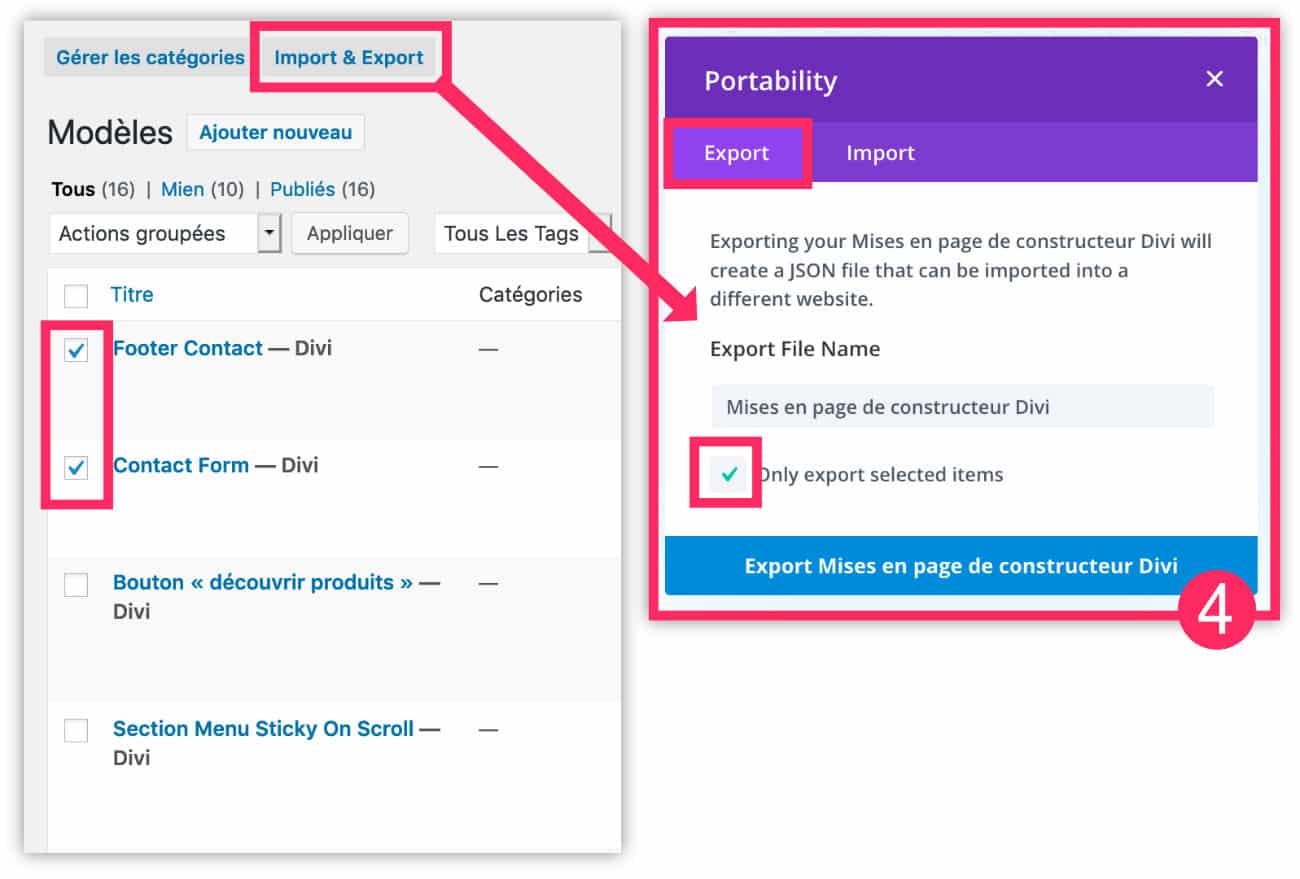 7 - In conclusion: global element = productivity!
You have seen in this article the power of this "hidden" feature of Divi and especially its ease of use!
So, do not hesitate to use Divi's global elements more frequently when creating your websites, this will bring you comfort and productivity.
Need more resources on Divi? Visit ElegantThemes' blog full of ideas and tutorials!