Divi travel blogs offer inspiring examples for this rich and varied theme.
Divi offers vast possibilities and site creators give it their all!
This selection shows the wealth of results that can be expected from a travel blog.
Some of these sites are purely the result of the blogger's (or blogger's) own passion, others are monetized travel blogs.
In most cases, these blogs are well designed and make you want to plan our next trip!
Advertisement: This article contains affiliate links that you will easily recognize. The classic links are in purple and sponsored links are in pink.
Why keep a travel blog?
The theme of the trip is very appreciated, both on the blogger side and on the reader side.
Why? Why? Simply because we all need to escape ;-).
But most of the time, the motivations to create a travel blog start from a passion:
Share with others with your travels,
Allow family and friends to follow us,
Offer a ray of sunshine to those who cannot travel,
Create an online travel album and be able to develop it.
So, if you want to embark on the blogging adventure, what are you waiting for?
The list of travel blogs made with the following Divi theme will certainly inspire you and give you an idea of the design of your future blog!
1 - Life Part 2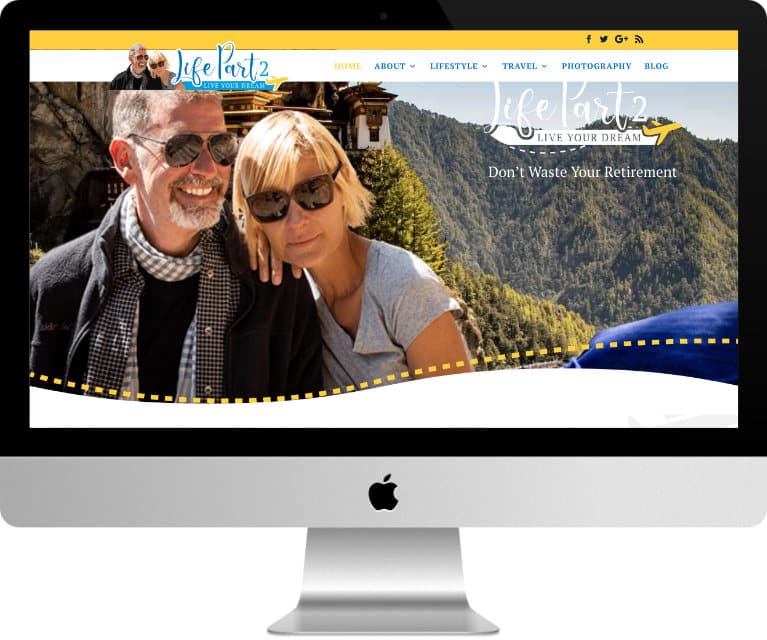 This is the website of Jonathan and Sarah, two nice retired people who are taking advantage of this "second life" to travel all over the world.
Between lifestyle advice and travel reviews, Life Part 2 takes you in their footsteps with a very nice design in yellow and blue colors.
There is an About section to get to know the couple and above all a blog with the two parts (advice and reviews) well identified.
A link to a sub-domain opens on Jonathan's portfolio, who takes beautiful and very exotic photos.
Escape guaranteed!
Did you know that you can test Divi for free? Go to this page and click on "TRY IT FOR FREE"
2 - Wheels under the feet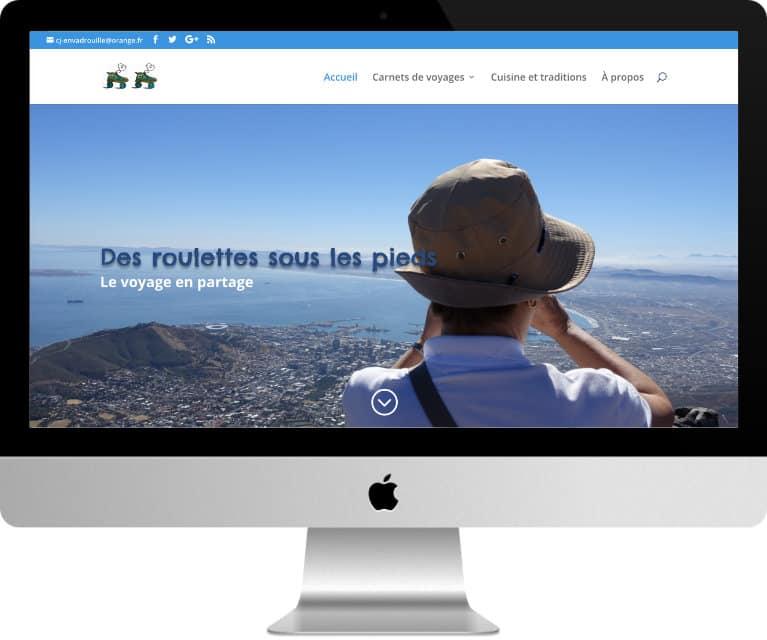 Christine is enjoying her retirement by sharing quality articles about her latest travels around the world!
She has discovered a passion for her travel blog and this can be felt when we navigate it.
Everything is in the shades of blue and it is frankly soothing!
The home page simply displays the last blog articles classified by category separated by parallax sections. The list is long and extensive.
The blog is well categorized, by country or region of the world. The images are inspiring and there is no intrusive popup. I agree with you!
Discover precisely how to easily create a popup for Divi here.
In addition, "Des Roulettes sous les pieds" is the only French travel blog on this inspiring list.
3 - This Big Road Trip
This couple's travel blog is one of the best examples of its kind.
The welcome opens with beautiful images and a very stylish logo, followed by dynamic counters and blocks dedicated to their partners (travelling costs a lot of money and when you can get sponsored, it is a definite asset to travel more kilometres).
The presentation sections - this big crew and this big vehicle - are, like the rest, very well presented and written.
The whole site emanates a very special, friendly and fun tone.
The writing quality is there and if you are fluent in Shakespeare's language, you can already add this blog to your favorites!
Don't delay any longer! Discover the Divi theme here !
4 - The RV Atlas Podcast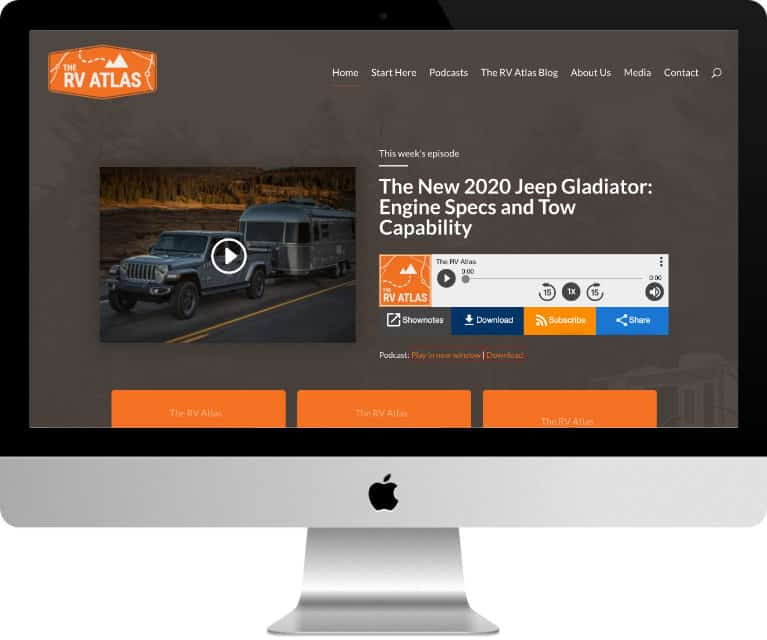 Another original Divi travel site: this time we are dealing with a podcast site.
Divi's possibilities are still well exploited, with the possibility of listening to the last episode in one click.
The blog section, which is quite classic, further enriches the site's content with a text component, which referencing assistance (Podcast content alone is not always enough to be well integrated into Google).
We are also entitled to video and beautiful, highly personalized photos.
This type of media, when made by oneself, provides significant added value and helps to retain visitors effectively.
The RV Atlas podcast is therefore distinguished above all by the variety of its content.
This is an excellent inspiration for creating a successful blog!
5 - Tieland to Thailand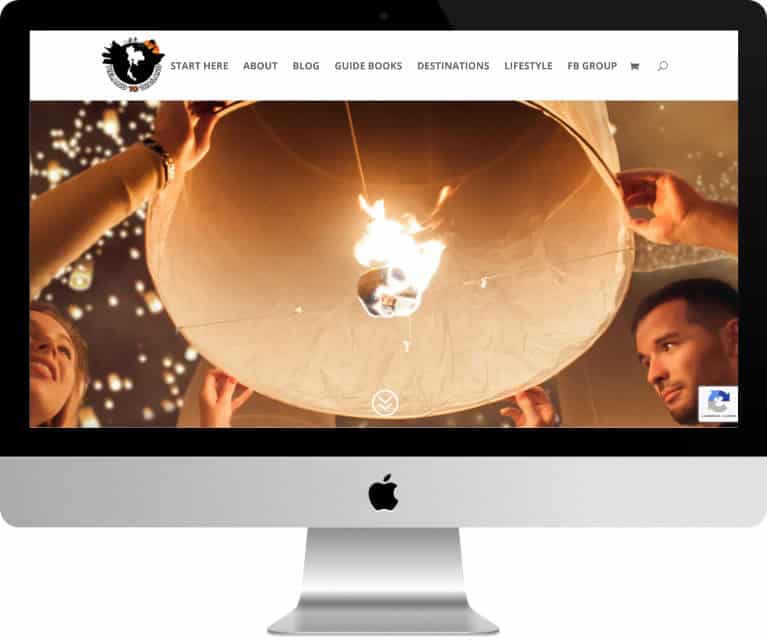 The couple who manage this site have left the work and tidy life of the West to settle in Thailand.
They use this blog to sell their tourist guides.
Result: a website in colors oriental, warm and intoxicating.
On the reception, beautiful labels invite you to discover the sections of the site and the services offered.
It also offers access to premium content and coaching to help you change your life and settle in Thailand like them.
The focus is on social networks where our lovebirds are very successful.
Tieland to Thailand is a case study of Divi travel sites that works very well, in effective synergy with social media, varied content and services tailored to their target audience.
6 - Digital Nomad Girls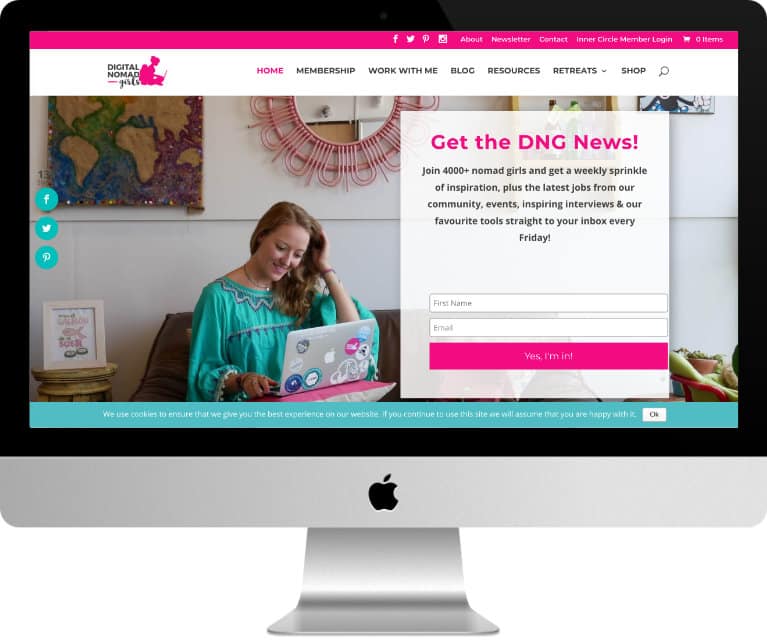 A niche site if ever there was one, Digital Nomad Girls is dedicated to the phenomenon of digital nomads, but only for women.
The site features premium content with a registration strategy limited to certain times of the year - an excellent way to create a sense of demand and exclusivity.
With its dominant pink and pastel green, small bubbles and trendy design, Digital Nomad Girls is the perfect match.
The blog is also in tone, with a very girly style, catchy titles and attractive thumbnails.
Need more inspiration? Discover all the official Divi Showcases.
Want to create your travel blog with Divi?
Did you find inspiration in this list of Divi travel blogs?
Other sites made with Divi can give you design ideas for your next creations:
The Divi theme offers exactly 1001 possibilities of appearances, each one as original as the next....
If you know of any other Divi travel blogs, whether or not they are yours, feel free to mention them in the comments at 🙂
This article was written by David Albert, a freelance writer who helps entrepreneurs publish quality content. More information on his website.