Divi SEO? Divi is already optimized for SEO but some things still need to be fixed... I propose 8 simple tips to implement to fix some SEO vulnerabilities and make your Divi SEO-Friendly sites.
So, during the next Google crawls, Google will realize your efforts and you can hope to win some favors from him 😉
Here is the program of this article dedicated to Divi's SEO:
Advertisement: This article contains affiliate links that you will easily recognize. The classic links are in purple and sponsored links are in pink.
1 - Check your alternative texts
This is quite well known to advanced Divi users but less so to beginners. The alternative text of your images is however a standard of the web as well as a quality criterion in the eyes of Google.
The latter would even use this "alt" text to take into consideration certain keywords.
Have you noticed that if you insert images in the Visual Builder, the alternative text of your images, although entered in your library, does not appear in the source code of your page?
Explanations in pictures: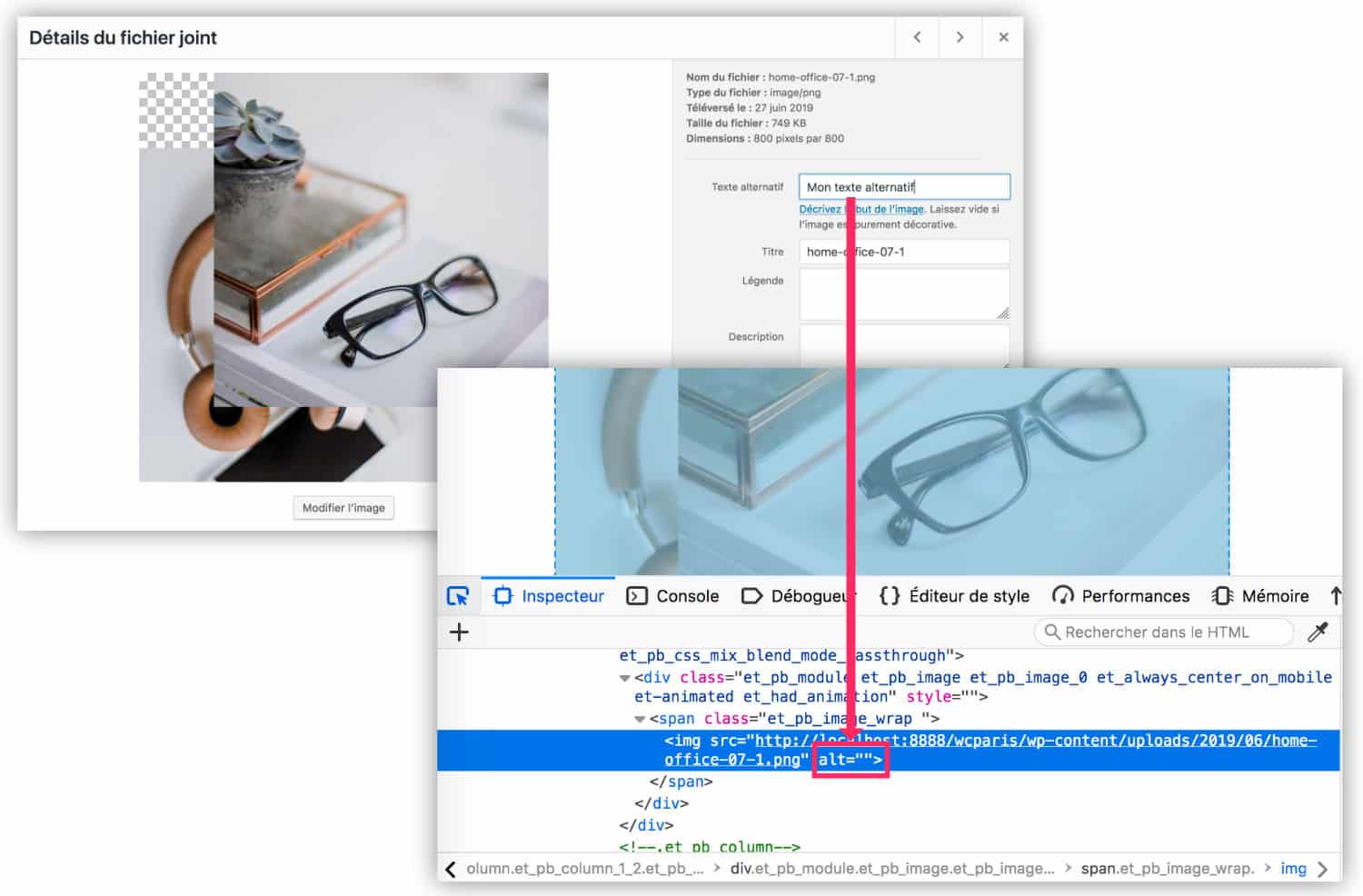 This failure to take into account the alternative text is a real concern!
Now that you know, get into the habit of entering it when importing an image with the Divi Builder.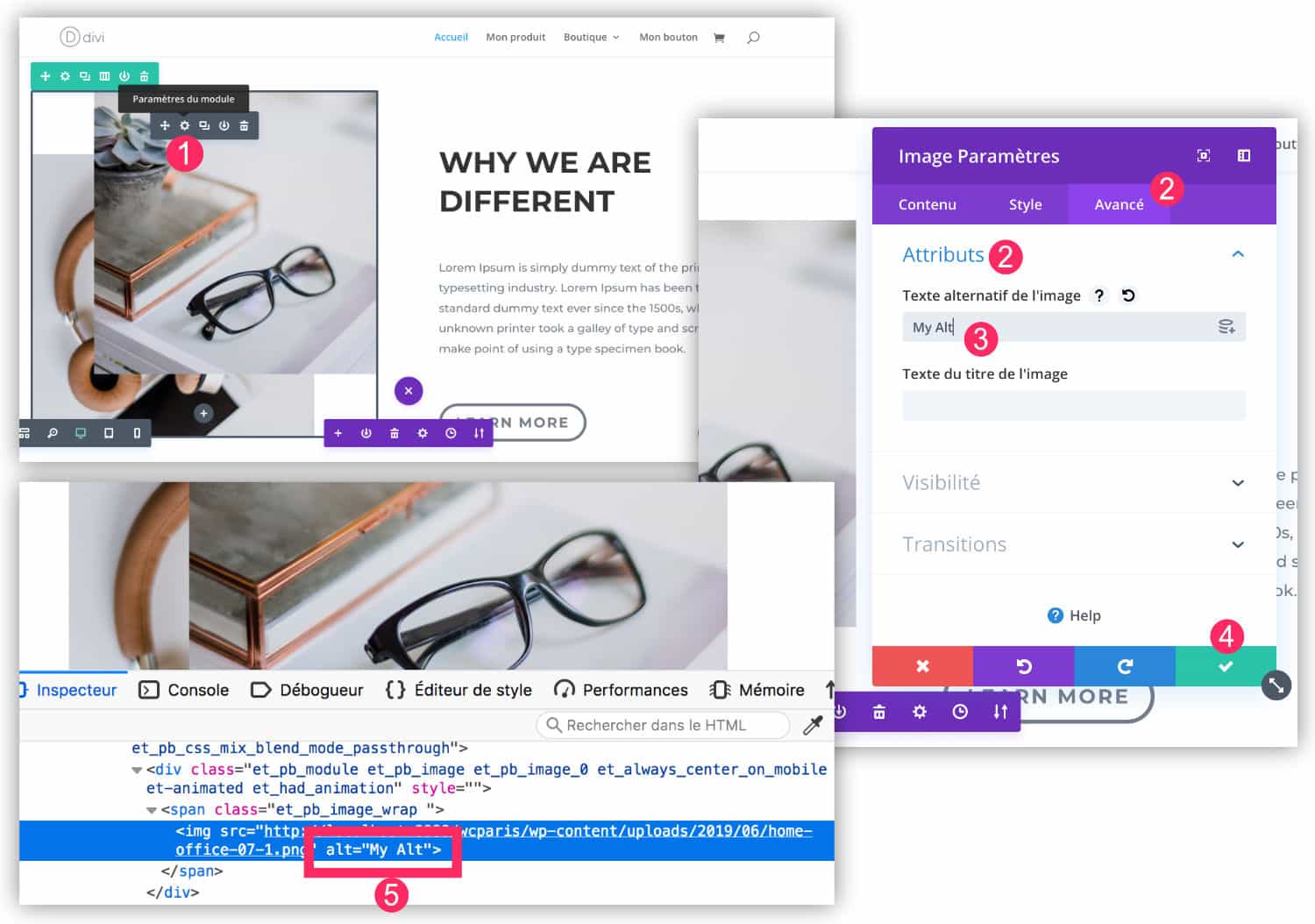 Here's how to do it:
Enable the Visual Builder and edit the image module within your layout.
Go to the Advanced > Attributes
Enter the alternative text of your image
Save your changes
If you check the source code of your page, the alternative text is present.
Did you know that you can test Divi for free? Go to this page and click on "TRY IT FOR FREE"
2 - Remove the pagination of the Divi Blog module
One thing Google doesn't like too much is to index too many URLs unnecessarily.
Divi's Blog module can then become your worst enemy.
If you do use the Blog module to display your latest articles (instead of using the native WordPress functionality), you should make some changes so that unnecessary pages are not indexed by Google.
Indeed, if you decide to display on your blog page the last 6 or 12 articles published, you should make sure that the user can navigate to older articles.
This navigation is called "pagination". Parameters in the URL will be added and therefore potentially indexed.
This should give:
https://monsite.com/blog
https://monsite.com/blog/page/1/
https://monsite.com/blog/page/2/
https://monsite.com/blog/page/3/
etc.
This is normal behavior and it is not mandatory to change it, but it seems more subtle to me to remove this pagination and thus avoid finding these pages in Google's results and diluting the relevance.
To avoid this, I advise you to increase the initial value of the number of posts to be displayed. This option can be found in the blog module settings, under the tab "content".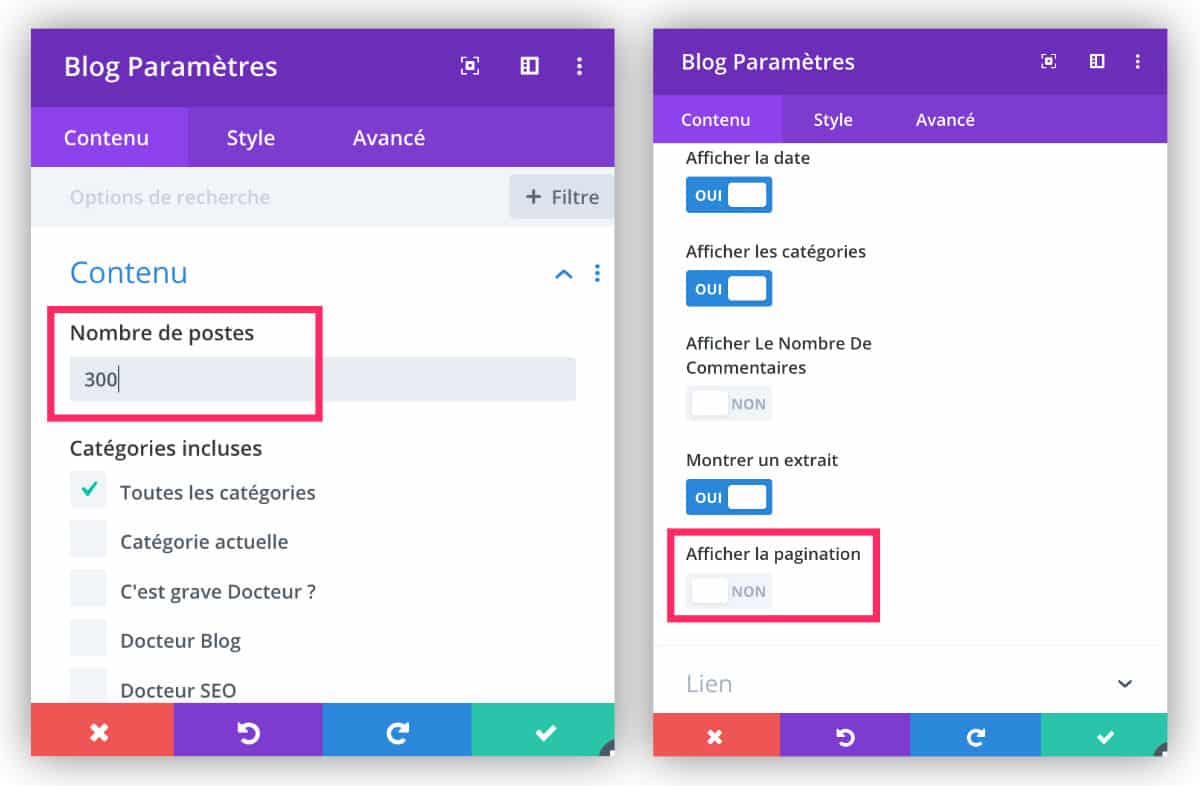 Then, don't forget to uncheck the option "display pagination" available in the sub-tab "elements".
Attention! If you make these changes on an existing blog whose content is already indexed, you will need to redirect to avoid 404 errors. And if you are a beginner, think before making these changes and seek advice from an SEO expert.
For this, you can count on the excellent Redirection plugin.

The easiest way will be to do mass redirections, also called REGEX (= regular expression).
This type of redirection could result in:
URL Source: monsite.com/blog/page/.*
Target URL: monsite.com/blog/
The" /.*" symbols mean that everything beyond /page/ including /page/ will be returned to the root page of the blog.
Be careful, this regular expression can be different depending on the structure of your URLs. You can also use it for your category URLs. But this is very subjective depending on your blog and I repeat it again: do nothing if you don't know or ask for advice (I couldn't help you if you have a problem).
3 - Modify the comments.php file for a better page structure
Google likes well-structured pages, especially pages with a consistent ranking of titles (h1, h2, h3, h4, h5, h6).
Logically, an H1 must be followed by an H2 and not an H3 or an H4. This is inconsistent for Google.
In addition, some SEOs say that only one Title 1 (H1) should be inserted within a page. But if it is controversial, the Title "should" be the most important title and therefore, it should only be used for the title of your page.
However, it turns out that the Divi theme has been coded with an inconsistency: the title of the comments is tagged H1.
If we follow the logic of some of the recommendations, only the Main Title should be marked in this way.
To remedy this, it's very simple:
First of all, you will need to install the Headings Map addon to your naigator:
Its installation is done in 1 click and you will see a new small icon appear in the bar of your browser.
By clicking on it, you will see at a glance the inconsistencies in the structure of any page you visit.
You will therefore notice that the title "Comment" is marked H1.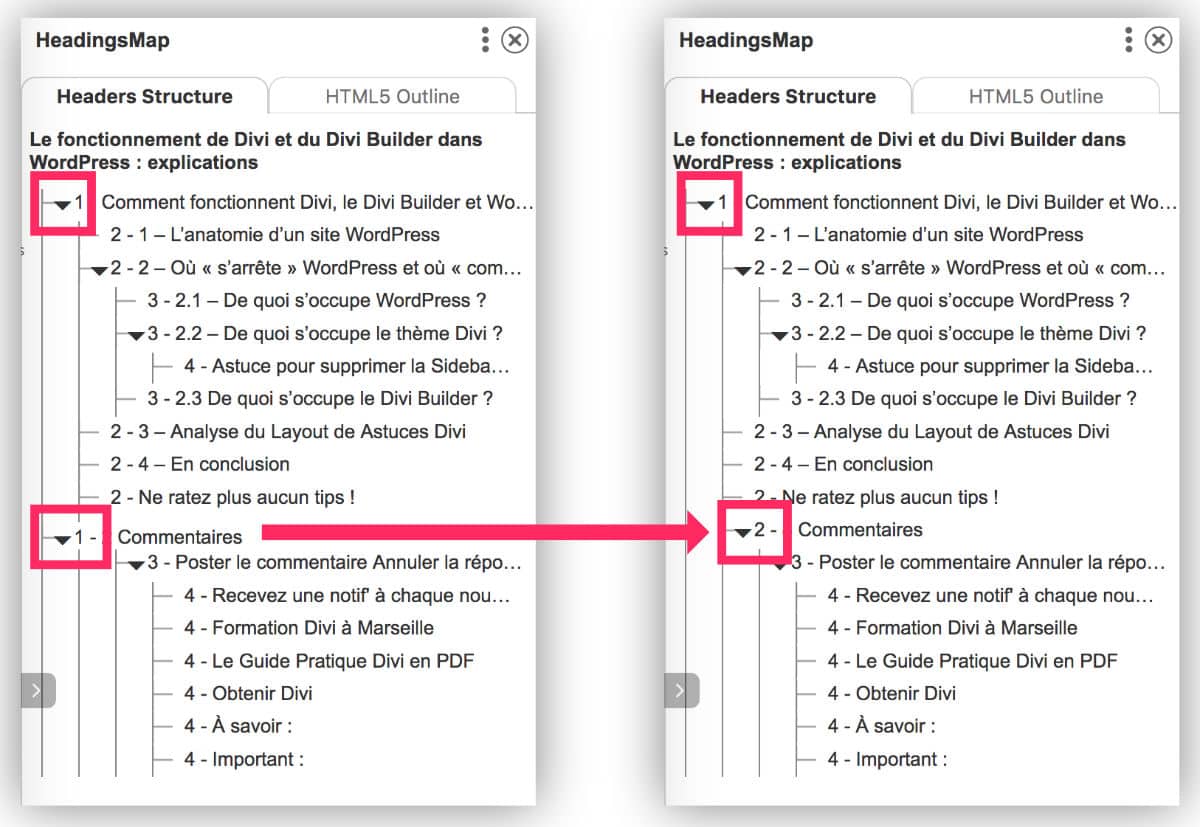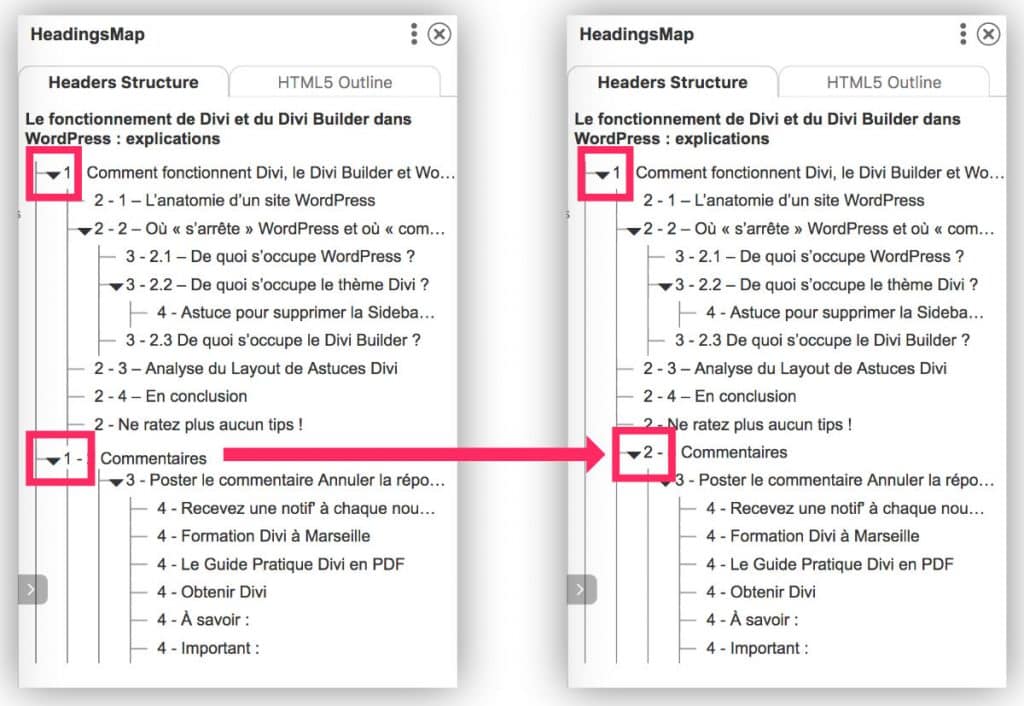 To change this, you will need:
The rest is pretty easy:
Copy the file comments.php of the Divi parent theme.
Paste it to the root of your Divi child theme
Open this file comments.php using SublimText
On line 13 of the file, modify the H1 tag and H2 tag
Save your data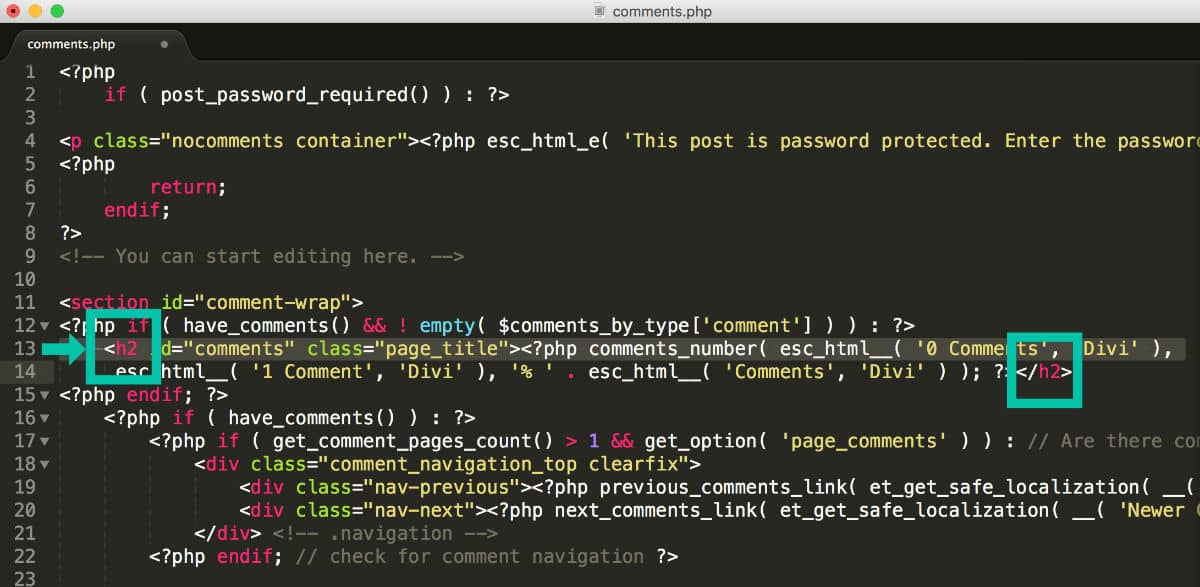 The handling is very simple and the consideration is immediate.
Note: if you have not enabled comments on your site, you do not need to make this change.

4 - Check the structure of your "premade layouts"
If you frequently use Pre-constructed Divi layoutsyou should be aware of what's coming next....
These layouts are generally "beautiful" and ready to use. The problem is that they were created by designers, who are not SEO, of course!!!!
So, it is not uncommon to notice that the page structure and especially the hierarchy of titles are totally disconnected!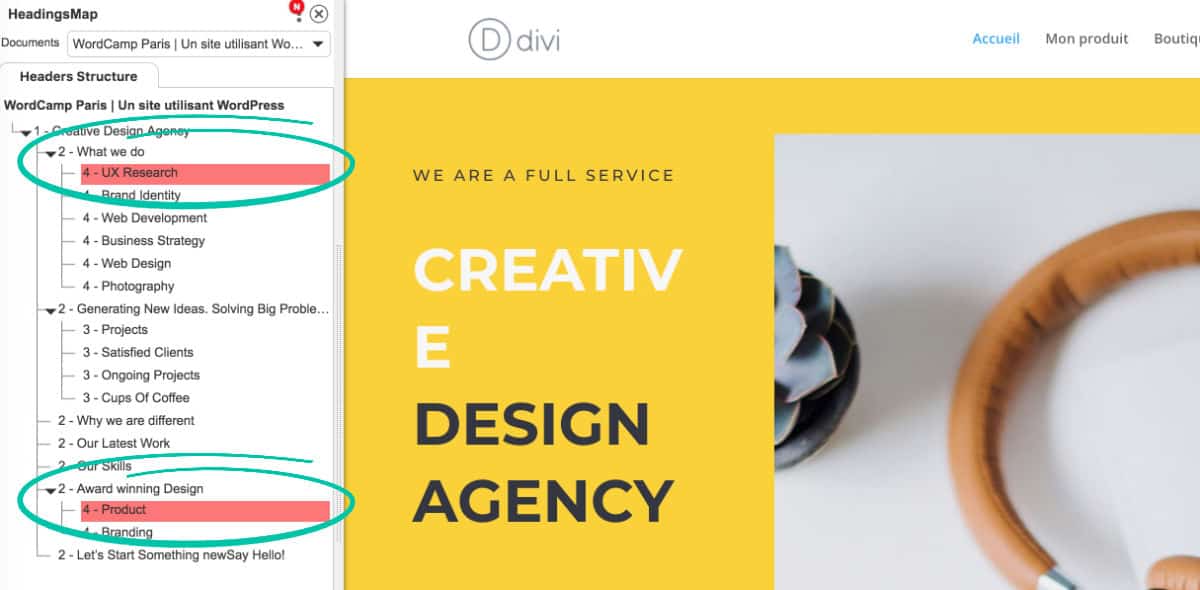 As you can see from the screenshot above, the hierarchy of titles is not good.
Thanks to Headings Map, you can easily check it and see it because it highlights in red what is not appropriate.
For example, an H2 title should be followed by either an H2 title or an H3 title but in no case by an H4, H5 or H6.
So don't forget to check the structure of your pages after layout import (or creation) and to correct errors.
5 - Improve the speed and performance of your Divi site
The loading speed of a site is an important SEO factor. It is taken into account by Google to offer your results in its pages.
WordPress sites, in general, can be slightly slower than traditional HTML sites (an additional step due to the database). But this is certainly aggravated by your use of it:
Images too heavy
No caching
Poor quality plugins or themes
Poor host
In short, there are many reasons why your Divi site is slow...
Even if one of the recent Divi updates have optimized the speed of the themeit doesn't mean you have to make good use of the rest.
For my part, I install WP Rocket on all my sites and I optimize all images before import into my library. I then optimize them a second time using of Imagify.
Read this article to learn more about how optimize the performance of the Divi theme.
6 - Add a breadcrumb trail to Divi
A breadcrumb trail is rather appreciated by Google's robots but also by the users of your site.
This allows the user to know where they are and Google to better understand the structure of your site.
Divi does not offer an option to insert a breadcrumb trail (or BreadCrumbs) which means that you will have to add it manually.
To do this, I suggest you follow the procedure in the article dedicated to the placement of a breadcrumb trail in Divi.
7 - Use an SEO plugin
Even if Divi offers advanced SEO options from its own settings, I advise against using them.
Instead, use plugins dedicated to SEO that have already proven their worth:
These two plugins have advanced features that will allow you to fully optimize the natural referencing of your site.
So, if you start with WordPress and DiviDo not forget to add a module dedicated to SEO, it would be a mistake not to do so.
8 - Improve Divi's "responsive
It's no longer a secret, Google favours mobile-optimized pages in its search results.
The Divi theme is precisely optimized to define each element according to screen sizes.
You can do this easily from the Divi Builder options for almost every element.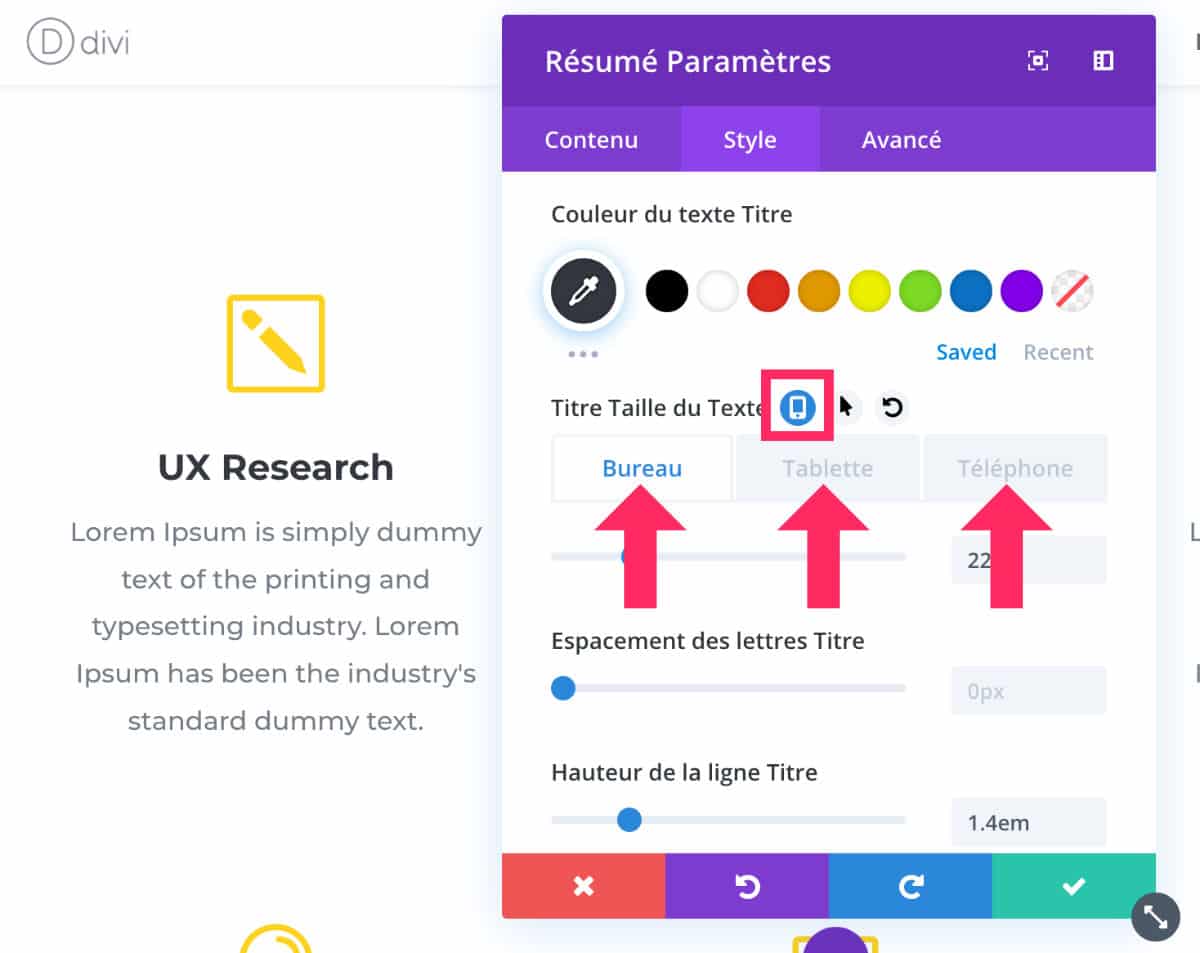 By clicking on the mobile icon, you will see 3 tabs that will allow you to optimize the values according to the "devices".
So don't hesitate to play with these values so that your pages are totally responsive.
Need more resources on Divi? Visit ElegantThemes' blog full of ideas and tutorials!
Divi SEO-Friendly? It's not that difficult!
This short list of SEO tips for Divi are really easy to set up. Take the time to check your site to detect errors or flaws that you could easily fix.
In fact, I also advise you to read this article on 30 SEO WordPress errors the most common.