Some of the best examples of what can be done with Divi are found among photographers' websites made with this tool. Obviously, for a photographer, the visual aspect of a site is very important. That's why it's not uncommon for them to use Divi because it allows them to create completely customised layouts.

Most of these sites focus on portfolios and services. Some include products while others provide related services.
Most of these photographers use their blogs to report on their shoots. Others use their blogs in a more varied way and include tips on photography.
Most focus on wedding photography but they also provide other photography services. All are great for stimulating the imagination.
They are all excellent examples to learn from. I'll tell you what I like most about each of them. I hope you enjoy them as much as I do!
Announcement: this article contains affiliate links that you will easily recognise. The classic links are in purple and sponsored links are in pink.
Divi Photography Sites #1: Megan Kelsey Photography
Let's start this round-up of photographers' websites made with Divi with that of photographer Megan Kelsey.
It has a full screen image with logo, slogan and soothing background. The top of the menu can be seen in this image. The menu is a block that overlaps the first two sections.
This is followed by a large image, a section of about two columns with text and an elegant handwritten welcome message, an interesting image collage with CTA (call to action), a full-screen testimonial with a pattern in the backgroundA full-screen message slider with a message snippet overlaying the image (using Master Slider) and a custom footer with slogan and logo.
The blog is very stylish and matches the elegance of the site. This site uses a variety of layouts, colours and attractive fonts.
Divi photographer sites #2: Paul Summerfield Photography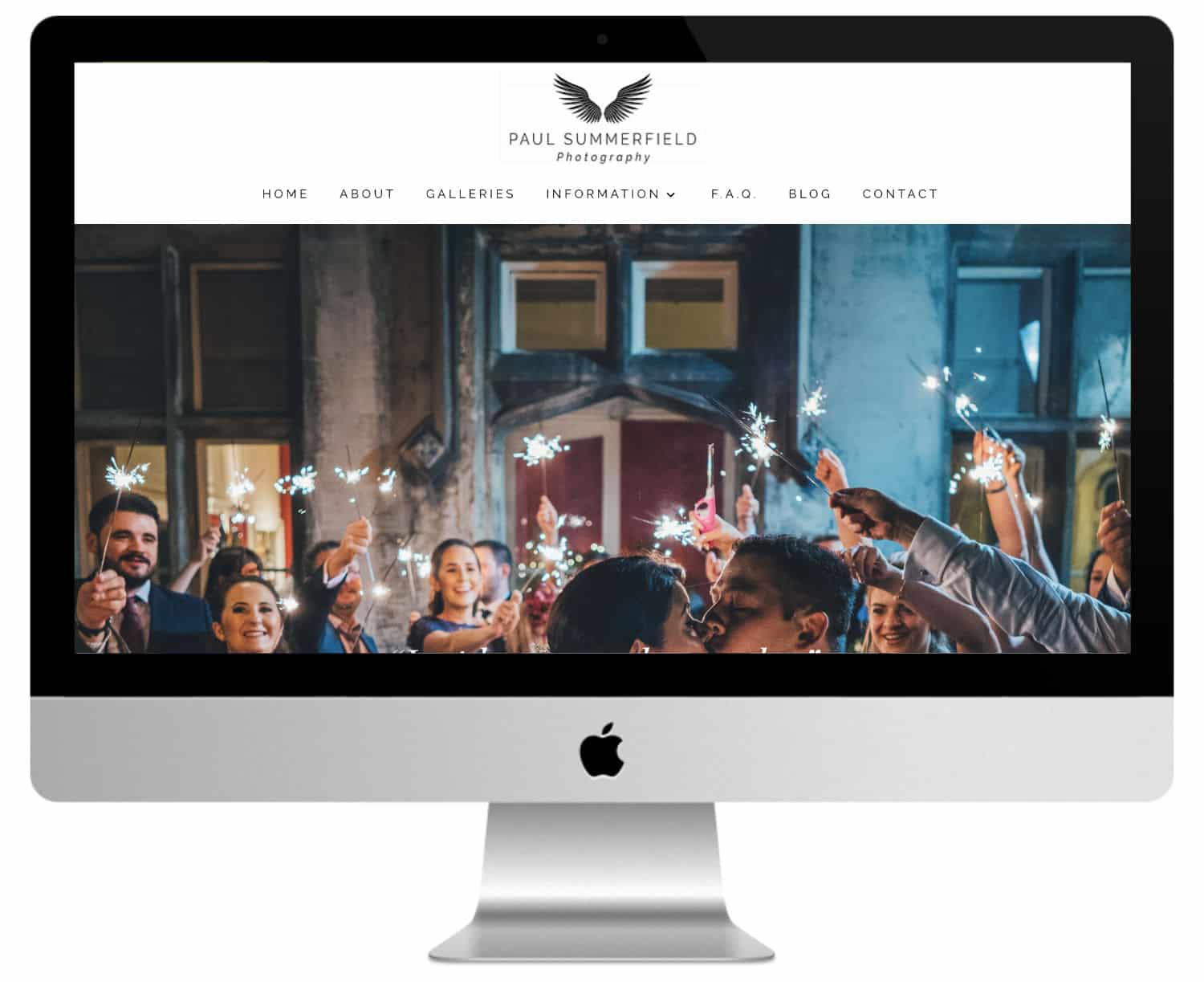 Paul Summerfield Photography displays a full screen image slider followed by a slogan and a company quote, a small text section with numbered links to the pages, an about section with text and image, links to the portfolio with alternating text and images, a blog section, a testimonial section in parallax and a footer with contact information.
The portfolio is displayed with a gallery in a grid layout. A contact form is used for booking. The Blog includes a grid with categories above the blog section.
Did you know? You can test Divi for free by visiting on this page and clicking on "TRY IT FOR FREE
Photographer's website made with Divi #3: Dann Carr Photography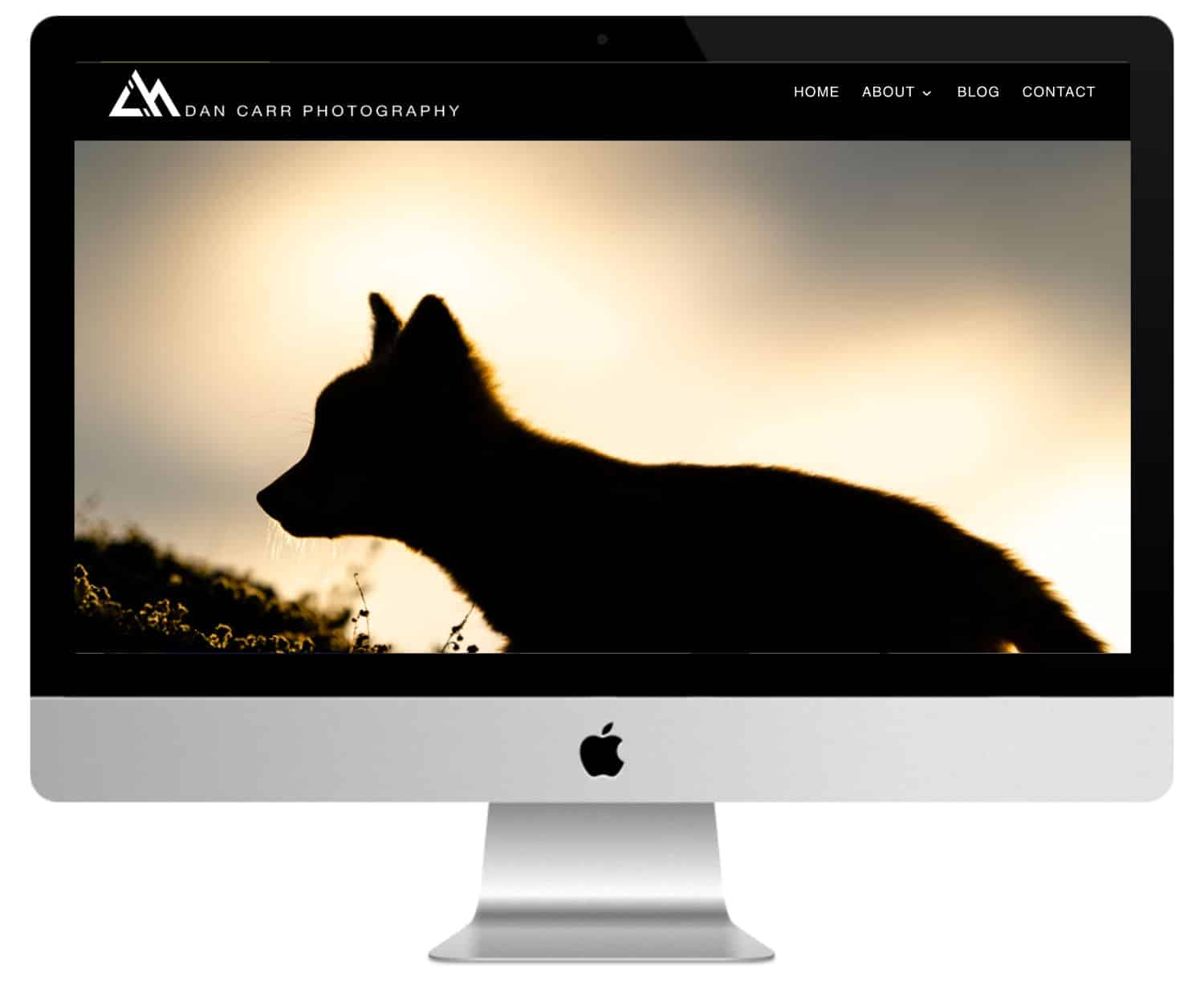 Another visually stunning photographer's website, and this time it's Dan Carr's turn. We've already featured two photographer's websites, each with a completely different look, proving that Divi can be used in many different ways.
Dan Carr opts for an impressive full-screen photo, with additional images displayed in an organised grid further down the page. This website also uses several of Divi's more advanced modules - it offers parallax effectsThe site has a lot to offer, from blog posts in a grid format to a stunning image gallery. Definitely one of my favourites!
Divi Photography Sites #4: Devlin Photos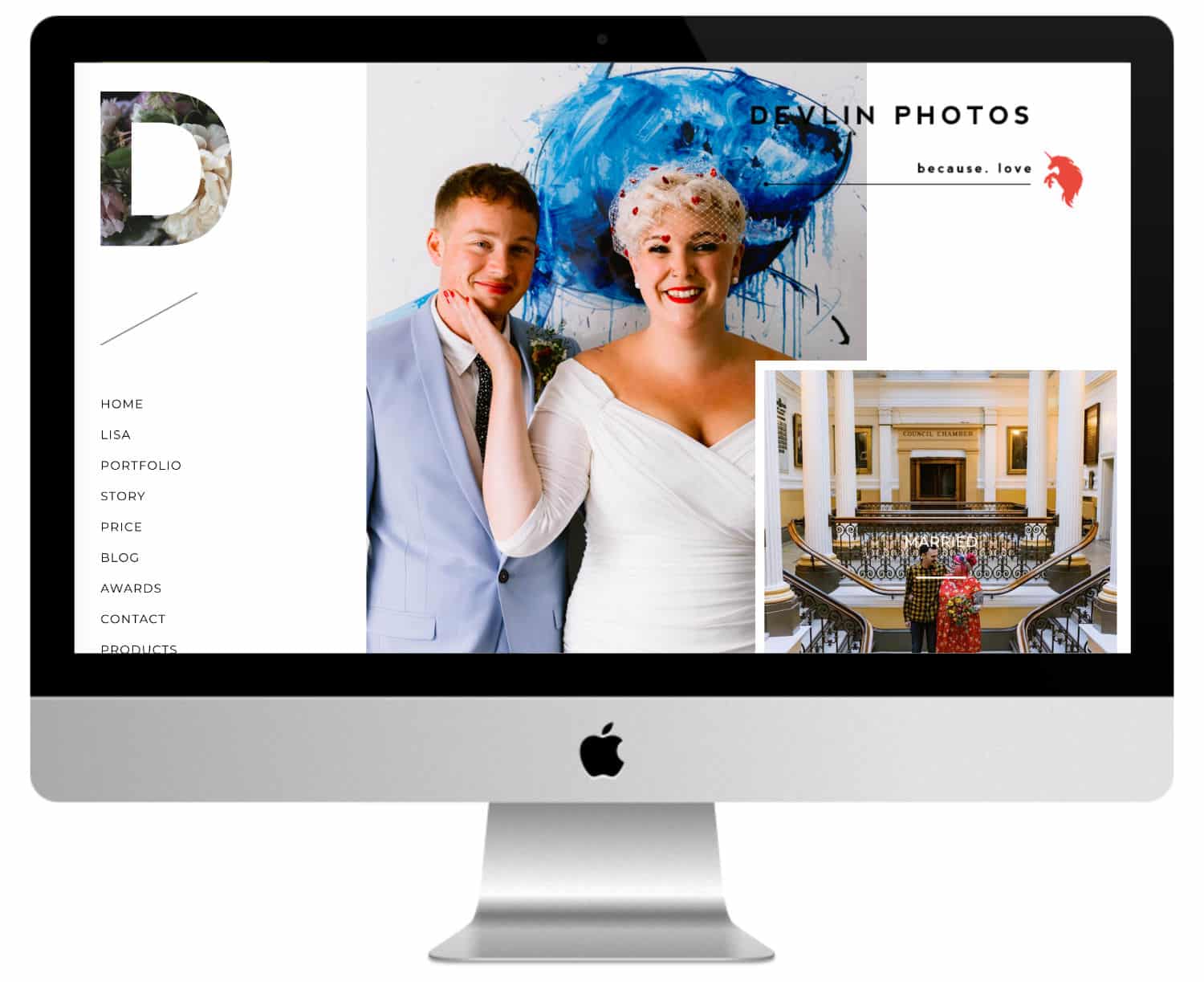 Another photographer's site made with Divi, and another example of how a creative mind can put this tool to work in an eye-catching way. This time the owner of the site is Lisa Devlin, a wedding photographer in the UK.
The design is exceptional, with images of different sizes fitting together to create an original result. The homepage also features video slides and image slidesThis gives the whole site a sophisticated, elegant and dynamic look.
Divi photographer site #5: Jordanna Marston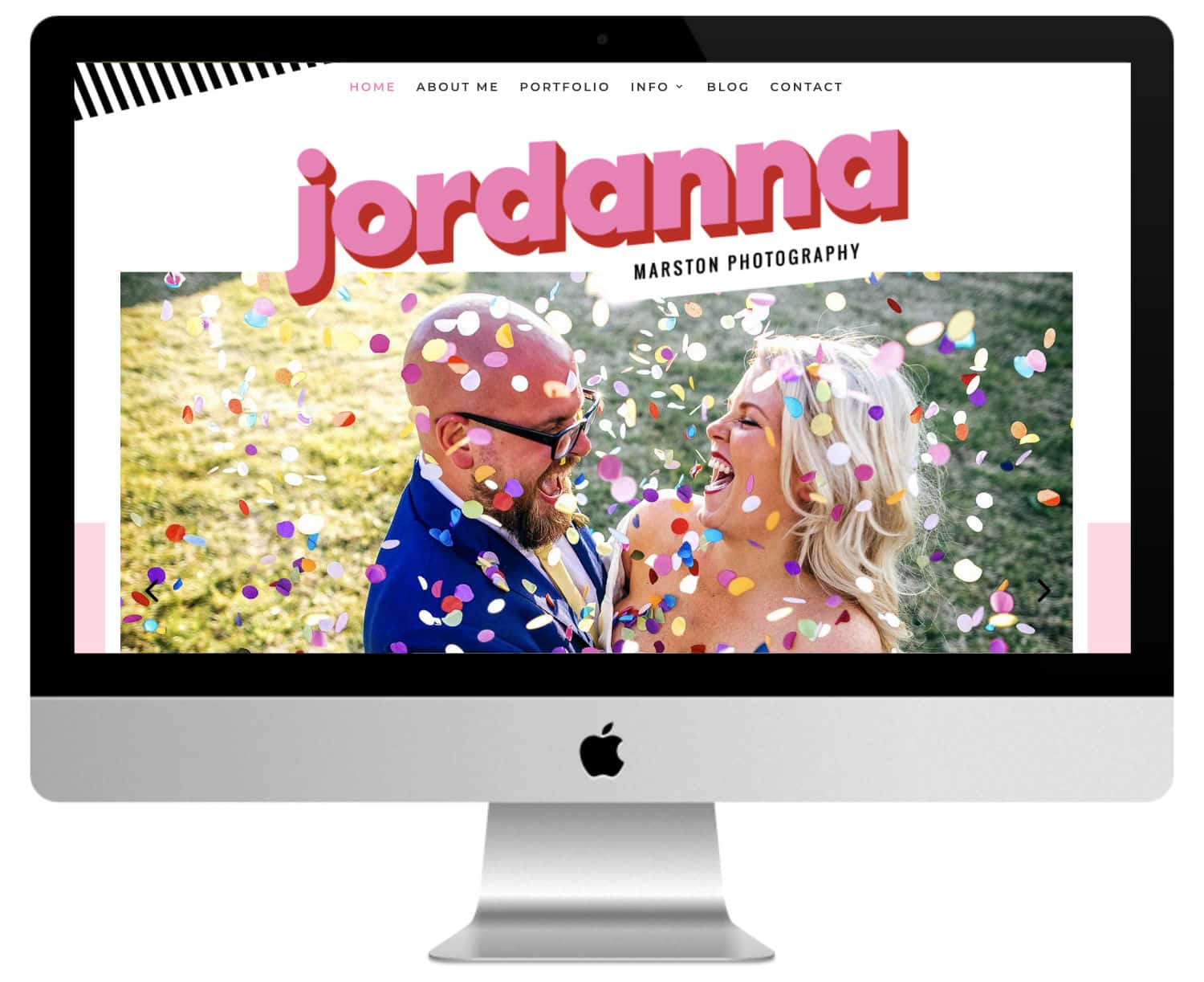 The latter uses fun and flashy colours and patterns throughout the site. It also uses several overlapping effects; two sections for photos, overlapping images, etc.
The line patterns and bubbles are interesting. I also like the design of the blog, which displays the photos in a mosaic with the title in an overlay that appears on hover.
Divi photographer site #6: Jasper Van de Gein Fotografie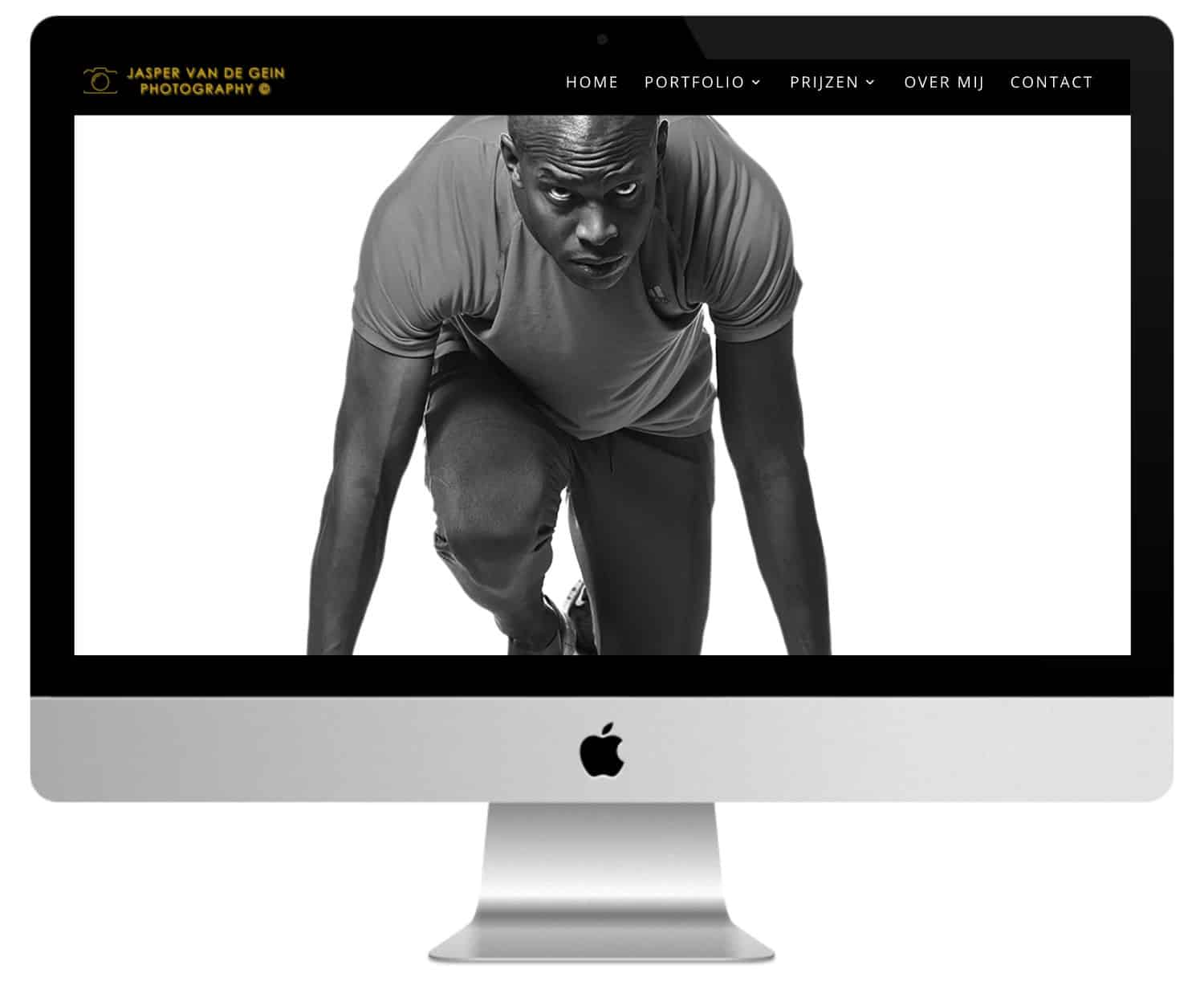 Jasper Van de Gein Fotografie is a site in one page design that includes a full screen slider, a blurred section showing services and the CTAThere is an about section, several sections with image galleries displaying images in various sizes and layouts, price tables with booking, shooting information and a contact form. The site makes interesting use of image layouts.
Divi photographer site #7: Florida Museum of Photographic Arts
This site has the particularity of using the theme Extra and not the Divi theme. However, the layouts are indeed made using the Divi Visual Builderwhich is the page builder also embedded in the Extra theme (a cousin of Divi).
This is the site of a photography museum. It includes a full screen header section with a background video, logo and slogan in the overlay.
The current exhibitions are presented in a slide show followed by the last two blog posts. It makes great use of the mega menu. You'll notice the simple and ingenious layout and use of drop-caps, which makes it one of the most polished Divi photography sites.
Divi photographer website #8 : Araujo Photo
This site uses soft colours and elegant fonts to match the wedding theme (a must for many professional photographers).
The image slider displays large images with the same height but different widths. It uses one of my favourite ways of using CTAs to show services: large square photos with stylised borders and a stylised button in the centre like a label.
The testimonialsthe toggles, the contact form and the blog follow the same elegant style.
Don't delay! Discover the Divi theme here !
Photography website made with Divi #9 : Eden Photography
Eden Photography displays a slogan followed by a image carousel which constantly scroll until you hover over an image.
Scrolling reveals an information section, a section with icons and links to pages, an about section, a full-screen parallax testimonial, a featured gallery, a quote overlay, and a contact and follow-up section using an interesting background image (matching the logo) that is perfectly suited to go behind the form and buttons.
The galleries are displayed in a grid. The shop is supplied by WooCommerce. The elements of the blog are stylized according to the site.
Divi Photography Sites #10: Ryan Welch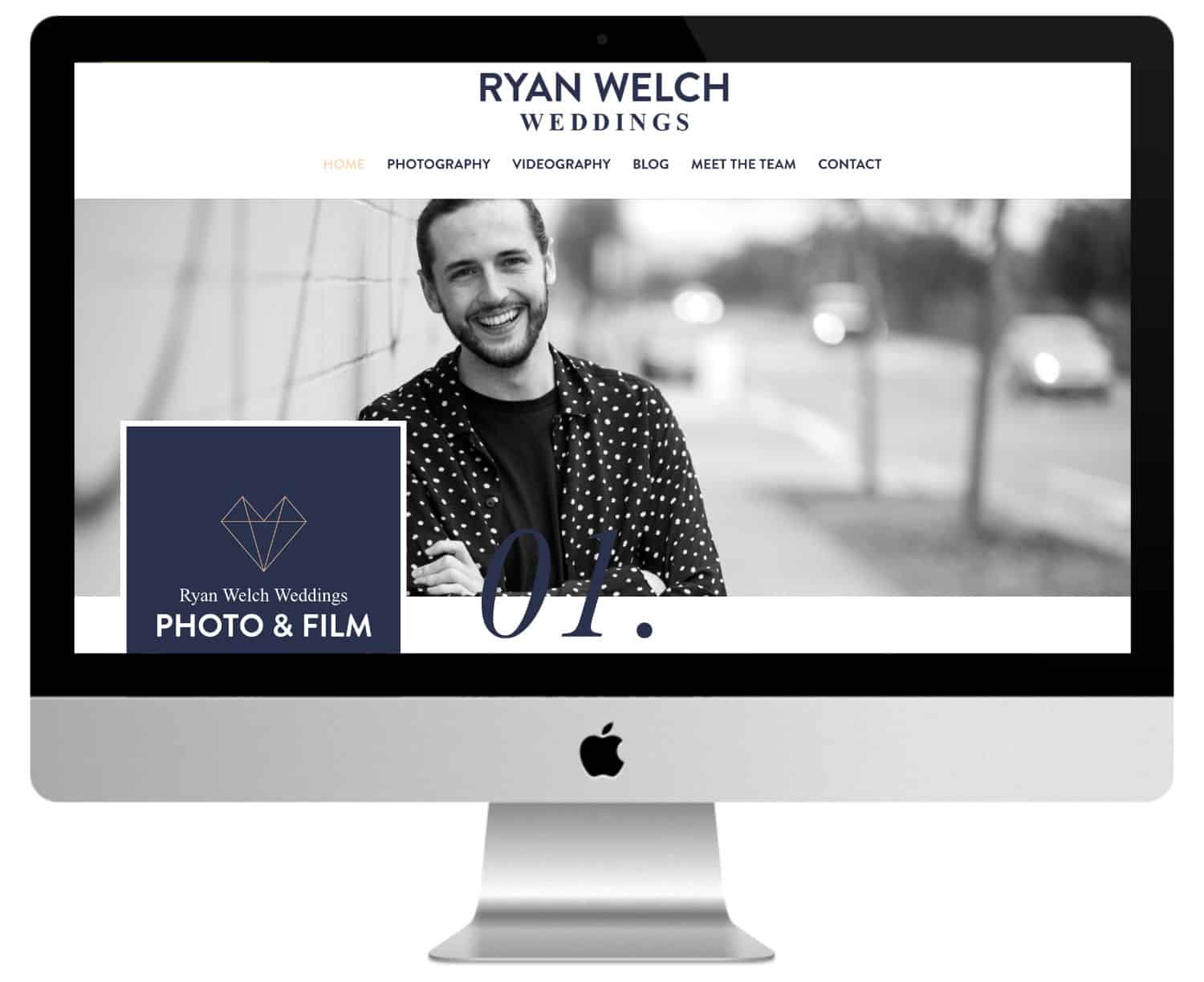 This site uses dark blue for many of the title and background fonts, and beige for the other fonts. A coloured block with clickable numbered labels displays the sections of the home page. Each section has a block with a title and the same numbers, all of which overlap the section image and the next section.
Divi photographer website #11: Eddie Judd Photography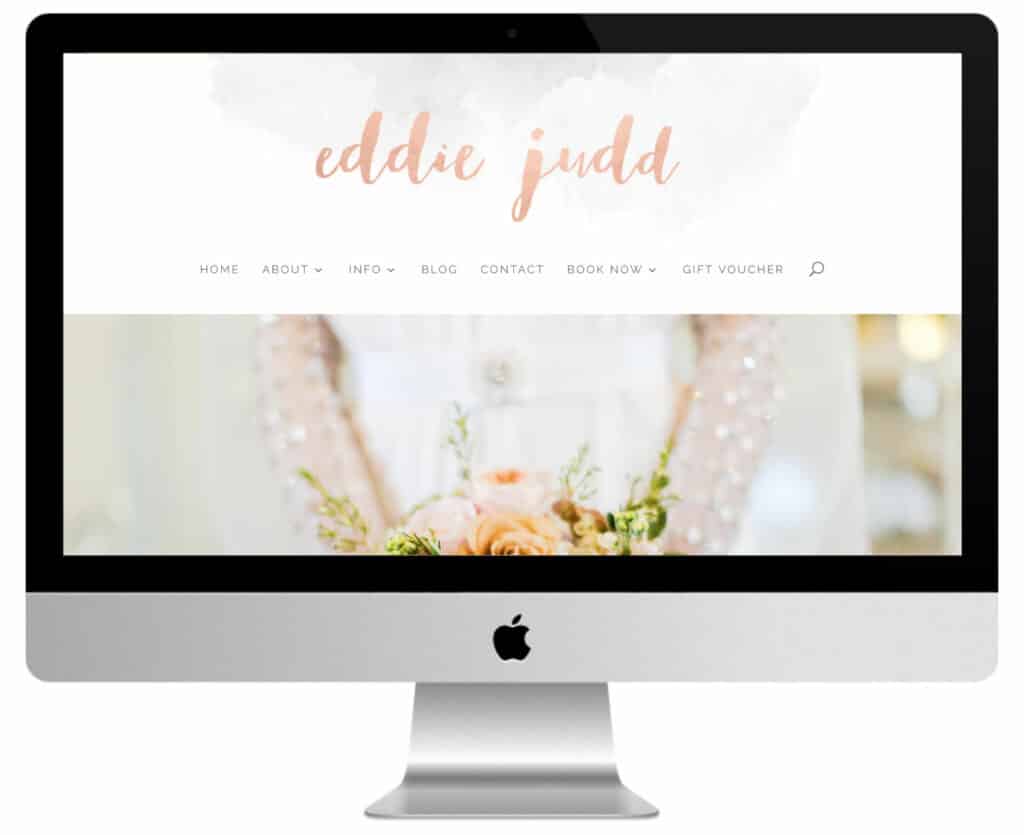 Eddie Judd Photography displays a full screen image slider, an overlay emblem that is used in other sections, an image section with links to various pages, a very stylish section with the latest blog post with a stylish background image, a section with media logos, and a section with an Instagram feed. The blog has an elegant style. The site makes great use of elegant fonts and colours.
Divi photographer site #12: Brett Florens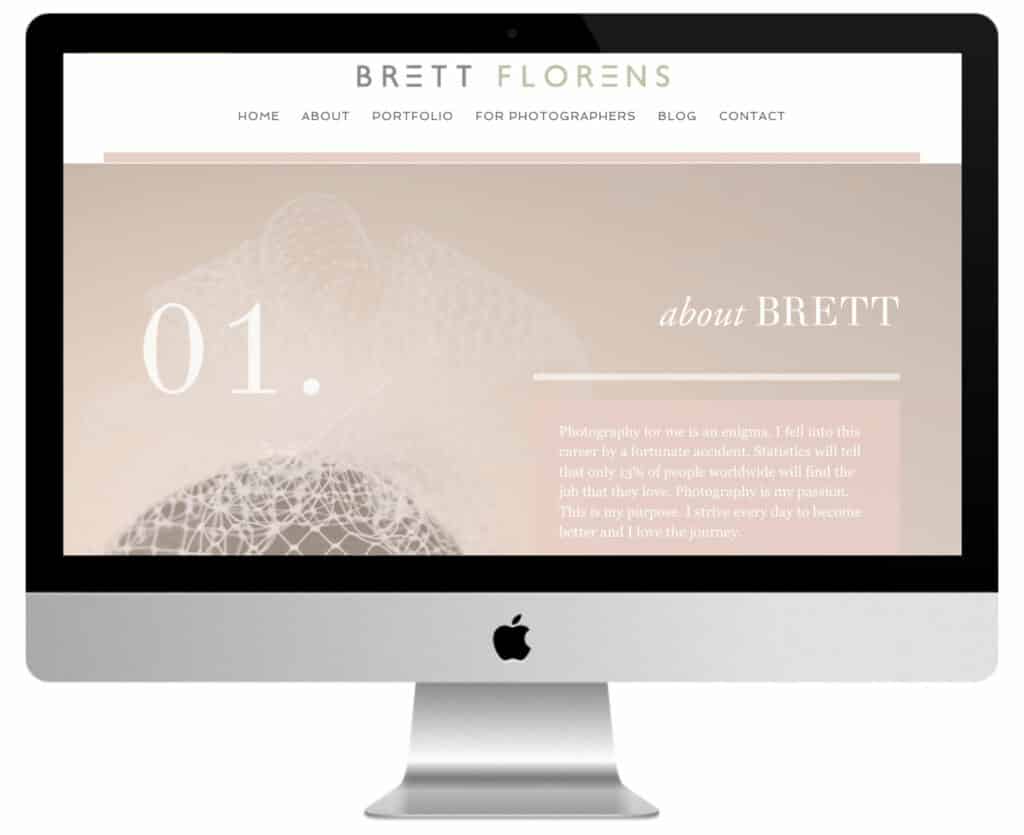 Brett Florens uses a full screen image slider with a menu which is revealed by scrolling. Then there is an elegant slogan, an about section that uses a numbered system to show information with CTAs, a portfolio with alternating images and text, a CTA, a blog section and a contact form on an image.
The information section uses image effects and an elegant style. The Blog page displays a three-column information section with search, topic and categories. The portfolio displays images in a carousel. The site makes excellent use of soft colours and style.
Divi photographer website #13: Sarah Lauren Photography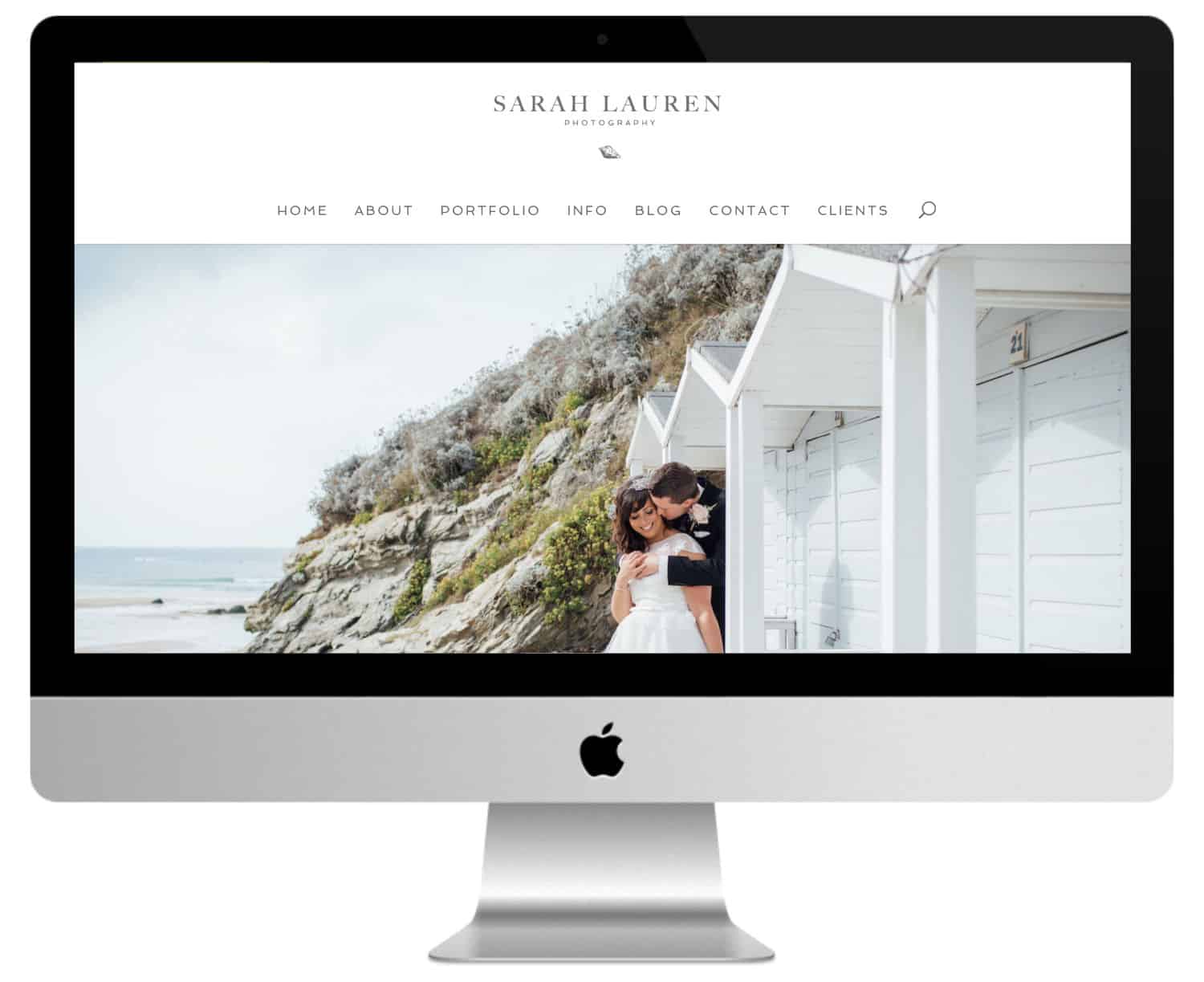 Sarah Lauren Photography uses a design one page (except for the blog) displaying a full screen slider, a numbered section with icons and links to pages, an About section, a portfolio section displayed in a multi-directional grid, an info section with links, a blog section and a contact form. The portfolio displays images in a slider. The Blog page uses a full-width image, a two-column blog grid and a stylized sidebar.
Divi photographer's website #14 : Julie Ferneau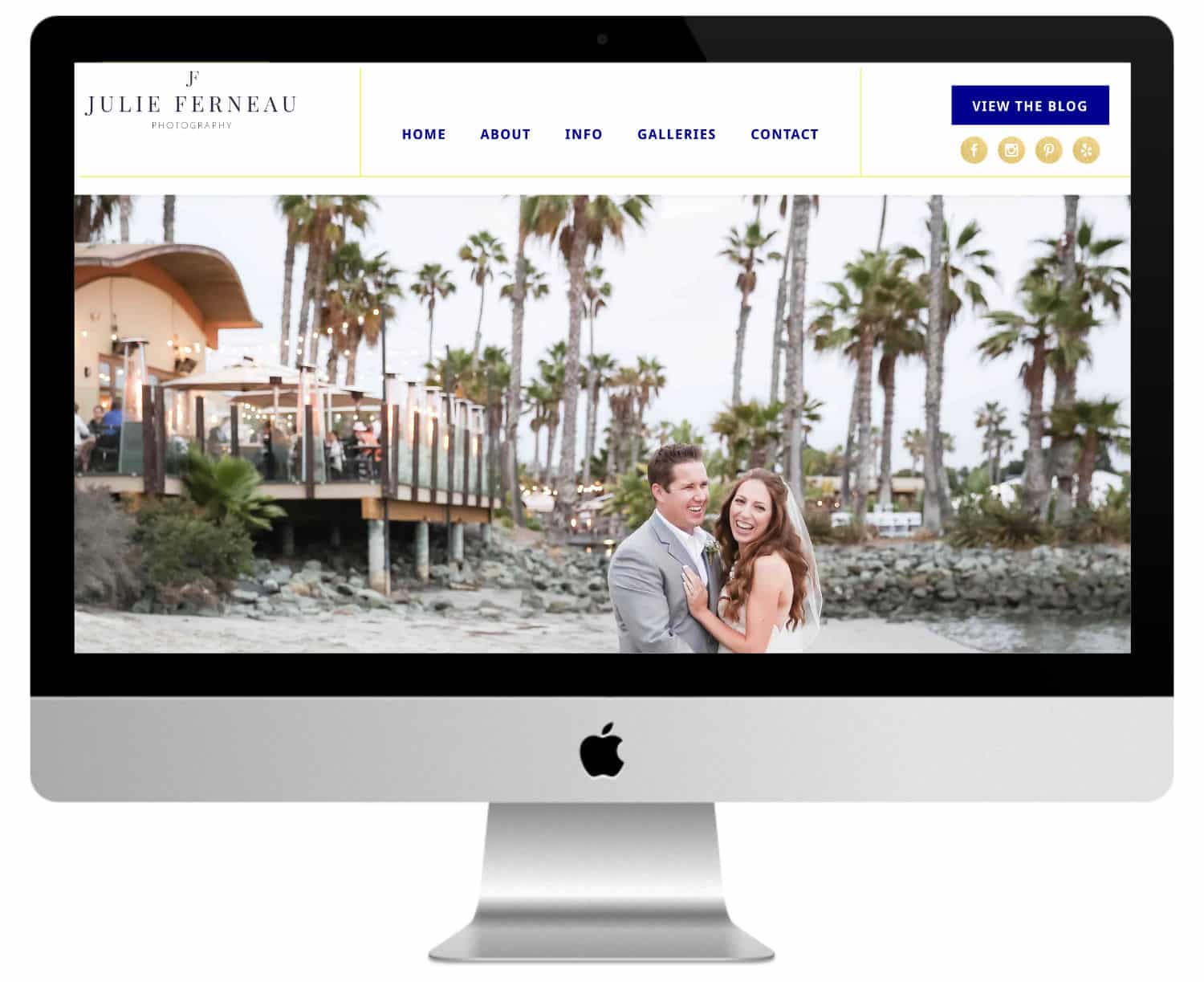 This site includes a header and a footer interesting with a border to divide the sections. The images overlap sections and include white borders to stand out from the sections they are in, while blending with the sections they overlap. The buttons are decorated with a gold leaf pattern. Gold is also used for the highlights, including the social buttons and the border in the menus. The portfolio displays images in a full-screen slider, which reveals part of the next image.
Divi Photography Sites #15: Lorraine Claire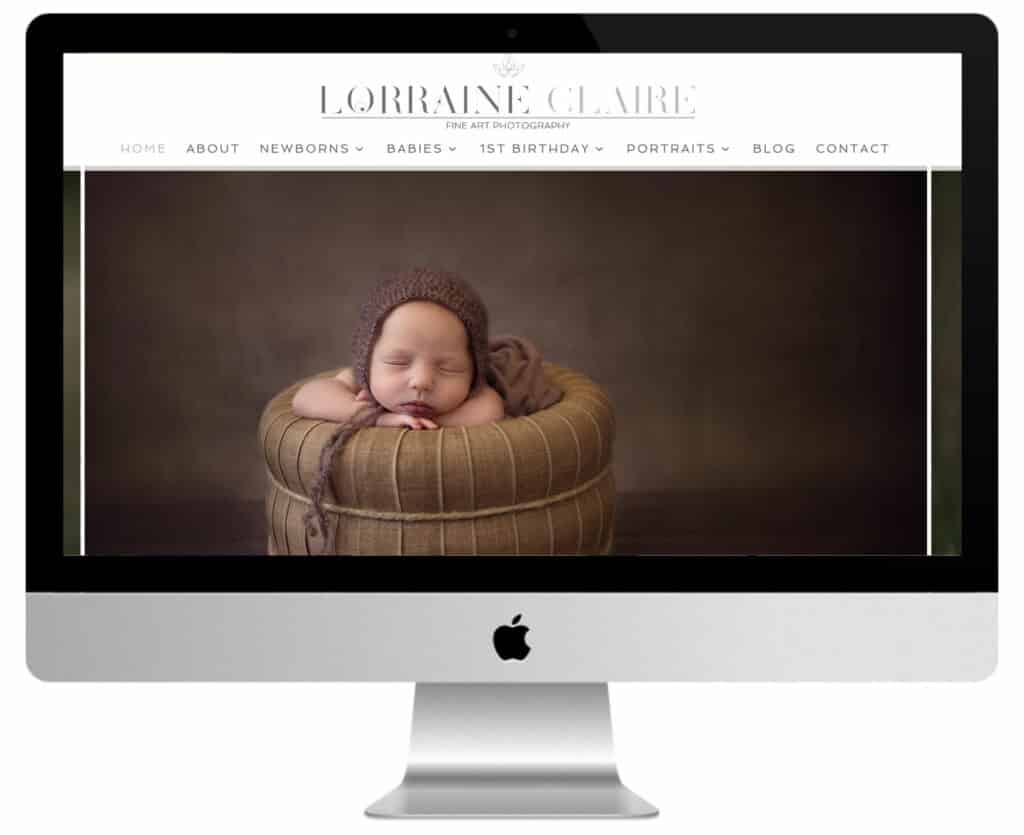 Lorraine Claire's site stands out from other photographer's sites made with Divi with its full screen image, a section with numbered links to pages, a personal quote in a transparent overlay on an image, a stylish blog section with icon and social follow buttons.
The portfolio pages displays full-width images, text, sidebar images, links to PDFs and FAQs in alternating order. The text layout is elegant and uses capital letters.
The Blog page displays the latest posts in a stylish slider. The blog posts are used as image galleries and display large images with multiple grid layouts.
Divi Photography Site #16: Jeebs Media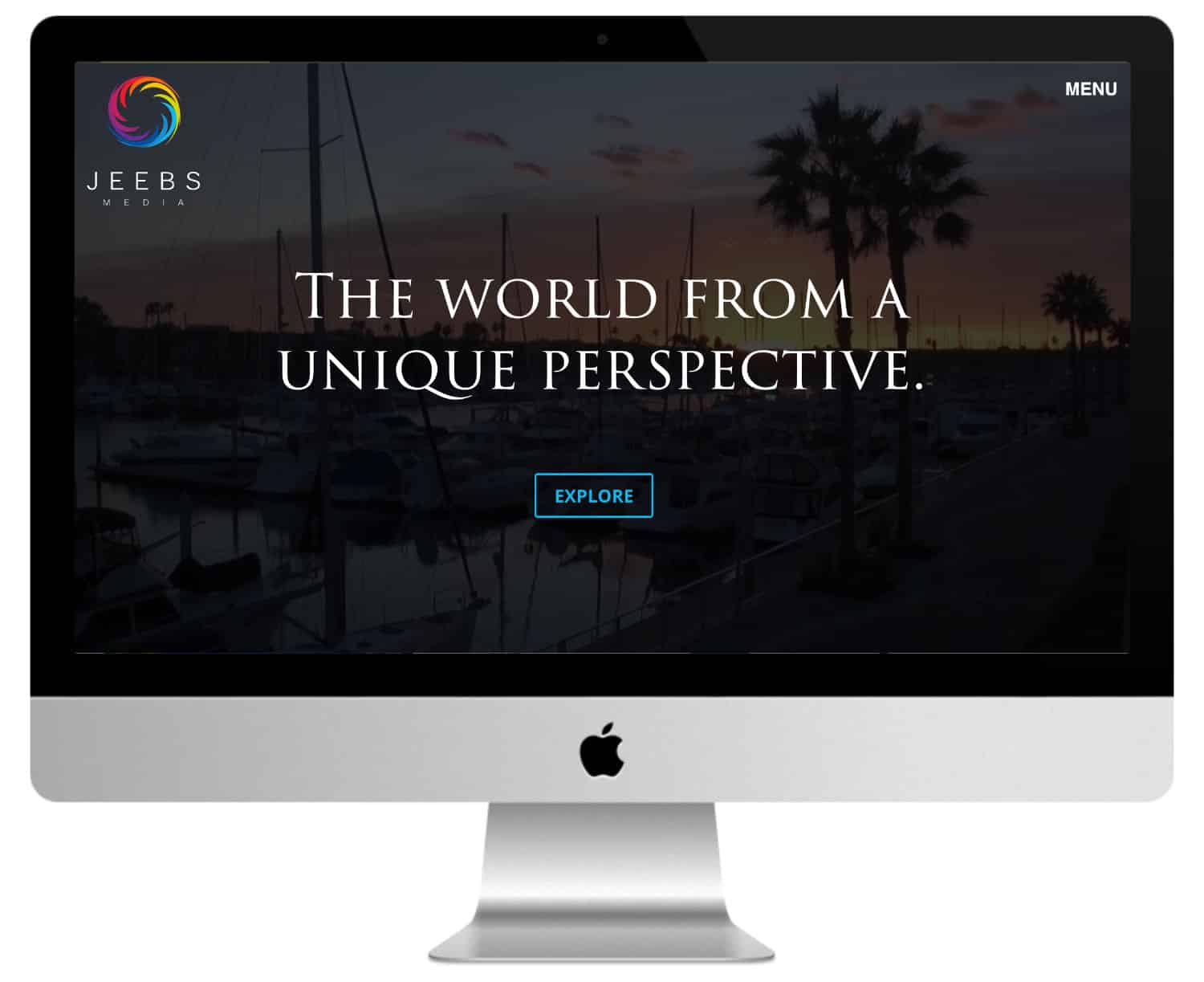 Jeebs Media displays a full-screen video background with an overlay slogan, animated logo, full-screen menu and CTA. The pages use full-width images and embedded Instagram sliders. The portfolio uses overflight effects to display the subjects. The photos are shown in bright galleries and use an additional loading function (using an AJAX grid). The site uses high contrast and saturation to set the mood.
Divi photographer site #17: Dawn Martin Newborn and Family Photography
The last of these photographer's websites made with Divi, but not the least! Dawn Martin's site uses a single section with a background image and CTAs. The image uses soft focus and lighting to match the colours of the site.
CTAs are built with white blocks that include a stylized border, circular images, a title and a description. The portfolio section uses circular images with stylish borders and buttons. I love the logo illustrations and the highlights of the site.
In conclusion...
This concludes our overview of the most beautiful photographers' websites made with Divi! You can see the variety of these, which illustrates quite well the visual possibilities of the tool.
So, which one did you enjoy the most? I must admit that I have a soft spot for Jordana Marston, Dann Carr and Julie Ferneau.
If you are a photographer yourself (amateur or pro) and use Divi for your website, don't hesitate to talk about it in the comments!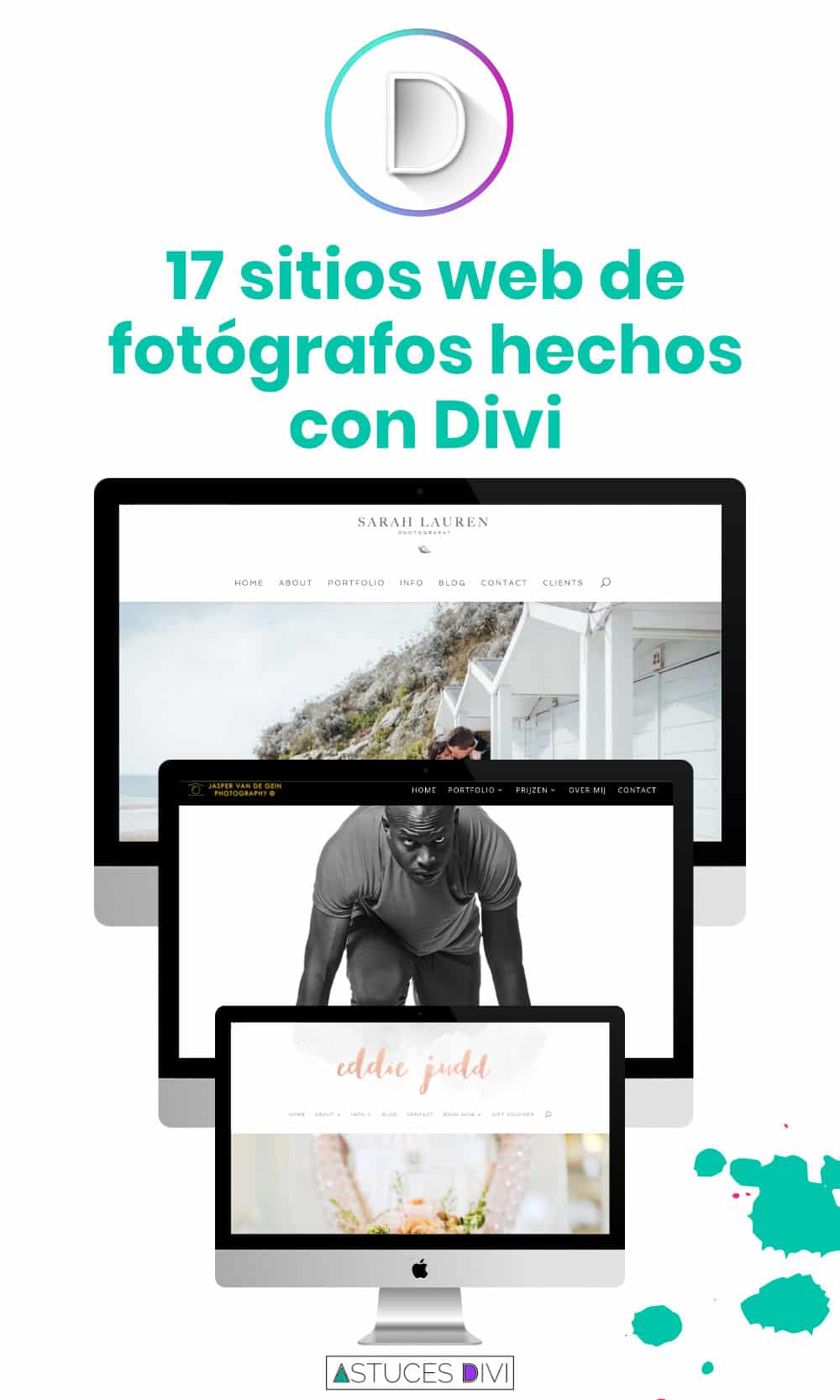 This article was written by David Albert, a freelance writer who helps entrepreneurs publish quality content. More info on his website.